Hunting golf carts are becoming more and more popular with hunters!
If you're a hunter, then you know that having the right gear is essential for a successful hunt.
One piece of gear that is often overlooked is your mode of transportation. A good hunting golf cart can make all the difference in your success or failure.
In this post, we will discuss what features make an electric golf cart perfect for hunting, and what you need to look for when choosing between golf carts.
We'll also discuss the benefits of using a hunting golf cart, and why more and more hunters are turning to them as their go-to piece of gear!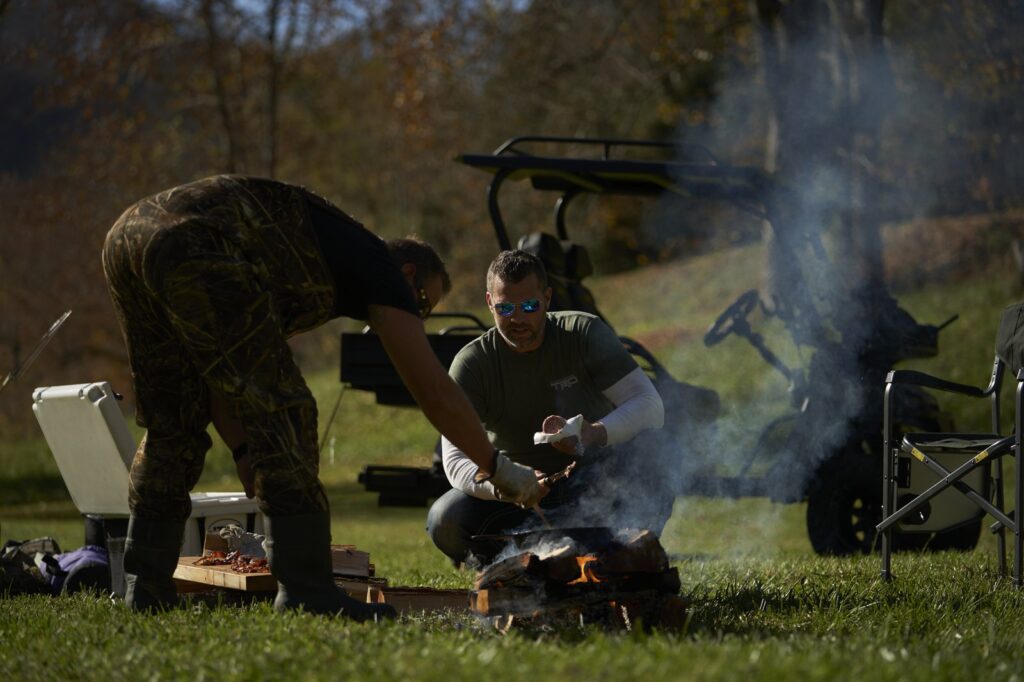 What to Look For in a Hunting Cart
When it comes to golf carts that you're planning to use for hunting, there are a few key features that you need to look for.
First and foremost, your hunting golf cart needs to be able to handle rough terrain.
This means that it needs to have large tires with good tread, and it should be able to navigate through thick brush and over obstacles without issue.
Most people have to make something custom for it to work for them, but we offer a cart that is built for this right from the factory.
Your hunting golf cart should be large enough to accommodate all of your gear.
This includes things like coolers, guns, decoys, and blinds.
It is also a good idea to have a brush guard on your cart to protect it from hazards on the trail and hold a winch!
Finally, you'll want to make sure that your hunting golf cart has plenty of storage space for any game that you may harvest during your hunt.
Plenty of power to climb hills and haul gear is also a big plus!
You'll want to have the best battery available for your cart. This ensures that you have plenty of ride time while you're out in the woods.
They also have charge meters, so you know exactly how much charge you have left!
Benefits of Using An Electric Hunting Cart

There are a number of benefits to using a hunting golf cart over other kinds of hunting vehicles. Let's take a look at some of the most important.
Golf Cart Mobility
First, it will allow you to cover more ground in less time. This is especially beneficial if you are hunting in a large area.
These carts have the power to climb hills and plenty of range for driving or hunting all day.
And since most are lifted, you'll have plenty of ground clearance and more of your tires will be making contact with the ground. More contact equals more power.
Custom Hunting Carts Are Silent
Electric-powered golf carts have a significant advantage over gas-powered carts when it comes to hunting.
Electric vehicles are silent! This means you won't scare away the game or bother anyone!
Turkey hunting? You'll find it easier to get to your blind without letting all the turkeys know where you are!
Deer? Ride right up to your tree stand without spooking them.
Electric Golf Carts Don't Produce Fumes
An electric cart has no noxious fumes.
You don't want any animals getting a whiff of exhaust and running off, plus who wants to stink up their hunting clothes and let your prey know you're coming?
The Beast Provides a More Natural Experience
Hear the creek running, leaves rustling in the wind. The grass will gently bend under your tires and birds sing as you make your way to your favorite hunting spot.
Electric-powered carts give you a more natural experience to enjoy and really bring you and nature together.
No Gas or Oil is Needed In These Carts
Tired of forgetting to change the oil in your 4-wheeler or making an unwanted time-consuming trip to the gas station for fuel when you're in a hurry to get in the woods?
Well, with an electric hunting cart, that is a thing of the past. You'll save money on fuel and maintenance across the board!
Keep Your Gear Dry

Hunting carts can easily be set up to keep all of your gear safe and dry while you're hunting. Also, if need be, you can take refuge there to wait out any less-than-favorable weather!
Common Misconceptions About Electric Hunting Carts
A misconception about hunting carts that is commonly brought up, is that they don't have the range needed to hunt.
Another popular one is "What if it dies in the woods?".
Let's examine these two myths.
Not Enough Range
Depending on your battery, you can get from 30-60 miles on a single charge.
The average round trip to and from work in the US is around 41 miles, just to give you a perspective of how far 30-60 miles could be.
That is around an hour of consistent driving!
Most people simply don't drive that much when they go out hunting.
So, a hunting cart is more than capable of meeting their needs, and the benefits of hunting in an electric hunting cart make it worth it.
The Cart Battery Will Die In The Woods
Sure. Your cart could go dead in the woods. However, a gas-powered vehicle could run out of gas or break down in the woods.
With modern portable chargers, you can easily charge your cart while you hunt.
Many carts have battery meters so that you know exactly how much battery you have, making running out of juice unlikely.
With a lithium battery upgrade, your cart can average more than 40 miles to a charge. That's a lot of driving for one day!
A Fantastic Cart To Consider For Hunting
Our most powerful cart, the Beast LE is built tough to tackle any terrain and it's made in America!
It will fill like it was made custom for you with a 2" aluminum cage system, double gun racks, aluminum front basket, and aluminum seat kit cargo box combo w/tailgate, the Beast LE has plenty of storage for all your gear and game.
Plus, with a built-in headrest and armrests, you'll enjoy comfort even on the trails.
Heavy-duty front and rear springs ensure your ride will be smooth even when the terrain gets rough.
An onboard programmer allows you to adjust the power output, for more power when you need it and less when you don't.
You can rest a little easier on the trail knowing the Beast has got your back!
If you're in the market for a new hunting golf cart, then be sure to keep these features and benefits in mind, and be sure to contact us if you have any questions.
A good hunting vehicle can make all the difference in your success or failure! Thanks for reading, and happy hunting!