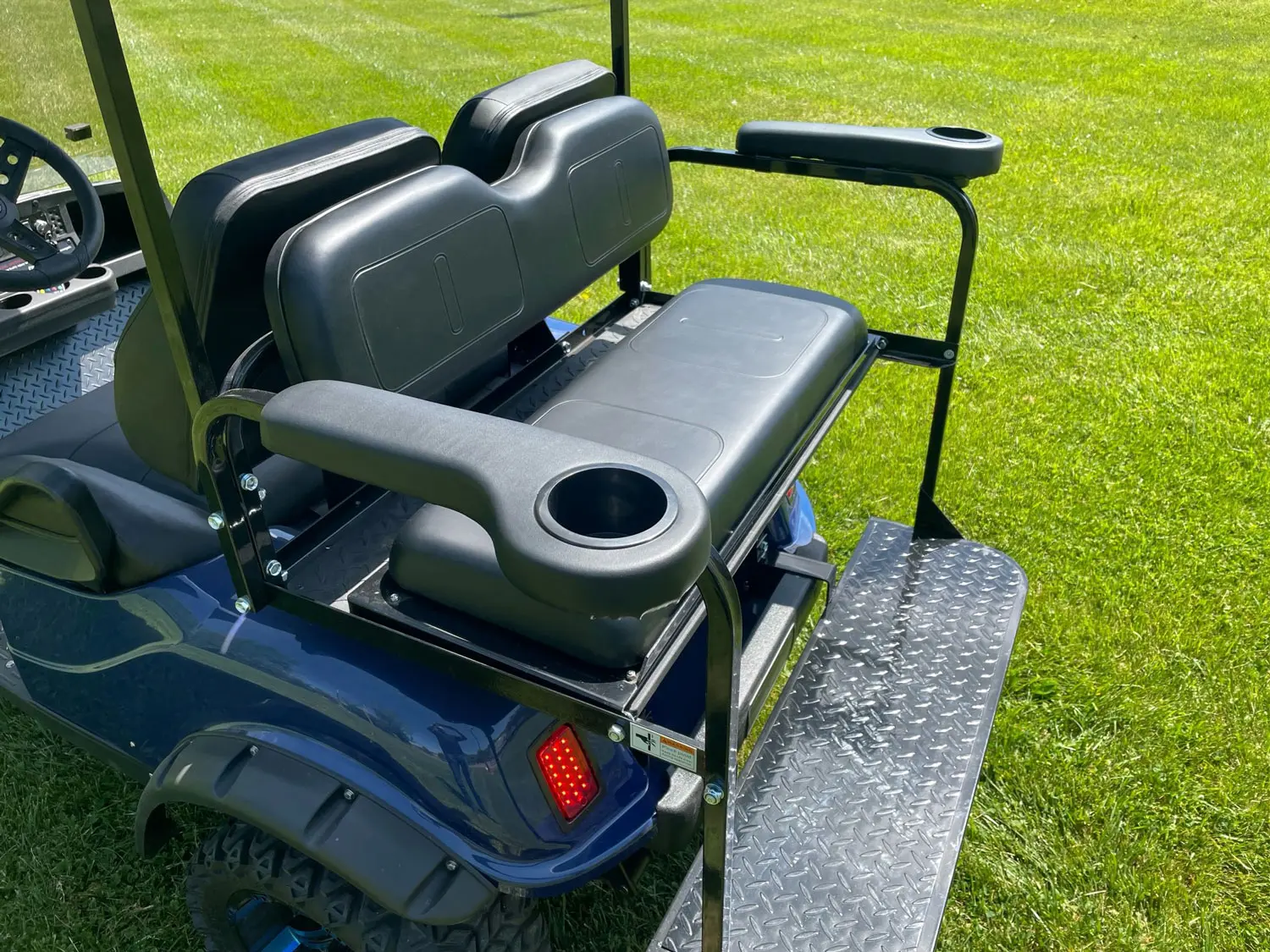 Revolutionize your golf cart experience with our state-of-the-art Golf Cart Cup-Holders! Elevate the luxury of your ride with these meticulously crafted cup holders that deliver unparalleled stability and ultimate convenience for both drivers and passengers. Our cup holders keep your drinks in place, allowing you to focus on the ride and enjoy that refreshing sip of your favorite beverage. Paired seamlessly with our top-of-the-line rear seat kit and golf cart armrest, cup holders from golfcarts.com offer a fusion of organization and comfort, offering an unrivaled driving experience. Elevate your golf cart with the epitome of style and practicality with these cup holder accessories!
Shop Our Other Categories
Secure Your Beverages!
Join us as we change the world of beverage stability! Our cupholders are the height of functionality, providing your favorite beverages with a safe and solid home no matter what terrain you tackle. The days of stressing about open containers spilling on your adventures are long gone.
Your beverages are safely stored and easily accessible with our outstanding cupholders, designed to elevate your riding experience. To best serve our valued clients, we provide a choice of cup holders that are compatible with many golf cart models and are priced for any budget. Improve your golf cart with this necessary accessory.
Convenience
With the help of our cutting-edge beverage buddy, enjoy more convenience on the road. Imagine yourself grabbing your preferred beverage while playing golf, going out for a ride on the streets, or riding towards a camping spot. Bringing a meal to a new neighbor? Slip a small vase of flowers or a drink bottle into the cup holder for a worry-free delivery. Products from Golfcarts.com are designed for dependability and convenience. We craft every accessory with the aim of improving your golf cart experience.
Want to see just how sturdy, sleek, and useful our golf cart accessories are? Check out our customer testimonials to see how our golf cart cup holder changed the game. Then join the customers who have already experienced the magic and transform your golf cart journey today!
Fewer Distractions
Tired of worrying about your drink when driving over rough terrain? Put your beverage out of your mind and refocus on the road! Our cup holder is more than a convenient accessory; it's your go-to tool for maintaining full attention throughout your ride by stabilizing your cup – and its contents – no matter where you drive.
No more worrying about spills or balancing beverages in unstable places. Add a cup holder to our rear seat kit and golf cart armrest to improve the ride for your passengers too. With cup holders from Golfcarts.com, you can invest in the future of distraction-free riding. It's a low cost, high reward way to improve your golf carting experience!
Added Comfort
Enjoy the height of golf cart luxury with our golf cart cup holder! While many cup holder accessories are difficult to install or unstable while you drive, our cup holder combines a durable, stable design with easy installation to give you a superior experience from your purchase to your first ride. Without worrying about spills, juggling drinks, or resigning yourself to being thirsty, you'll be able to enjoy a more comfortable golf cart ride.
For added luxury and conveniences on your golf cart adventures, combine cup holders with our rear seat kit, rear seat, and golf cart armrest. Your experience riding golf carts will never be the same!
Better Organization
Greetings from the evolution of golf cart management! Our cup holders reinvent golf cart organization, creating a modern, tidy interior that immediately boosts your golf cart experience. With our cup holders, you won't have to worry about a messy car or lost drinks again. They ensure that your drinks are right at your fingertips.
Multi-Purpose Use
Our clever golf cart cup holder unlocks a world of adaptability! Install multiple cup holders for a place to store your drinks, keys, wallet, and any tiny belongings that would otherwise get lost on your journey. The no-jostle design and deep well of our cup holders make them ideal for storing small belongings that might otherwise fall out of your pockets or roll off of the dashboard.
Convenience
Cupholders offer a practical and safe location to store drinks, preventing spills or distractions while operating the golf cart. They also encourage you to stay hydrated on your adventures, which is important for maintaining energy and avoiding negative health ramifications.
Versatility
Golf carts with cup holders can be used for a variety of activities besides golf, such as tailgating, camping, beach trips, picnics, or attending outdoor events.
Multi-Use
Cupholders are a practical alternative for transporting gear since they may be used as temporary storage for small tools, fishing gear, gardening supplies, or any compact goods. Cup Holders on golf carts provide a place to carry beverages, maps, sunglasses, or tour guides for short road journeys inside towns or holiday resorts.
Why Choose Us
Golfcarts.com's unwavering dedication to quality makes us the unrivaled choice for premium electric golf carts and golf cart accessories. Our iconic Pro, Legend, Beast, and Rookie golf cart models are the pinnacle of innovation, performance, and dependability. Not only do we provide a wide variety of models, but we design golf cart accessories with each one in mind, so you can add more amenities without worrying about compatibility or ease of installation. Our golf cart add-ons not only improve your golf cart's functionality, but they also give off an air of flair and refinement. Because we at Golfcarts.com move your game ahead, choose us for performance, style, and unmatched durability.
Online-Store Convenience
With a few clicks, you can uncover a world of accessories for your golf cart! Shop our online store to find golf cart cup holders and other accessories. We provide everything from baskets, batteries, wheels, tires, windshields and golf cart covers. Enjoy the convenience of buying from home and update your golf cart accessories in a flash. You're only one click away from a better golf cart experience! Shop our online store today.
In-Store Convenience
Visit one of our physical stores to see our extensive selection of golf cart accessories in person. Need suggestions? Our friendly and knowledgeable are happy to help you choose the best cup holders for your golf cart, whether you want to install them on your dashboard, rear seats, or armrests. We have physical storefronts located all over the U.S. where you check out our accessories in person. Don't wait! Level up your golf cart today.
Shop Online With Us Today!
We are dedicated to giving our clients unbeatable value while delivering golf cart organization that is both accessible and affordable. We design our cup holders for compatibility with each of our popular golf cart models, so you can find just the right accessory. Not sure what to buy? Just ask our team at GolfCarts.com!

Multiple Outlets in USA

Fast & Efficient Shipping
Secure Online Payments