STORE DETAILS
Golf Carts For Sale in Nitro
1(304) 986-4553
HOURS OF OPERATION
monday
10:00 am - 6:00 pm
tuesday
10:00 am - 6:00 pm
wednesday
10:00 am - 6:00 pm
thursday
10:00 am - 6:00 pm
friday
10:00 am - 6:00 pm
saturday
10:00 am - 5:00 pm
sunday
closed - closed
If you're thinking of getting the golf cart of your dreams, you've come to the right place! Even if you don't plan on playing a round of golf, a golf cart is a great purchase. Golf carts can provide many advantages, whether you're running errands or taking the less-traveled route. We offer the best Golf Carts For Sale in Nitro, so head on down to our dealership.
Electric variants are eco-friendly. Every time you use your golf cart instead of your car, you'll be doing the environment a favor. If you're in Nitro or somewhere nearby, plan a visit to our dealership to check out some of our golf cart models! You won't get such high-quality golf carts at such an affordable price anywhere else. And if you are a fan of golf, our golf carts have many features to take advantage of like adjustable bag straps to store your clubs securely, a waterproof scorecard holder, and more.
Golf Carts in Nitro
Golf carts have started to gain more popularity as multi-purpose vehicles. Using golf carts in Nitro can raise your quality of life. You can take your cart for a spin around the block with your family or drive to the nearest park for recreational activities. You can easily store large or small bags in the cart and travel with the necessities in tow. If you choose to buy your golf cart from golfcarts.com, you have a variety of models to choose from. Let us help you find the golf cart that's right for you!
Rookie
Our Rookie model is the entry-level golf cart. It has a powerful electric motor that can take the cart up to 20 mph. With easy storage options, you can travel from one place to another with everything you need. The Rookie also has a ton of safety features. This is a practical golf cart within an affordable price bracket.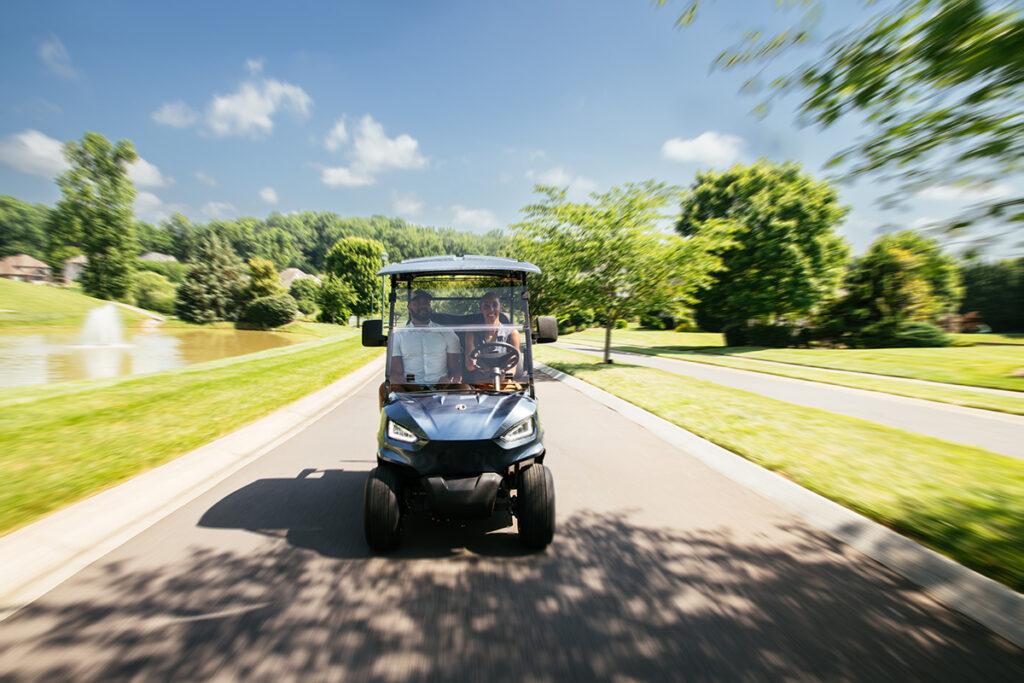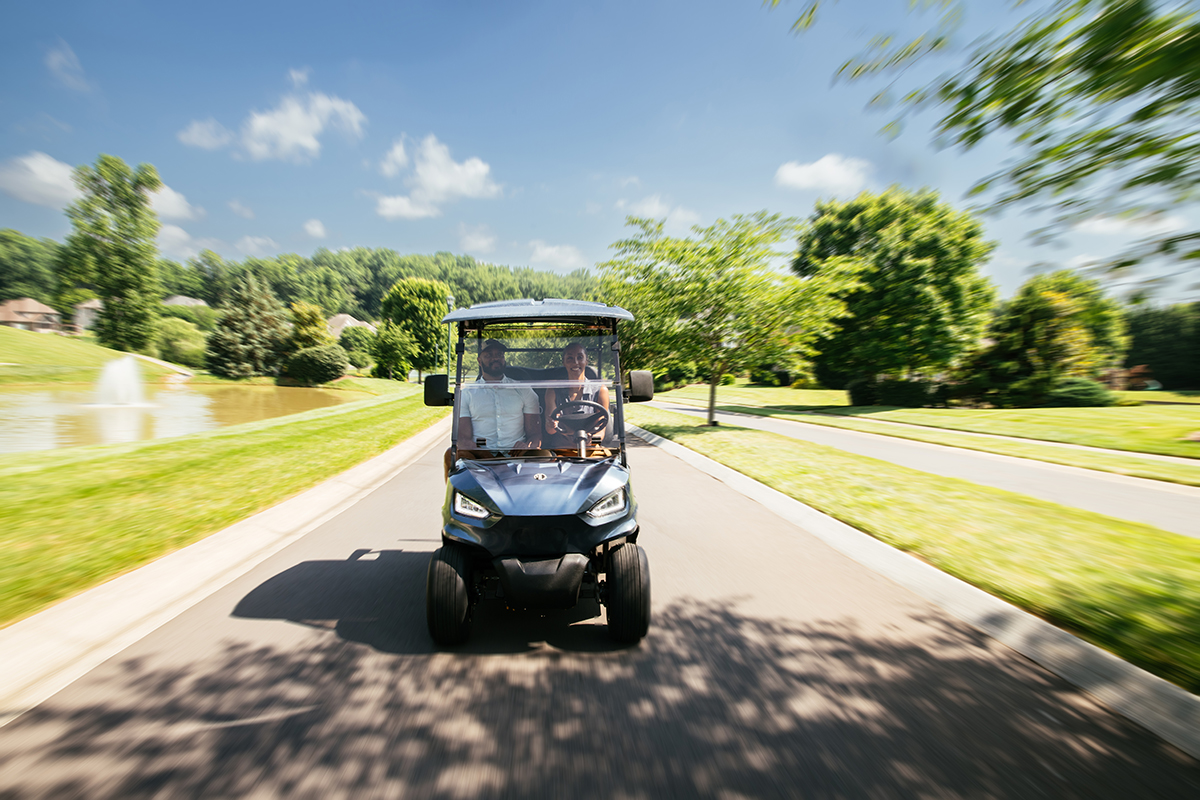 Pro
The Pro model is for anyone who wants to take their golf cart features to the next level. With a more powerful motor, the Pro can go up to 25 mph effortlessly. This cart can take you anywhere you want. Do you want a cart that has impressive looks and plenty of power? The Pro is the right golf cart for you. This model can accommodate a large amount of cargo in addition to its riders. You can store your golf bags and still have plenty of space for passengers.
Legend
Use our Legend golf cart to ferry your friends and family around the course, the road, or the trail. With a towing capability of 800 lbs, this all-electric cart can easily transport you anywhere you need to go. Do you want to have fun on the road? Use the two speakers and built-in Bluetooth audio to play your preferred music or podcasts. This cart also boasts a USB charging station, a raised frame, 14″ wheels for added trail clearance, and a top speed of 25 mph.
The Beast
Do you have plans other than playing golf? The Beast is the ideal cart for every use. This sturdy cart can tow up to 800 lbs and is built to tackle the roughest terrain. Moreover, the Beast has a top speed of 25 mph. The Beast can handle any demands you put on it, whether you wish to transport hunting equipment, carry golf bags around the course, or enjoy stunning vistas from hiking routes.
The Beast LE
For individuals who seek nothing less than the best, The Beast LE is the ideal cart. This cart redefines luxury with a robust design that can handle the roughest terrain. Similar to our basic The Beast model, this cart has an 800-pound towing capacity, a high clearance, a twin-gun rack, and high-quality suspension. With a sturdy bed, a front frame for gear, and exquisite wood finishes, this model ups the luxury factor and will make you the talk of the trail, course, or hunting trip. This cart can go 25 mph at its top speed, just like The Beast.
Golf Cart FAQs
Q: What Features Should a Golf Cart Have?
A: When you purchase your first golf cart, you look for everything. If you plan on getting an entry-level golf cart, you should know that these models come with basic features. However, if you're willing to spend a little more, you can get many amenities like snap-lock buckles, simple storage, and other upgrades. You can also get an audio system if you like to listen to some tunes on the way.
Q: What Kind of Golf Cart Should You Get?
A: There are plenty of types of golf carts. All of them have their pros and cons, but we prefer electric carts for their ease-of-use, limited maintenance needs, and eco-friendliness.
Q: Are Golf Carts Safe To Drive On Nitro Roads?
A: Nitro has very friendly traffic and is safe to drive in. If you own a golf cart, don't hesitate to take it out on roads with a posted speed limit of 35 mph or lower. These carts are capable of much more than being driven on a golf course.
Visit Our Dealership in Nitro!
Looking to buy a golf cart near Nitro? Visit our showroom and check out our carts! We have value-for-money coaches that will give you the peace of mind to drive your golf cart around Nitro. Our golf carts are highly versatile no matter where you're going or what you're towing. So visit our Nitro golf cart dealership today! 
About
We are a premium, all-electric golf cart dealer with prices you can afford. Our carts make it simple for you to take a quick trip through the neighborhood, a family outing to the beach, and even go off-road with a cart perfect for hunting or chores around the farm or homestead. You won't bother the neighbors with these carts! Our carts are completely quiet so you can feel comfortable that you aren't going to get a letter from your HOA, a noise complaint from your neighbors, or wake a sleeping baby when you pull away from the house. Plus, we offer carts that can fit up to six people comfortably with our stretch upgrade. Room for the family and even a few more! You can save money with our affordable but luxury all-electric carts, plus it's the perfect way for you to save some gas and still be able to take your family on all the adventures they can dream of.