STORE DETAILS
Golf Carts for Sale in Daytona Beach, FL
1440 N. Nova Road
Daytona Beach, FL 32117
1(386) 356-2121
HOURS OF OPERATION
monday
10:00 am - 6:00 pm
tuesday
10:00 am - 6:00 pm
wednesday
10:00 am - 6:00 pm
thursday
10:00 am - 6:00 pm
friday
10:00 am - 6:00 pm
saturday
10:00 am - 5:00 pm
sunday
closed - closed
A personal golf cart from a reputable supplier could be exactly what you need to elevate your time in  Daytona Beach, Florida. A golf cart is a handy and enjoyable way to get around the area and experience its beauty and excitement up close. Stop by our dealership in person at 1440 N. Nova Road in Daytona Beach, FL  and we'll help you find the perfect cart to suit your needs. Explore Daytona Beach in a completely new way. Enjoy this lovely town's sights, sounds, and activities using our Golf Carts For Sale in Daytona Beach.
Golf Carts in Daytona Beach, FL
Golf carts are a common mode of transportation in Daytona Beach, Florida, especially in gated communities, golf courses, and upscale areas. They offer a quick and simple way to get around and soak in the beauty and excitement of the town. Golf Carts in Daytona Beach can be purchased at our dealership and there are a number of models to pick from to meet your individual needs and preferences.
Rookie
The ROOKIE golf cart is designed to handle a variety of tasks and can carry heavy loads. With a 500-pound cargo bed capacity, it's a simple way to  transfer supplies and equipment without the trouble of loading and unloading a standard vehicle. Additionally, the seat kit has a 500 lb weight capacity, allowing for comfortable seating for guests.
The golf cart's large payload capacity allows it to carry a total weight of 800 lbs including passengers , cargo, and other items. The featured LED golf cart lights make it easier to see and be noticed in low light. The use of the horn, stop lights and turn signals while driving all help to improve safety. If you're new to golf carts, the Rookie is the ideal golf cart for you.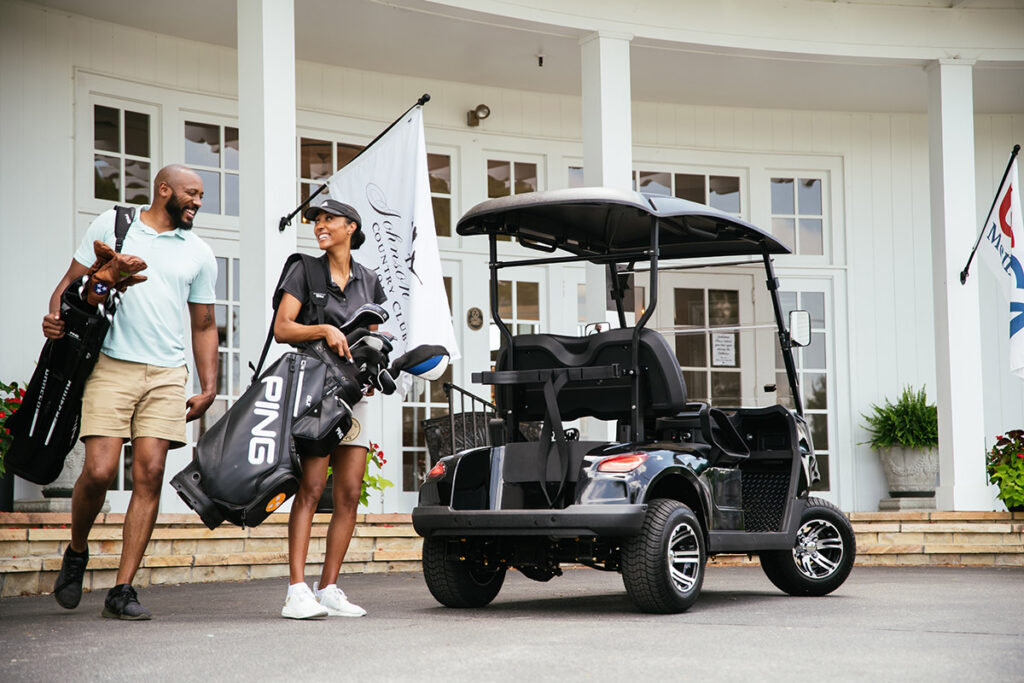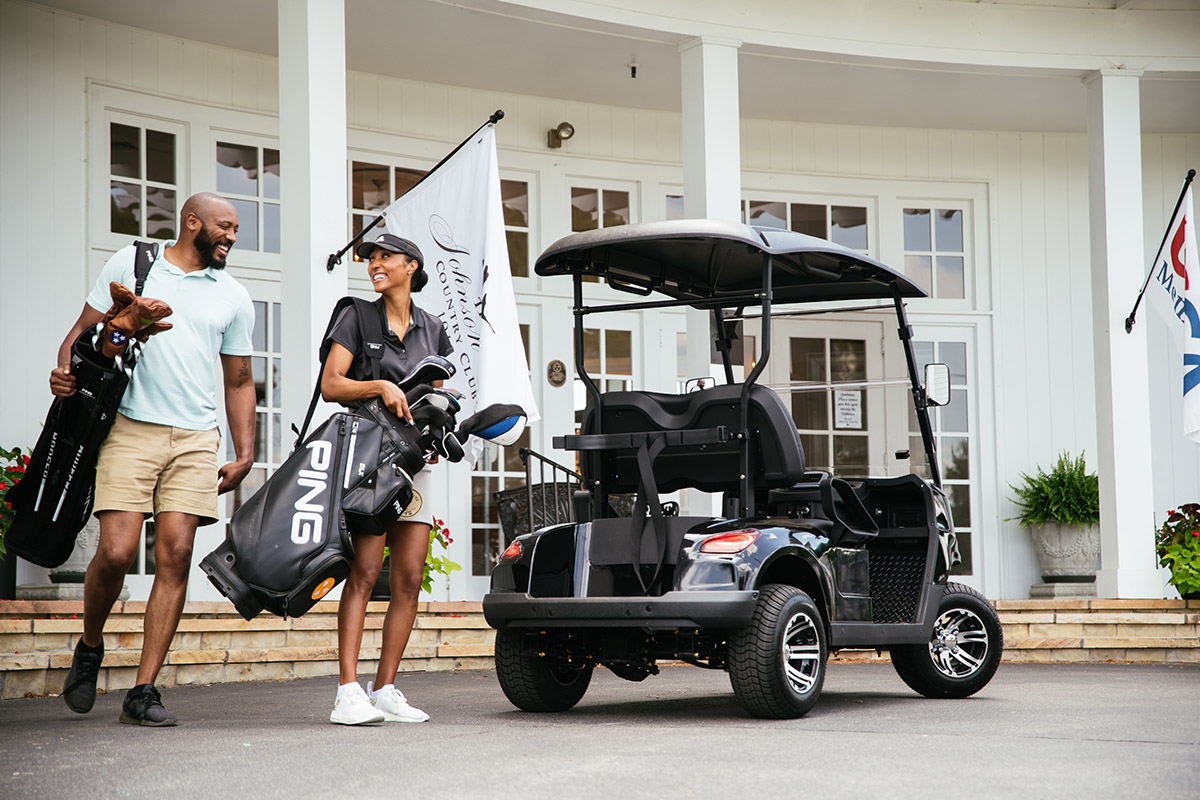 Pro
The PRO golf cart is a high-performance vehicle created for a variety of uses. Its cargo bed and seat package both have a 500 lb capacity, providing plenty of room for supplies and passenger storage. The vehicle can carry a range of products with its total payload capacity of 800 lbs.
The vehicle is more visible in low light because of the featured 7-color underfloor LED lighting, which also gives it a stylish touch. Increased ground clearance from the elevated chassis makes it simpler to maneuver through difficult terrain. Titan's body is robust and long-lasting, offering enduring performance. The 12″ aluminum wheels are lightweight and improve the functionality of the cart as a whole. The vehicle's batteries may be conveniently recharged thanks to the onboard charger.
Legend
You may stream music or other audio content wirelessly with the LEGEND golf cart's Bluetooth audio and speakers. Additionally, it has a speedometer to keep track of your driving speed, a hitch in the back for towing trailers or other equipment, sidebars for extra support and safety, a USB socket for charging your mobile devices, and a rearview mirror to improve visibility, making it perfect for individuals who frequently play golf in Daytona Beach, Florida.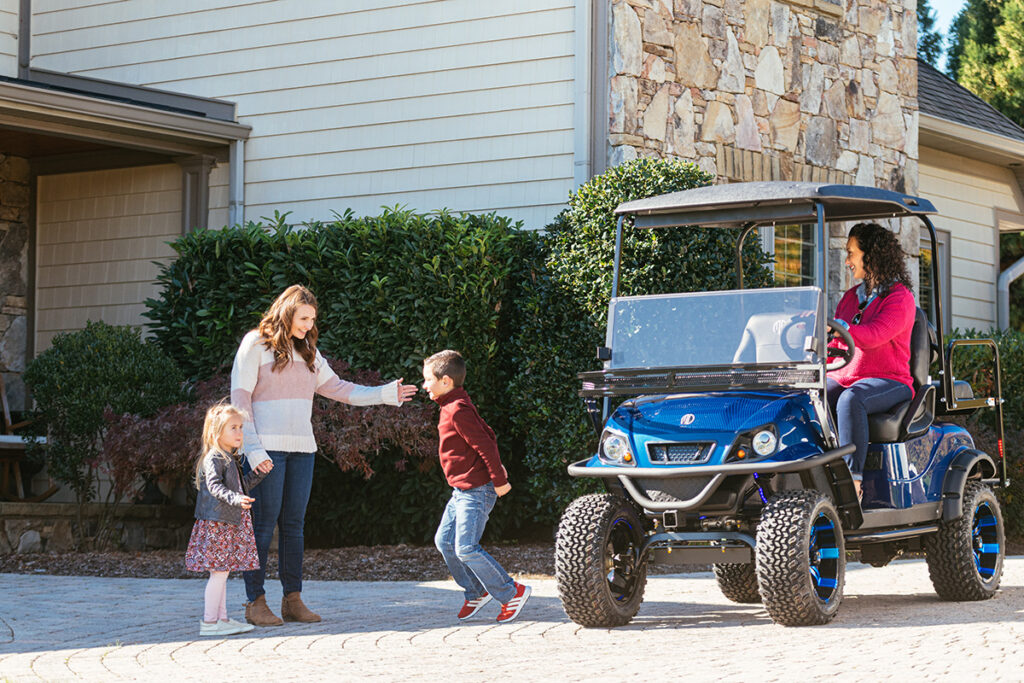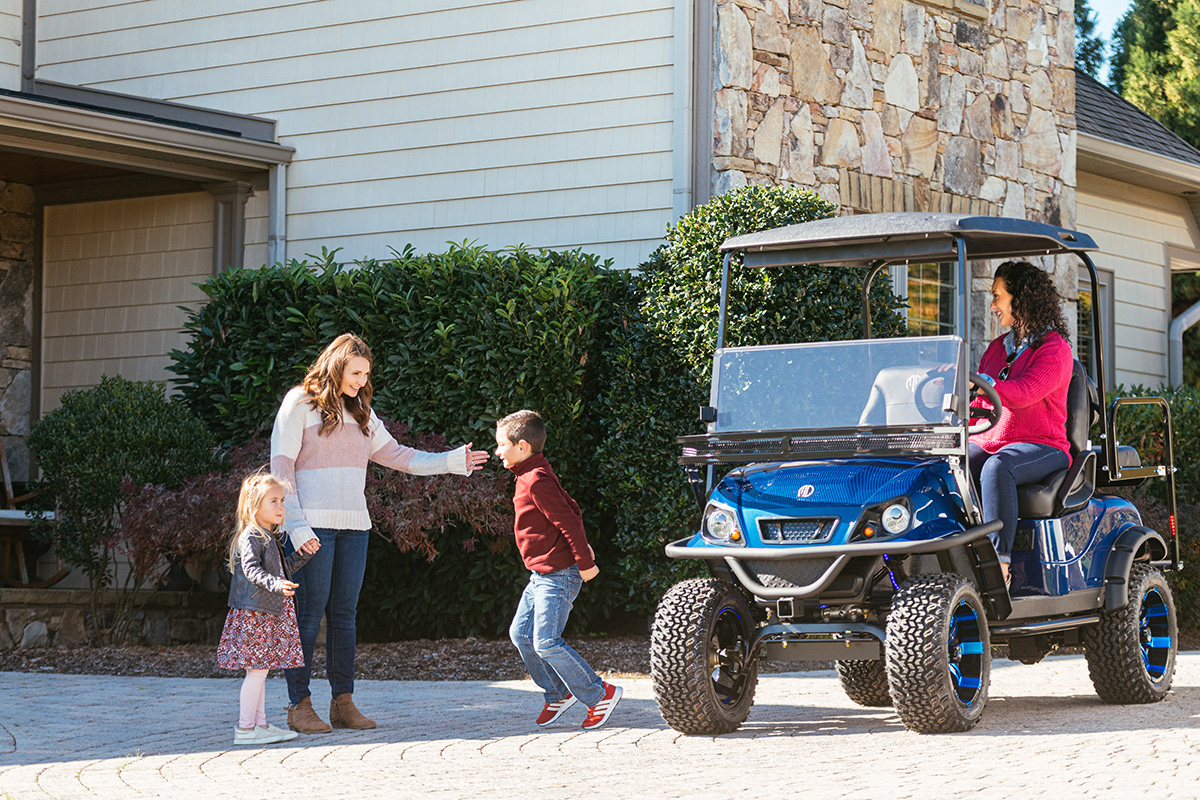 The Beast
The BEAST has an HD front clay basket, custom high-back seats, an HD brush guard, a high-performance windshield, an onboard charger, LED headlights and tail lights, and a state-of-charge meter. It also has a camo-dipped body with a UV matte finish, front and rear receiver hitches, a fold-down rear seat kit, an OEM solid black top, heavy-duty front and rear springs, fender flares, and an under-seat storage tray. For those that like a bit of luxury in their carting experience, these fantastic extras will set The Beast apart.
The Beast LE
The Beast LE is a high-end golf cart made for people who demand the finest. It is a flexible and tough vehicle perfect for driving on the golf course, trail, or hunting excursion. It has a twin-gun rack, high clearance, 800 pounds of towing capacity, and a top speed of 25 mph. The Beast LE is equipped with features including a robust bed, a front rack for equipment, and lovely wood finishes in addition to its performance qualities. This golf cart stands out in its class because it provides a special blend of luxury and toughness.
Where Can You Use a Golf Cart in Daytona Beach, FL?
Golf carts are regularly spotted on private residential streets, golf courses, and gated communities in Daytona Beach, Florida. On public streets and highways, however, they must abide by municipal and state regulations. In Florida, golf carts are only allowed on roads with a 35 mph maximum speed restriction, and they must meet certain technical requirements like having working headlights, tail lights, and turn signals.
Golf Cart FAQs
Q: How much does a golf cart cost in Daytona Beach?
A: The cost of a golf cart depends on the type, model, and featuresOn average, they can range from $3,000 to $15,000 or more. You can see the available options on our website or at our golf cart dealership in Daytona Beach.
Q: Do I need to register my golf cart in Daytona Beach, FL?
A: A four-wheeled electric vehicle is considered a low-speed vehicle if its top speed is greater than 20 mph but lower than 25 mph. Low-speed vehicles are registered and carry state-issued license plates. 
Q: Does Golfcarts.com offer financing options in Daytona Beach?
A: Indeed, we do! To help you achieve your golf cart dream without exceeding your budget, we provide a variety of financing options. For more details on our current financing plans, get in touch with us straight away.
Q: How much maintenance do golf carts need?
A: We recommend that you schedule professional maintenance for your golf cart every 6-12 months. A golf cart professional will be able to catch potential problems before they become major issues.
Visit Our Daytona Beach, FL, Location to Find the Perfect Golf Cart 
When you're ready to select the ideal golf cart for your everyday routine, stop by our showroom in Daytona Beach, Florida. Our knowledgeable staff will help you through the sea of options to select the perfect ride. When you visit, let us show you how we can enhance your golfing experience.
Visit our website or stop by 1440 N. Nova Road, Daytona Beach, FL 32117 to compare golf carts. We look forward to helping you select the best golf cart for your needs!
About
Golfcarts.com is a premium, all-electric golf cart dealer with prices you can afford. Our carts make it simple for you to take a quick trip through the neighborhood, a family outing to the beach, and even go off-road with a cart perfect for hunting or chores around the farm or homestead. You won't bother the neighbors with these carts!
Our carts are completely quiet so you can feel comfortable that you aren't going to get a letter from your HOA, a noise complaint from your neighbors, or wake a sleeping baby when you pull away from the house. Plus, we offer carts that can fit up to six people comfortably with our stretch upgrade. Room for the family and even a few more!
You can save money with our affordable but luxury all-electric carts, plus it's the perfect way for you to save some gas and still be able to take your family on all the adventures they can dream of.