STORE DETAILS
Golf Carts For Sale in Katy
1718 N Fry Rd Suite 140
Katy, TX 77084
1(281) 761-7634
HOURS OF OPERATION
monday
10:00 am - 6:00 pm
tuesday
10:00 am - 6:00 pm
wednesday
10:00 am - 6:00 pm
thursday
10:00 am - 6:00 pm
friday
10:00 am - 6:00 pm
saturday
10:00 am - 5:00 pm
sunday
closed - closed
Katy is a small city in Texas with a beautiful layout of residential areas. What better way to enjoy it than by purchasing a compact and reliable golf cart to drive around? You can use your golf cart in Katy for grocery shopping, a quick trip to the park with your friends, and other activities. And of course, you can always take your golf cart to a golf course. Take a look at our Golf Carts For Sale in Katy, TX to learn more!
Whether you're in Katy or anywhere nearby, you can visit our dealership to check out some of our latest golf cart models. Do you want a golf cart that can carry more than two passengers? Do you want a custom golf cart designed with on-demand features? You got it! Vehicles like golf carts are easy to use and have many purposes. Owning a golf cart doesn't mean you can only use it on the golf course; you can use it for a small cruise in the fresh air on the streets of Katy! So come to our dealership and look into the great deals we have to offer.
Golf Carts in Katy
If you're looking for Golf Carts in Katy that are designed to have maximum durability or the right amount of power with comfort, then you've come to the right place! Golfcarts.com Katy has a massive inventory of electric golf carts for you to browse and choose from. Our carts have reliable batteries that will last longer than the golf carts you may find at other dealerships. Apart from being highly powerful, our golf carts are also convenient. The storage compartments in our golf carts offer a lot of carrying capacity. So if you're in the Katy area, visit our dealership and discover great deals!
The Rookie
The first level of golf carts we produce is the Rookie. This is for the ones who are regular golfers and just need a well-grounded golf cart that can take them from one hole to another. With a highly reliable battery, these golf carts are durable and offer a lot for their price point! This model can reach a speed of up to 20 mph. The tires on the Rookie are sturdy and offer excellent road clearance. The Rookie has other features like LED lights for driving at night and other convenient safety features.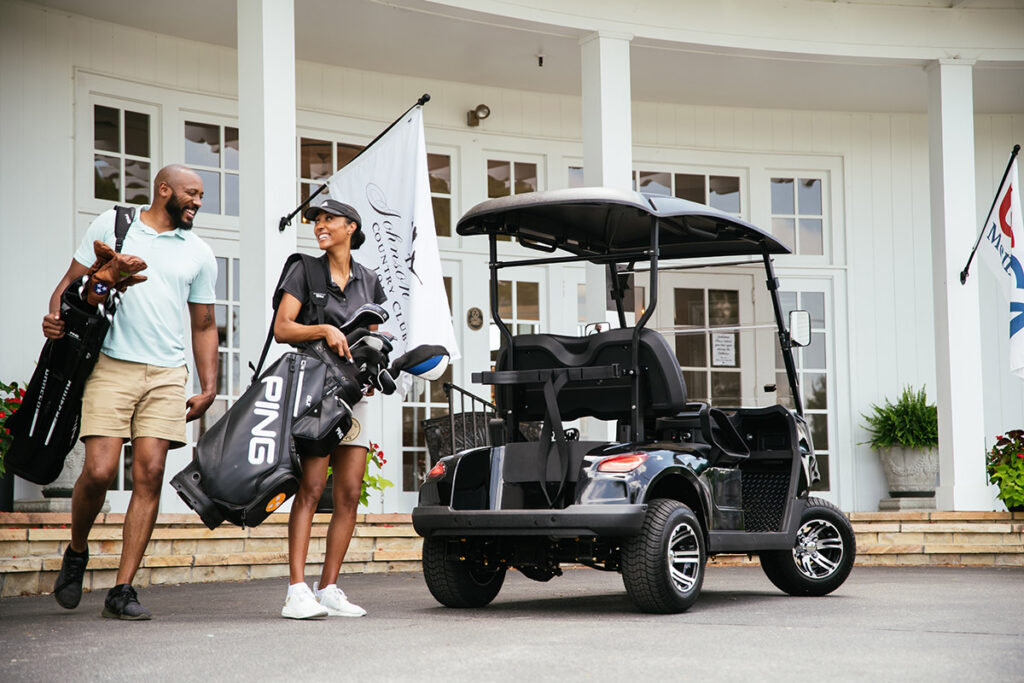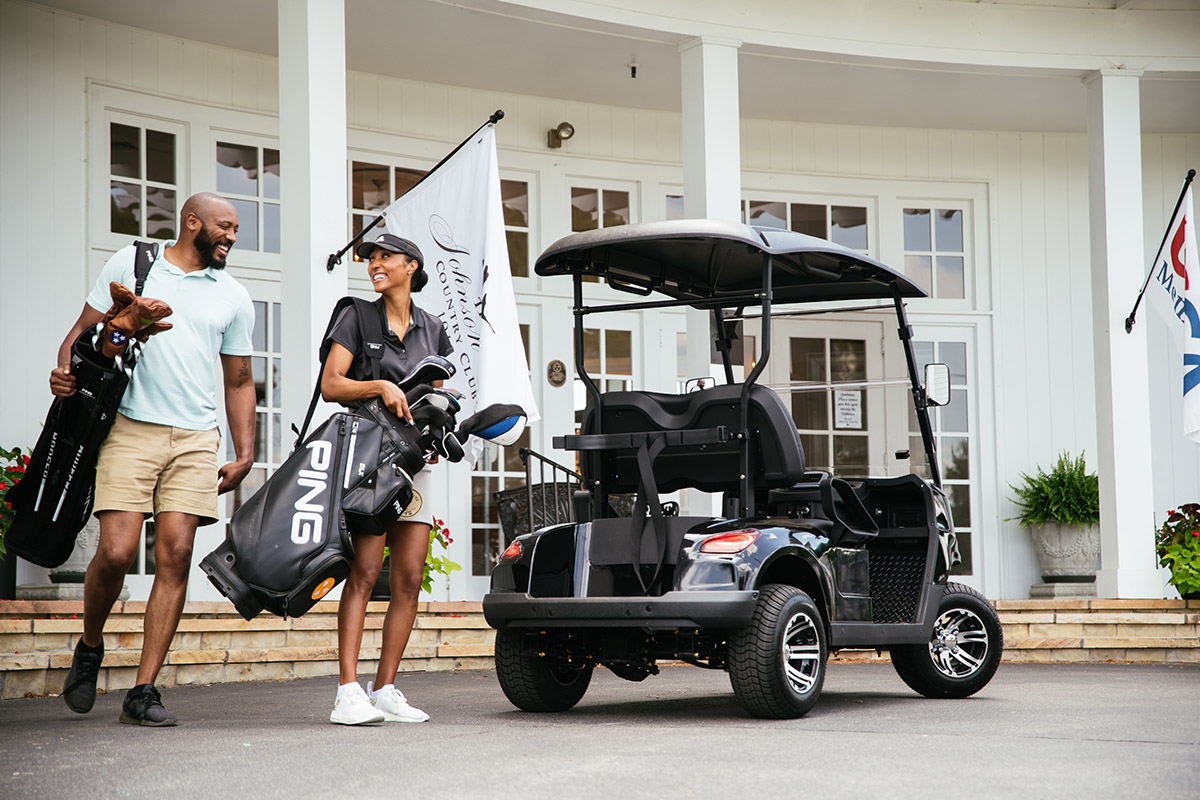 The Pro
What's better than a good golf cart? A great golf cart! The Pro model is for people who value great features and performance on a budget. By paying just a little more than for the Rookie, you can get the Pro model that goes up to 25 mph. It has a powerful battery that can tow 800 lbs effortlessly! If you want to make a solid impression while visiting a site or driving around the neighborhood, the Pro will do you justice. You can customize this model with added features as well.
The Legend
The Legend model is a head-turner. Although it has the high performance specifications of 25 mph speed and quality safety features, the Legend model is for people who prefer comfort over anything else. The seating on this model is exquisite. The storage compartments add convenience and security no matter what you're bringing with you. With 12-inch alloy rims, the Legend offers a comfortable drive with much more ground clearance. You can adjust the settings for almost everything. The Legend model also has a built-in audio system for you to crank some tunes! Whether you're traversing the golf course or taking your family on a lovely picnic, this cart has you covered.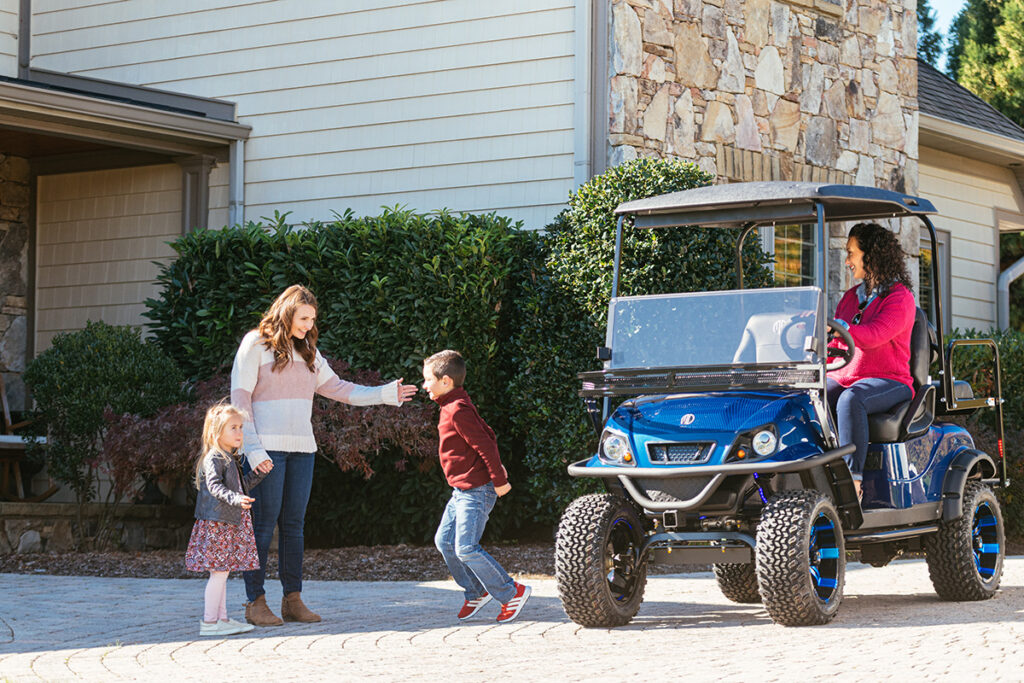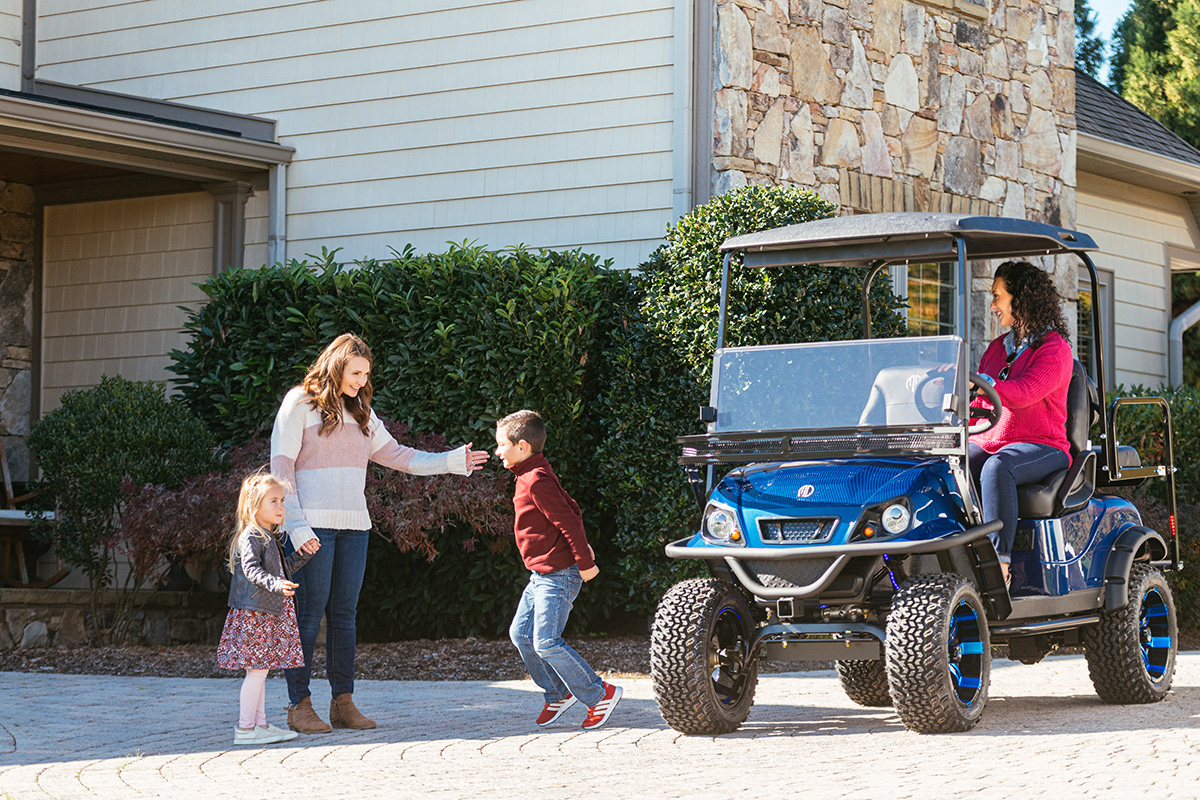 The Beast
Although all our golf carts are equipped with great features on a budget, the Beast offers top-tier quality. With premium features like an OEM solid black top, a matte finish paint, and a high-quality steering wheel, the Beast is what an enthusiast would buy. Powered by a durable power unit, the Beast can tow 800 lbs and move up to 25 mph of speed. It can handle anything you throw at it. Do you want to take it on an uphill run? The Beast can easily manage that. Need somewhere to stow your rifle on your next hunting trip? The Beast can get you and your gear where you need to go. Buying this golf cart means investing in comfort, reliability, looks, and practicality.
The Beast LE
The Beast LE is our top-tier golf cart. This model is for people who are looking for the absolute best. Our standard Beast model comes with many storage options and other features, but the Beast LE comes with a beautiful and elegant design. Everything on this cart is designed to fit the needs of the user. If you buy this cart, it will keep on giving every day. You can drive around your property, take it for a spin on the golf course, or go drive around in it with your friends. The Beast LE isn't just an electric golf cart; it's a statement. In addition to the standard features and top notch amenities, you can also install after-market features to truly customize your golf cart. There isn't anything else that tops this.
Where Can You Use a Golf Cart in Katy?
Katy has a lot of safe streets you can drive around in your golf cart. You can take your kids to Kanga's indoor play center or drive up to Katy city park with your family for a Sunday picnic. Besides that, you can use your golf cart for the purpose it's built for: golfing. Katy has many golf courses like the Golf Club and Chino Ranch or Willow Fork Golf Club.
Golf Cart FAQs
Q: Why Should I buy an electric Golf Cart?
A: Electric carts are more eco-friendly and cost less to maintain. This is why many people prefer to use electric golf carts in Katy, keeping the atmosphere clean and green for all.
Q: How Many Hours Does it Take to Charge a Golf Cart?
A: It usually takes around 8-10 hours to charge your golf cart fully. That's the best thing about an electric golf cart.
Visit Our Showroom in Katy, TX For The Best Golf Carts
Want to find the perfect golf cart model? Visit our dealership in Katy at 1718 N Fry Rd. Our sales team will help you select the perfect golf cart for you. You can also view our inventory on our website. If you need any information regarding golf carts, we'd be happy to help! Stop by today and find the golf cart that's right for you.
About
We are a premium, all-electric golf cart dealer with prices you can afford. Our carts make it simple for you to take a quick trip through the neighborhood, a family outing to the beach, and even go off-road with a cart perfect for hunting or chores around the farm or homestead. You won't bother the neighbors with these carts! Our carts are completely quiet, so you can feel comfortable that you aren't going to get a letter from your HOA, a noise complaint from your neighbors, or wake a sleeping baby when you pull away from the house. Plus, we offer carts that can fit up to six people comfortably with our stretch upgrade. Room for the family and even a few more! We have multiple locations all over Houston, Texas, so saving money with our affordable but luxury all-electric carts is reach for everyone. Plus, it's the perfect way for you to start saving some gas and be able to take your loved ones on new adventures.