STORE DETAILS
Golf Carts For Sale in Fargo
2520 Main Avenue W
Fargo, ND 58078
1(701) 707-0808
HOURS OF OPERATION
monday
10:00 am - 6:00 pm
tuesday
10:00 am - 6:00 pm
wednesday
10:00 am - 6:00 pm
thursday
10:00 am - 6:00 pm
friday
10:00 am - 6:00 pm
saturday
10:00 am - 5:00 pm
sunday
closed - closed
With stunning golf cart attractions such as Bonanzaville and Red River Zoo, Fargo is home to a wide variety of golf courses. Being a golf cart owner can elevate your leisure time in Fargo. Looking for your next great golf cart? We have a wide selection of golf carts for sale in Fargo. Contact us today and get yours!
Golf Carts in Fargo
At our dealership in Fargo, we understand that everyone has different needs and wants when it comes to golf cart performance. We have a knowledgeable staff that will help you identify your needs and recommend the golf cart that is best for your lifestyle. We also offer unique customization options for you to make your golf cart truly yours. Head on down to our dealership to check out the best golf carts in Fargo.
Rookie
Our entry-level Rookie model is an ideal choice for first time golf cart owners. It has six batteries, turn signals, a fold-down rear seat, and LED lights for an aesthetic look. It also has a vehicle payload of 800 lbs to ensure you can carry all your golfing equipment while on the golf courses of Fargo. If you are looking for a golf cart that won't break the bank, look no further than the Rookie!
Pro
The Pro model comes with a lifted chassis, titanium body, and 12" wheels, which give it a more robust look when compared to the Rookie. It also comes with all the essential safety features you would expect from a personal golf cart. This is an ideal option for professional golfers and leisure pros alike. At our dealership in Fargo, we also provide custom black seats and fold-down rear seats with this golf cart model.
Legend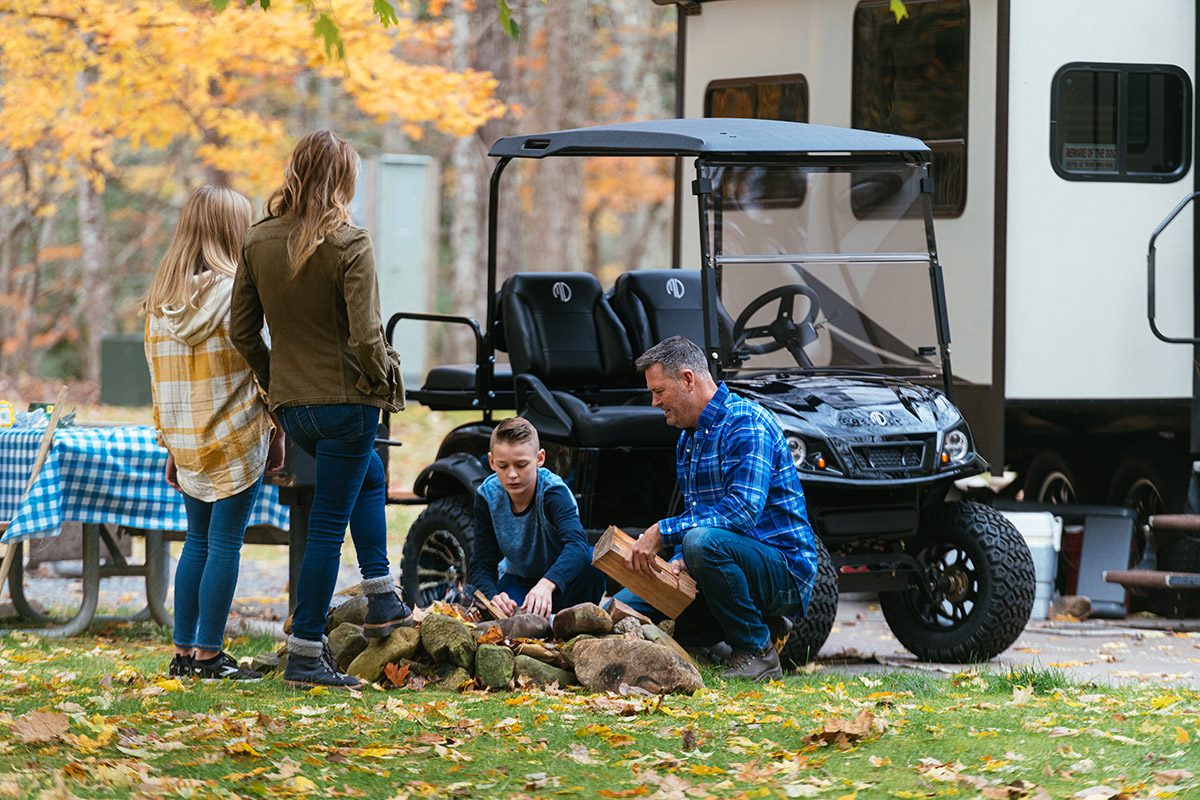 Our Legend model comes with a ground clearance of 16" and 14" wheels, allowing a smoother ride when it comes to rugged terrains. It also comes with sidebars, a rear hitch, and a speedometer to ensure you are not going above the speed limit while visiting the golfing attractions of Fargo. This model also has a 12v accessory so that you can power your golf cart accessories; it also has a USB charging port to ensure that your mobile devices never run out of juice while on the go.
The Beast
The Beast model is our top-tier model and comes with premium features such as an HD front clay basket, an under-seat storage tray, an onboard charger, more comfortable headrests, and heavy-duty suspension. In addition, this model also comes with a double gun rack which, when paired with the solid suspension, makes this the ideal golf cart for those that seek adventures that go beyond the golf courses. Get yours now at our branch in Fargo.
The Beast LE
The Beast LE is the ultimate golf cart for those seeking luxury and performance. Building on the already exceptional features of the Beast model, it offers even more amenities to provide the utmost comfort and convenience. The sleek design of the Beast LE is as impressive as its handling capabilities, making it the perfect choice for outdoor adventurers. With a maximum payload of 800 lbs and a top speed of 25 mph, this golf cart is versatile and practical for any use. Whether exploring the wilderness or cruising around your neighborhood, the Beast LE is the ideal for a luxurious and exhilarating experience.
Where Can You Use a Golf Cart in Fargo?
Fargo, North Dakota offers several excellent options for riding a golf cart. Prairiewood Golf Course is a popular location, which offers a 9-hole golf course and driving range. A ride around Island Park provides beautiful views of the 22-acre park in downtown Fargo, complete with trees, lush greenery, and a pond. Lindenwood Park is another option with a golf course, nature trails, and picnic areas for a relaxing ride on a golf cart. Fargo Country Club members can ride around the club's beautiful grounds.
The Red River Zoo is an exciting place to ride a golf cart while viewing exotic animals and exhibits. North Dakota State University offers a beautiful campus with many historic buildings and landmarks to admire on a golf cart ride. Trollwood Park, with a golf course, hiking trails, and a performing arts center, is an excellent place to take a leisurely ride while enjoying the beautiful scenery.
Golf Cart FAQ
Q: How fast can a golf cart go?
A: Most golf carts have a top speed of around 15-20 miles per hour. However, this can vary depending on the specific model and any modifications that have been made.
Q: How long do golf cart batteries last?
A: The longevity of a golf cart battery can vary depending on several factors, including the quality of the battery, how often it is used, and how well it is maintained. In general, most golf cart batteries will last between 3-5 years before they need to be replaced.
Q: Can I customize my golf cart?
A: Yes, there are many customization options available for golf carts, including paint jobs, accessories, and upgrades to the engine or suspension. However, it's important to check local regulations to ensure any modifications are legal and safe.
Q: How much do golf carts cost?
A: You can expect to pay anywhere from $5,000 to $10,000 or more for a new golf cart. Used golf carts may be available at a lower price, but it's essential to scrutinize them and make sure they are in good condition.
Visit Our Fargo Location to Find the Perfect Golf Cart
If you are in Fargo or the surrounding areas looking forward to becoming a golf cart owner, look no further than our Fargo dealership. Pay us a visit at 2520 Main Avenue W. and let us help you purchase a golf cart that satisfies you!
About
We are a premium, all-electric golf cart dealer with prices you can afford. Our carts make it simple for you to take a quick trip through the neighborhood, a family outing to the beach, and even go off-road with a cart perfect for hunting or chores around the farm or homestead. You won't bother the neighbors with these carts! Our carts are completely quiet so you can feel comfortable that you aren't going to get a letter from your HOA, a noise complaint from your neighbors, or wake a sleeping baby when you pull away from the house. Plus, we offer carts that can fit up to six people comfortably with our stretch upgrade. Room for the family and even a few more! You can save money with our affordable but luxury all-electric carts, plus it's the perfect way for you to save some gas and still be able to take your family on all the adventures they can dream of.