STORE DETAILS
Golf Carts For Sale in Arden,NC
1(828) 276-9500
HOURS OF OPERATION
monday
11:00 am - 6:00 pm
tuesday
11:00 am - 6:00 pm
wednesday
11:00 am - 6:00 pm
thursday
11:00 am - 6:00 pm
friday
11:00 am - 6:00 pm
saturday
12:00 pm - 5:00 pm
sunday
12:00 pm - 5:00 pm
Arden, with its rolling hills and lush green landscapes, is home to some of the most beautiful golf courses in North Carolina. With fantastic locations like the Broadmoor Golf Course and The Cliffs at Walnut Cove Tavern, it is no surprise that golf carts are a popular choice in Arden. If you're looking for golf carts for sale in Arden, NC, then come on down to visit our golf cart dealership at 37 Brian Blvd Arden, NC.
Golf Carts in Arden 
Arden is a city known for its outdoor activities, so it is no surprise that golf carts are popular. That's why we have various models to choose from, including street-legal golf carts designed for residential or commercial use and off-road models perfect for hunting and trail riding in Arden.
Choose from our efficient, reliable, and affordable Golf Carts in Arden. Our friendly staff will help you find the perfect golf cart to suit your needs.
Rookie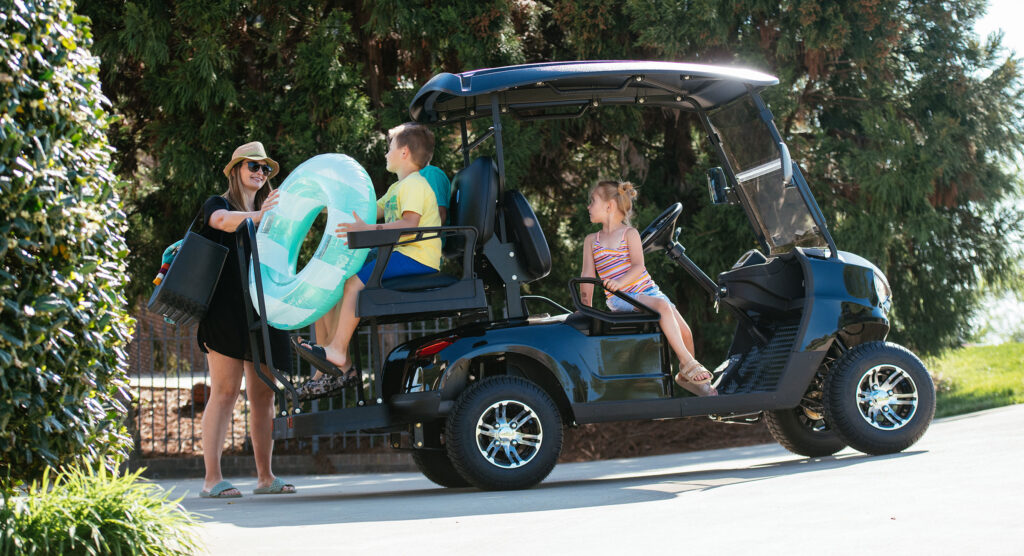 Rookie is our entry-level model, perfect for novice golfers. An energy-efficient electric motor with a standard 48-volt battery system powers it. The Rookie has durable plastic body panels and excellent suspension for a smooth ride on the course or the road. It has led lights/turn signals that help you navigate the roadways safely.
Pro
For those who want a golf cart with a little more power, consider upgrading to the Pro model. It features 6 Interstate brand lead-acid batteries, 12″ Aluminium Wheels, Digital Dashboard, and a USB port to plug in your smartphone. With a lifted chassis and load capacity of 500 pounds, this Pro model is perfect for hauling your gear around the links. It also has added safety features like front and rear lights/turn signals so you can see and is at night.
Legend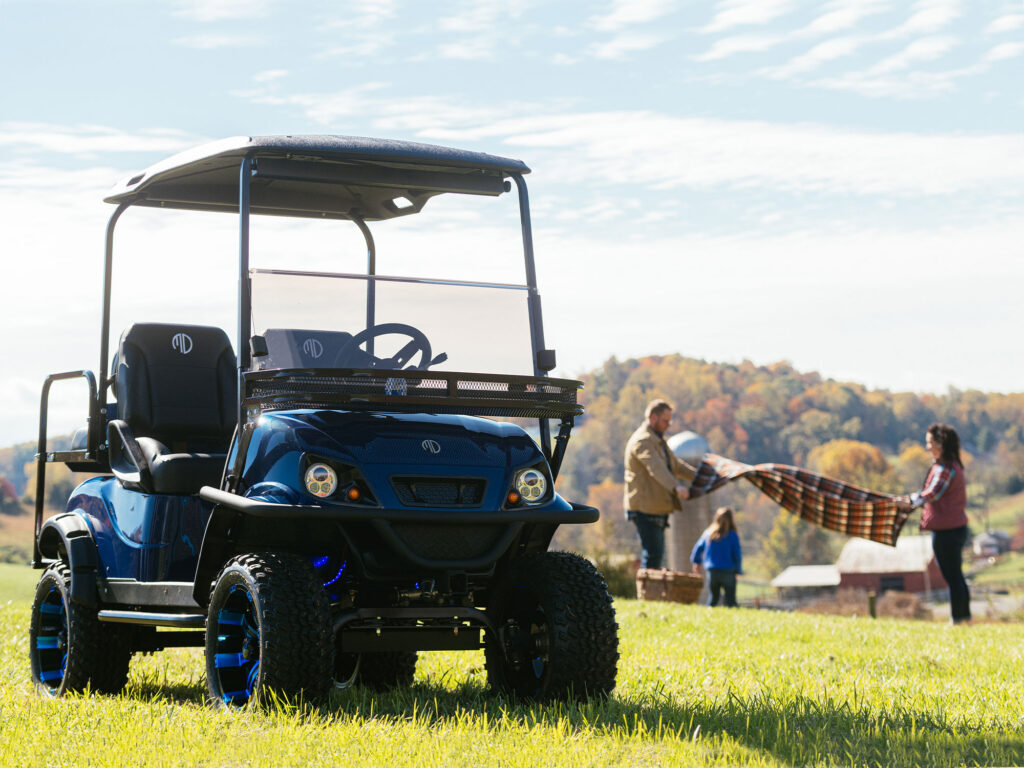 With The Legend, you're sure to get noticed on the course. It has a sleek, modern design with eye-catching curves and 14″ aluminum wheels. With custom black seats, this golf cart will turn heads. Equipped with two speakers that support Bluetooth/MP3/USB connections, you can enjoy soothing music while hitting the links. It also has an onboard charger and a powerful electric motor that provides speeds up to 25 mph. If you're looking for a golf cart with style, then The Legend is perfect for you.
The Beast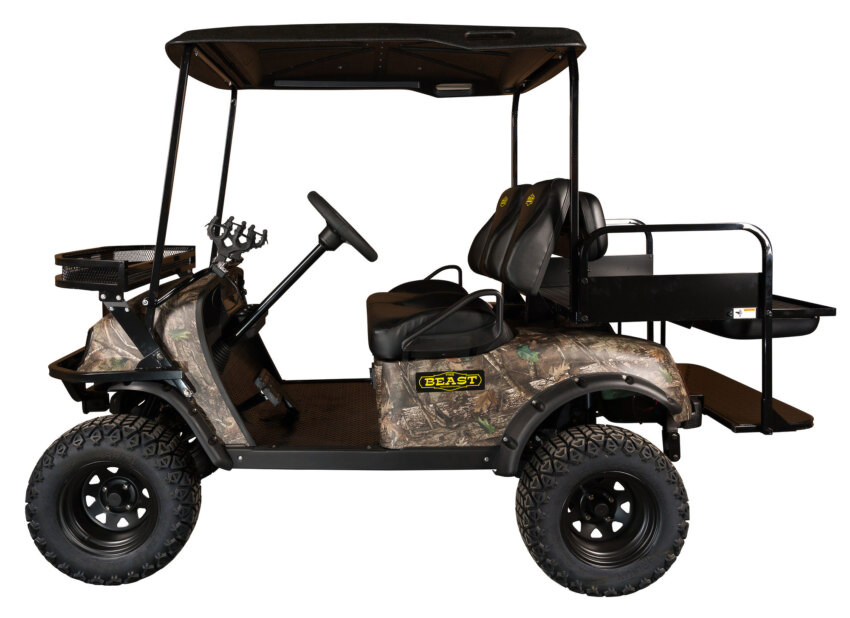 Now, this model is for the ultimate golf enthusiast. The Beast is our most powerful model, designed for long-range runs and all-terrain exploration. It has a heavy-duty chassis, 12″ all-terrain tires, and heavy-duty front and back springs. It comes with quality finished high back seats and a camo-dipped body with a UV matte finish, and it is sure to make a statement. Loaded with double gun racks and an under-seat storage tray, it is perfect for hunting trips.
The Beast LE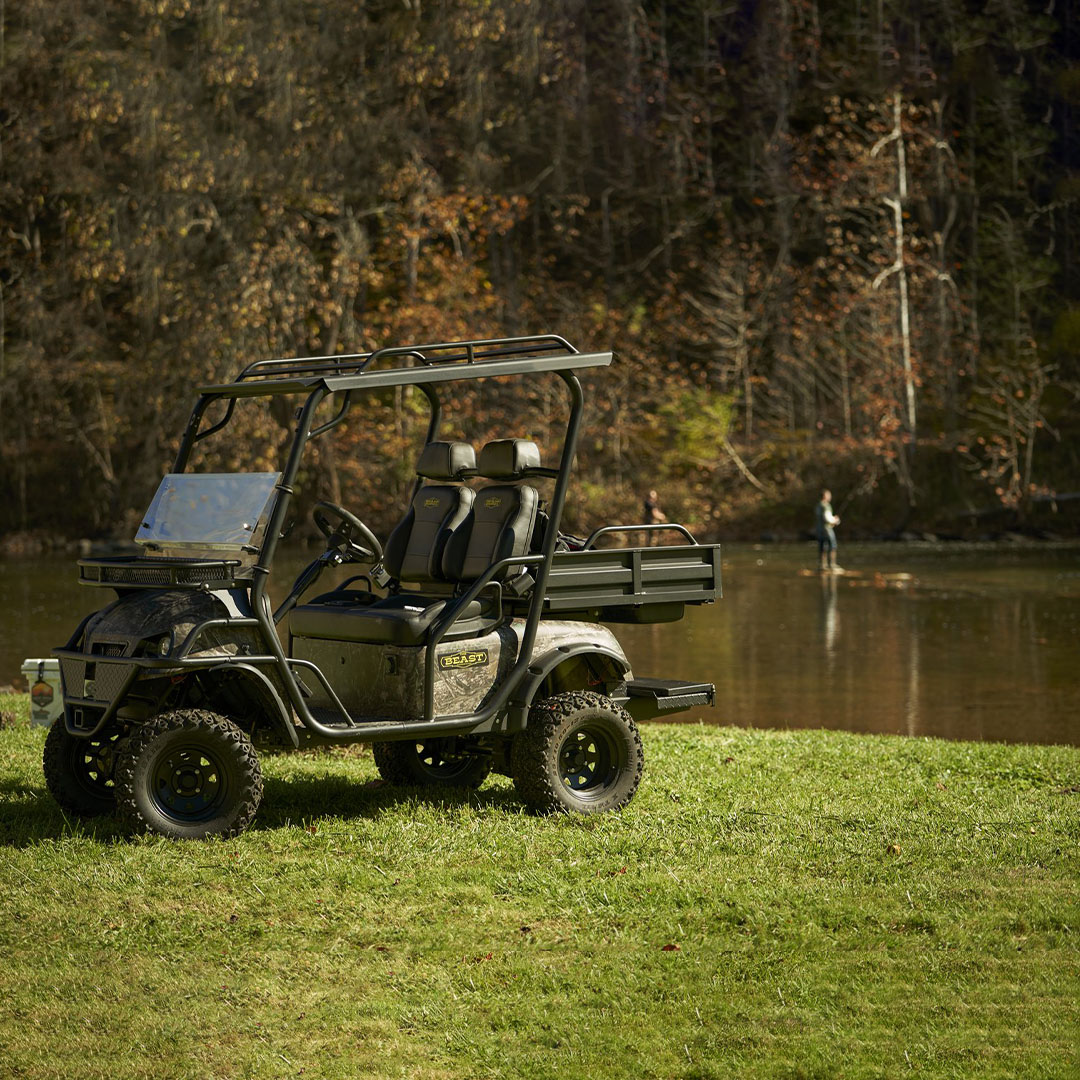 The top-of-the-line model is the Beast LE. It will eat up the terrain with its powerful four seater design and beefy all-terrain tires. With a heavy duty aluminum cage system, aluminum front basket and an aluminum top with cargo box, you can transport those heavy items with ease. With its upgraded suspension and capable electric motor, this model offers speeds up to 25 mph so you can get around quickly.
No matter what golf cart you choose, our knowledgeable staff will help you find the perfect ride for your needs. Stop by our Arden dealership today and see how we can make your golf game more enjoyable!
Where Can You Use a Golf Cart in Arden, NC?
In Arden, NC, golf carts are typically allowed on private property and some designated golf cart paths or golf course communities, but not on public roads with regular motor vehicle traffic. It is important to check with local authorities for specific rules and regulations regarding the use of golf carts in Arden.
Golf Cart FAQs
Q. What type of maintenance does a golf cart require?
Most electric golf carts require minimal maintenance such as periodically checking the brakes and keeping the battery charged but we also recommend having it serviced every 6 months to keep it running smoothly and efficiently. 
Q. Does Golf Carts in Arden offer financing?
Yes we do! We offer several financing options to fit your budget and help you make your golf cart dreams a reality. Contact us today for more information on our available financing plans.
Q. Do I need insurance for my golf cart in Arden?
Yes, all drivers should carry full coverage auto insurance when driving a golf cart in Arden, NC, or any other city or state.
Visit Our Arden Location To Find The Best Golf Cart
When you're ready to find the perfect golf cart for your lifestyle, visit our Arden dealership. With so many options to choose from, our expert staff will help you find the perfect ride. Stop by today and let us show you how we can make your golf game more enjoyable!
Visit our website for a golf cart comparison or give us a visit at our location 37 Brian Blvd Arden, NC. We look forward to helping you find the perfect golf cart for your needs!
About
We are a premium, all-electric golf cart dealer with prices you can afford. Our carts make it simple for you to take a quick trip through the neighborhood, a family outing to the beach, and even go off-road with a cart perfect for hunting or chores around the farm or homestead. You won't bother the neighbors with these carts! Our carts are completely quiet so you can feel comfortable that you aren't going to get a letter from your HOA, a noise complaint from your neighbors, or wake a sleeping baby when you pull away from the house. Plus, we offer carts that can fit up to six people comfortably with our stretch upgrade. Room for the family and even a few more! You can save money with our affordable but luxury all-electric carts, plus it's the perfect way for you to save some gas and still be able to take your family on all the adventures they can dream of.