STORE DETAILS
Golf Carts For Sale in Bay Shore, NY
70 Corbin Avenue
Bay Shore, NY 11706
1(516) 858-3976
HOURS OF OPERATION
monday
10:00 am - 6:00 pm
tuesday
10:00 am - 6:00 pm
wednesday
10:00 am - 6:00 pm
thursday
10:00 am - 6:00 pm
friday
10:00 am - 6:00 pm
saturday
10:00 am - 5:00 pm
sunday
closed - closed
If you're looking to explore Bay Shore, NY in a unique and exciting way, a personal golf cart from a trusted dealer could be just what you need. Golf carts offer a convenient and fun way to travel locally and experience the beauty and excitement of Bay Shore up close. You can find a golf cart that meets your specific needs for convenient and comfortable transportation. With a personal golf cart, you can take in the sights, sounds, and experiences of this beautiful town in a whole new way. If you're looking for golf carts for sale in Bay Shore, drop by our dealership at 70 Corbin Ave Unit 70-D.
Golf Carts in Bay Shore
In Bay Shore, New York, golf carts are a common method of transportation, particularly for gated communities, golf courses, and luxury neighborhoods. Golf carts in Bay Shore provide a quick and easy way to take in the wonder and excitement of the town. Our dealership provides a variety of golf carts for sale, and our models are carefully crafted to suit a range of requirements and tastes.
Rookie
The ROOKIE golf cart can transport large loads and is made to tackle a range of activities. It can move supplies and equipment easily thanks to its 500 lb cargo bed capacity. The seat kit also has a 500 lb weight capability, allowing passengers to sit comfortably and aiding in distributing the load evenly throughout the vehicle.
The golf cart can carry a total weight of 800 lbs in passengers and cargo due to its high payload capacity. This model of golf cart features LED lights, which makes it easier to see and be seen in low light conditions. When driving a golf cart in Bay Shore, the horn, stop lights and turn signals all increase your safety. These features make it the best golf cart for beginners.
Pro
The PRO golf cart is a high-performance vehicle designed for various applications. Its cargo bed and seat kit both have a capacity of 500 lbs, allowing for ample storage and seating space for passengers and materials. The vehicle's total payload of 800 lbs makes it suitable for carrying a variety of items.
The 7 color undercarriage LED lighting adds a touch of style and makes the vehicle more visible in low-light conditions. The lifted chassis provides increased ground clearance, making it easier to navigate rough terrain. The Titan body is strong and durable, providing long-lasting performance. The 12" aluminum wheels are lightweight and add to the vehicle's overall performance. The onboard charger makes it convenient to recharge the vehicle's batteries.
Legend
The LEGEND golf cart is equipped with Bluetooth audio and 2 speakers, allowing you to listen to music or other audio content wirelessly. It also features a speedometer for monitoring your driving speed, a rear hitch for attaching trailers or other equipment, sidebars for added safety and support, a 12V accessory plug for powering external devices, a USB charging port for charging your mobile devices, and a rearview mirror for improved visibility. These features make it ideal for those who spend a lot of time on golf courses in Bay Shore, NY.
The Beast
The BEAST features an HD front clay basket, custom high-back seats, an HD brush guard, a windshield, an onboard charger, LED headlights, and taillights, a camo dipped body with a UV matte finish, front and rear receiver hitches, a fold-down rear seat kit, an OEM solid black top, a state–of–charge meter, heavy-duty front and rear springs, fender flares, an under-seat storage tray, 23x10x12 tires and 12″ black wheels, a premium steering wheel, double gun racks, the dual-headrest bar, and cushions. With all of its amenities, it's built for people who crave a luxury golf cart experience.
The Beast LE
The Beast LE is a premium golf cart designed for individuals who expect the best. With a double gun rack, high ground clearance, 800 pounds of towing capacity, and a top speed of 25 mph, it is a versatile and robust vehicle suitable for use on the golf course, trail, or hunting expedition. In addition to its performance capabilities, the Beast LE is designed for comfort and style, with features such as a sturdy bed, a front rack for equipment, and beautiful wood finishes. This golf cart offers a unique combination of power and luxury, making it a standout in its class.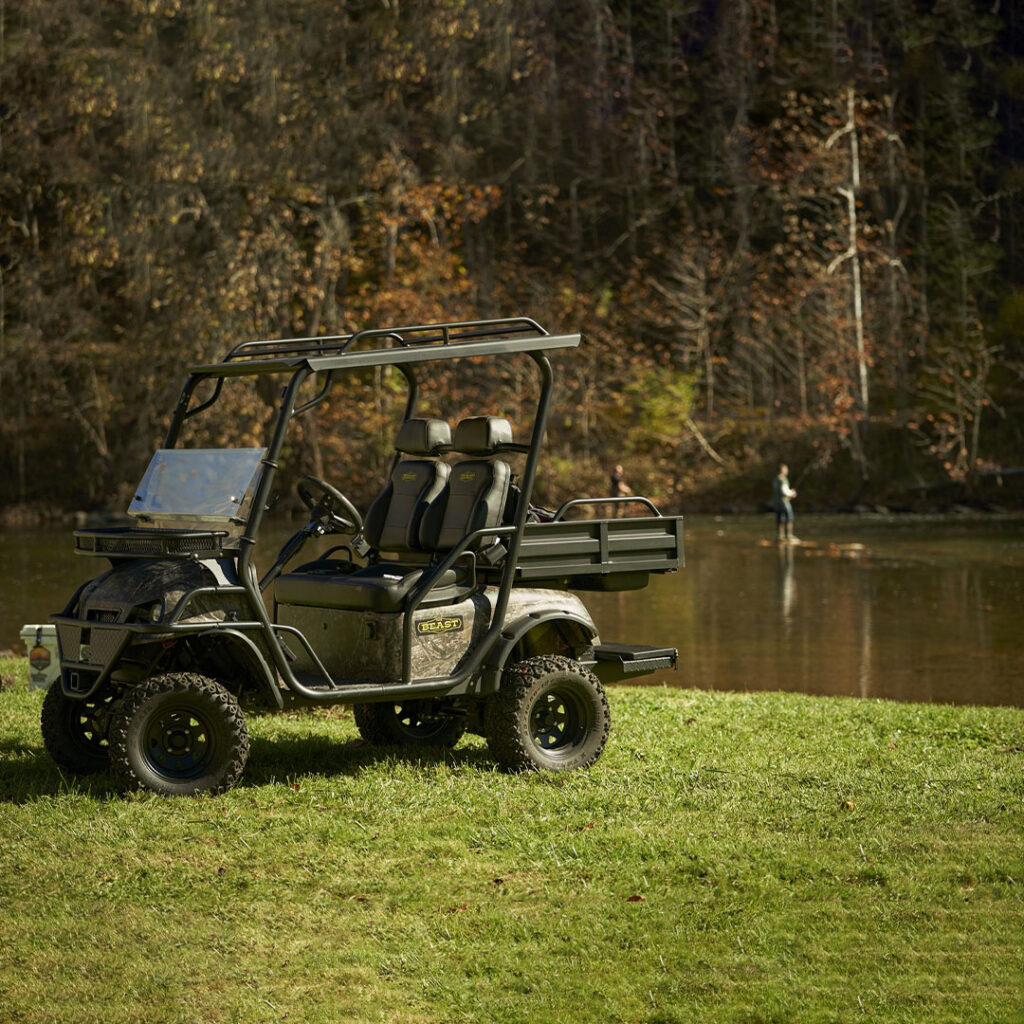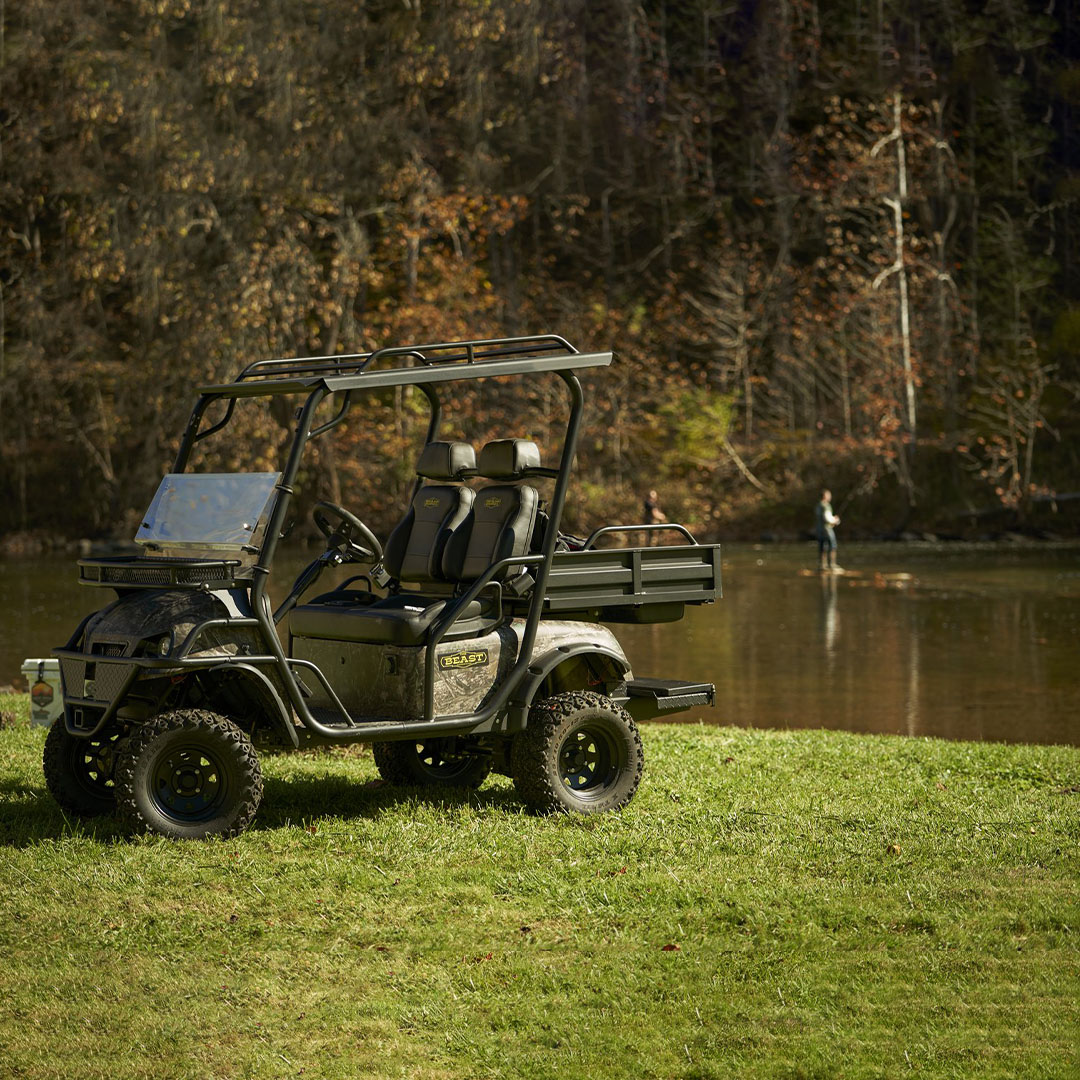 Where Can You Use a Golf Cart in Bay Shore?
In Bay Shore, New York, golf carts are frequently seen on private residential streets, golf courses, and gated neighborhoods. State and local rules govern their use on public roads and highways. Golf carts are only permitted in New York on highways with a speed limit of 35 mph speed limit, and they must adhere to certain equipment specifications, such as having operational headlights, taillights, and turn signals.
Golf Cart FAQs
Q. What maintenance does a golf cart require?
A. Regular maintenance of an electric golf cart is important to keep it running smoothly and efficiently. This can include checking the brakes and having them serviced every 6 months by a professional. Inspect the tires, lights, and the overall condition of the cart regularly and address any issues as soon as they arise. By following these maintenance tips, you can ensure your golf cart runs safely and reliably for years to come. If you're located in Bay Shore, NY, you can find local dealerships that offer golf cart maintenance services to help keep your cart in top condition.
Q. Does Golfcarts.com in Bay Shore offer golf cart financing?
A. Indeed, we do! To help you buy the golf cart of your dreams (without exceeding your budget), we provide a variety of financing options. For more details on our current financing options, contact our local dealership.
Q. Do I need insurance for my golf cart in Bay Shore?
A. Yes, all drivers should carry full coverage auto insurance when driving a golf cart in Bay Shore, NY.
Q: How much does a golf cart cost in Bay Shore?
A: The cost of a golf cart depends on the type, model, and features. Golf carts can range from $3,000 to $15,000 or more depending on the customization options and amenities chosen. Shop golf cart models on our website or at our Bay Shore, NY dealership.
Q: What are golf carts used for?
A: Golf carts are primarily used for transportation on golf courses but can also be used for other recreational activities, transportation in residential communities, or as utility vehicles in various industries in Bay Shore, NY.
Visit Our Bay Shore Location To Find The Best Golf Cart
Visit our showroom in Bay Shore when you're ready to find the right golf cart. Our expert team will help you narrow down your options to find the ideal ride. Let us demonstrate how we can improve your golfing experience.
To compare golf carts, visit our website today. You can also compare golf carts when you visit us at our Bay Shore location at 70 Corbin Ave Unit 70-D. We look forward to helping you choose the ideal golf cart for your needs!
About
We are a premium, all-electric golf cart dealer with prices you can afford. Our carts make it simple for you to take a quick trip through the neighborhood, a family outing to the beach, and even go off-road with a cart perfect for hunting or chores around the farm or homestead. You won't bother the neighbors with these carts! Our carts are completely quiet so you can feel comfortable that you aren't going to get a letter from your HOA, a noise complaint from your neighbors, or wake a sleeping baby when you pull away from the house. Plus, we offer carts that can fit up to six people comfortably with our stretch upgrade. Room for the family and even a few more! You can save money with our affordable but luxury all-electric carts, plus it's the perfect way for you to save some gas and still be able to take your family on all the adventures they can dream of.