STORE DETAILS
Golf Carts For Sale in Albuquerque
4201 Yale Blvd NE
Albuquerque, NM 87107
1(505) 396-7070
HOURS OF OPERATION
monday
10:00 am - 6:00 pm
tuesday
10:00 am - 6:00 pm
wednesday
10:00 am - 6:00 pm
thursday
10:00 am - 6:00 pm
friday
10:00 am - 6:00 pm
saturday
10:00 am - 5:00 pm
sunday
12:00 pm - 4:00 pm
With golf carts permitted in places like the Old Town and Balloon Fiesta Park, Albuquerque is home to some of the most fun-filled experiences you can have on a golf cart. We have an enormous selection of golf carts for sale in Albuquerque to choose from. Come to our branch at 4201 Yale Blvd NE today and get yours!
Golf Carts in Albuquerque
At Golfcarts.com, we have a vast selection of golf carts in Albuquerque you can choose from depending on your needs. We understand that a personalized purchase experience can increase your satisfaction. That's why we offer many unique customization options before and after you purchase golf carts with us!
Rookie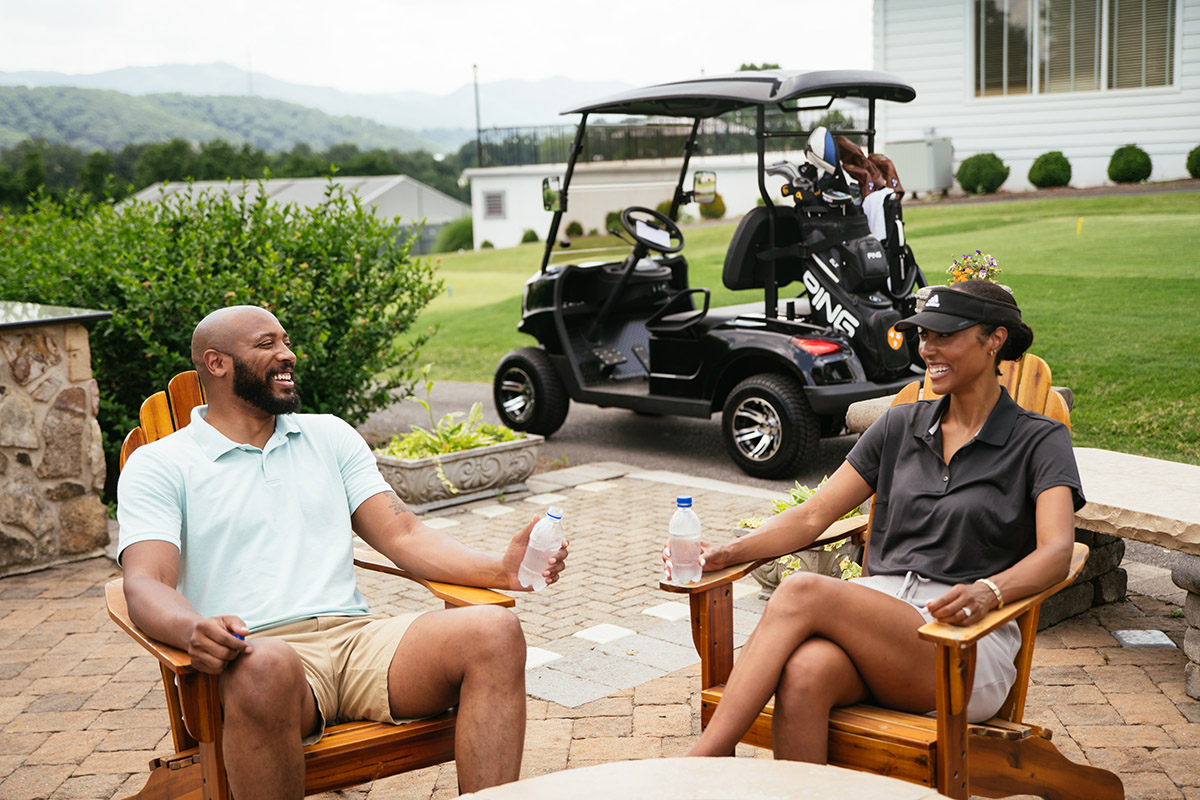 Our starter model, the Rookie, gives you everything you expect at our most affordable price point. It comes equipped with all the essential safety features you expect from a golf cart, such as turn signals, stop lights, a horn, and full warranty coverage for the six powerful batteries that keep it running. It also comes with features such as beautiful LED lights, a fold-down rear seat, and a battery life that lasts enough to go around the golf courses of Albuquerque all day!
Pro
The Pro model is a bigger and better version of the Rookie. By investing in this golf cart model, you'll enjoy higher ground clearance, 12" aluminum wheels, and a titan body. All these upgrades make it look better and ensure a smoother ride while on the golf courses and trails. If that wasn't enough, it also comes with a beautiful seven-color undercarriage lighting feature that makes this golf cart look amazing, especially in the dark. If you are an intermediate golfer looking for something more than an entry-level golf cart, this one's for you!
Legend
The Legend model comes with even more upgrades when compared to the Pro model. This model comes with additional features such as a rear hitch, sidebars, and fender flares which add to both its looks and its utility. It also comes with a 12v accessory plug to ensure that you can plug in your golf cart accessories and choose all the customizations you want without investing in an additional power supply. The Legend also comes with a USB charging port which guarantees that your mobile phone or other mobile devices never run out of juice while golfing.
The Beast
The Beast is our top-of-the-line model, made with more than just golfers in mind. This model has features such as Heavy-Duty Front & Rear Springs, Under-seat Storage Tray, Double Gun Racks, Dual Headrest Bar and Cushions, and much more. This ensures you get a smooth and comfortable ride on the golf course and more challenging terrains on your hunting ventures.
The Beast LE
The Beast LE is made for those that demand the most from their game, whether golfing or hunting. The Beast LE has you covered. With a top speed of up to 25 mph and a payload of 800 lbs, this heavy-duty golf cart is guaranteed to satisfy your luxury and performance needs at the golf courses and hunting attractions in Albuquerque.
Where Can You Use a Golf Cart in Albuquerque?
Many places in Albuquerque allow for the use of a golf cart: Sandia Foothills Open Space, Elena Gallegos Open Space, and many others. These parks have designated spaces where you can take your golf cart for a spin and improve your golfing experience in Albuquerque. Albuquerque Old Town is a great place to tour our local history in the style and convenience of a golf cart.
Golf Cart FAQs
Q: Are there plenty of options at Golf Carts in Albuquerque?
A: Yes, we have a great selection of golf carts, from starter models to more luxury varieties.
Q: Do I need a license to drive a golf cart in Albuquerque?
A: Yes, like many places in the US, you must have a valid driver's license to operate a golf cart on the streets and golf courses of Albuquerque.
Q: How far do golf carts go on a single charge?
A: How long a golf cart can travel depends on several factors, such as the battery capacity, battery quality, the temperature, and so on. Hence, it is hard to give a definitive answer. However, many golf carts can travel anywhere between 80-100 miles on a single charge.
Q: Are there affordable golf cart models available?
A: Yes, you can opt for budget-friendly entry models like the Rookie.
Visit Our Albuquerque Location to Find the Perfect Golf Cart
If you are in Albuquerque and are planning on purchasing a golf cart, visit our store at 4201 Yale Blvd NE and let us help you select a golf cart that matches your needs! Our professional and compassionate staff is ready to help.
About
We are a premium, all-electric golf cart dealer with prices you can afford. Our carts make it simple for you to take a quick trip through the neighborhood, a family outing to the beach, and even go off-road with a cart perfect for hunting or chores around the farm or homestead. You won't bother the neighbors with these carts! Our carts are completely quiet so you can feel comfortable that you aren't going to get a letter from your HOA, a noise complaint from your neighbors, or wake a sleeping baby when you pull away from the house. Plus, we offer carts that can fit up to six people comfortably with our stretch upgrade. Room for the family and even a few more! You can save money with our affordable but luxury all-electric carts, plus it's the perfect way for you to save some gas and still be able to take your family on all the adventures they can dream of.