STORE DETAILS
Golf Carts For Sale in Denver, CO
1(303) 285-9277
HOURS OF OPERATION
monday
10:00 am - 6:00 pm
tuesday
10:00 am - 6:00 pm
wednesday
10:00 am - 6:00 pm
thursday
10:00 am - 6:00 pm
friday
10:00 am - 6:00 pm
saturday
10:00 am - 5:00 pm
sunday
closed - closed
Buying a golf cart in Denver can be a convenient and eco-friendly way to navigate the city's golf courses and enjoy the outdoors. A golf cart may improve your outdoor experience in Denver while also serving as a useful form of transportation for locals or company owners who have a big property. So, if you want to make your golf cart truly unique, come to Golf Carts in Denver, and let us help you make your dream a reality!
Golf Carts in Denver
We provide an exceptional opportunity for you to own and fully customize your cart by offering a wide range of customization choices. With our extensive selection of electric golf carts, you can pick out the one that best suits your needs and style from our wide selection of Golf Carts in Denver. Furthermore, we offer everything you need to make your golf cart a great reflection of your personality. From additional decorations to color choices, we have it all.
Rookie
In addition to its practical features, the Rookie golf cart also offers a sleek and stylish design, making it an excellent accessory for any golf course or outdoor adventure. Its compact size allows for easy maneuverability on the greens, while the comfortable seating and ample storage space make for a comfortable ride. 
Additionally, with its energy-efficient electric power source, the Rookie cart is not only environmentally friendly but also cost-effective. Whether you're a beginner or an experienced golfer, the Rookie golf cart is a reliable and fun way to enjoy the game and explore the beautiful scenery around Denver.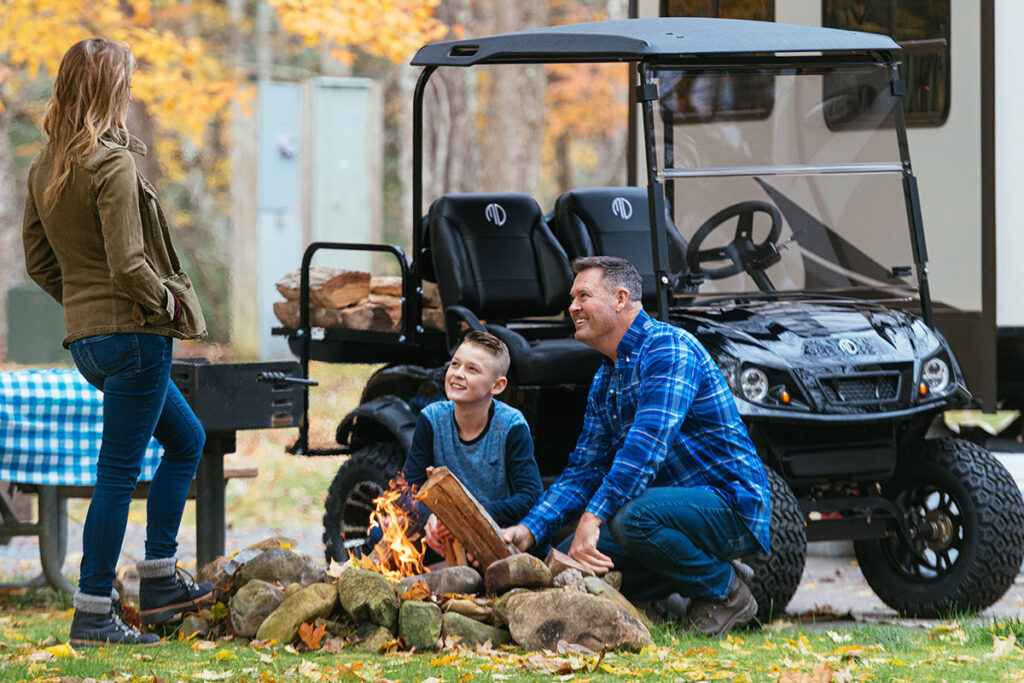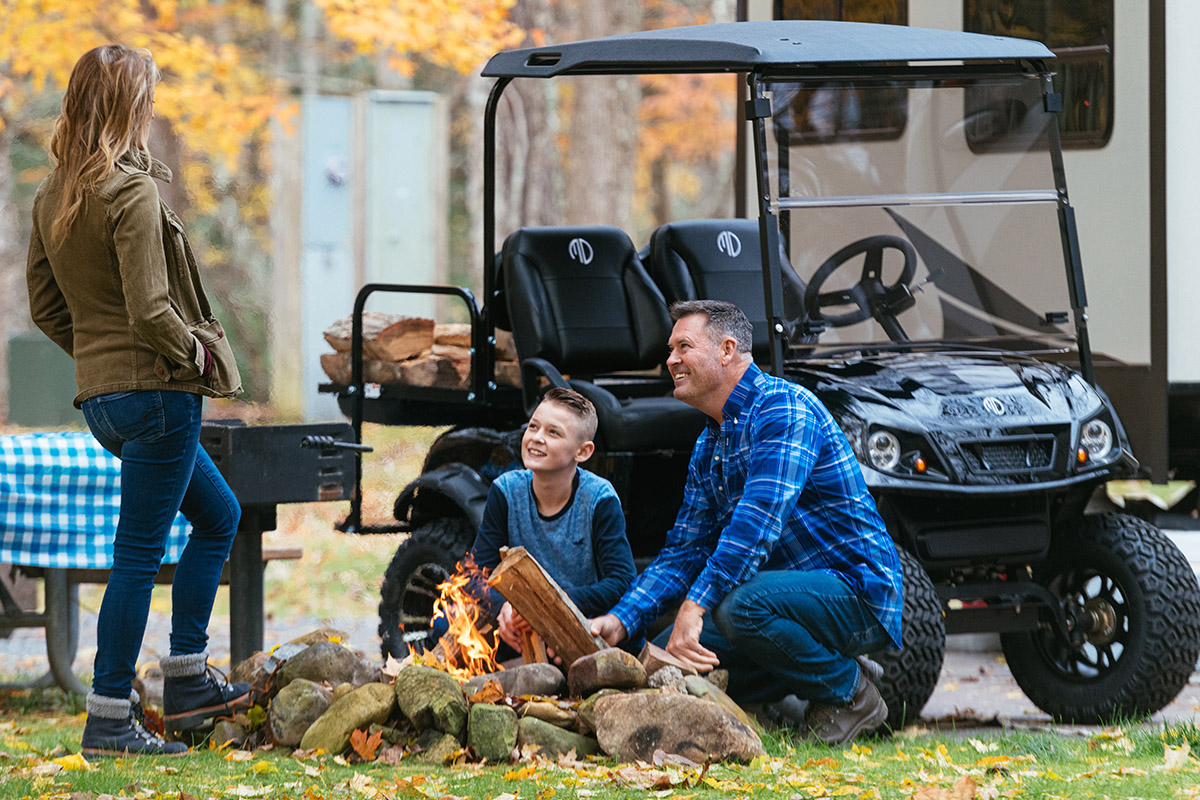 Pro
The Pro golf cart not only offers impressive specifications but also ensures a safe and smooth ride. Equipped with LED head/tail lights, turn signals, and tail lights, this golf cart ensures visibility on the road, enhancing safety during nighttime drives. Additionally, the cart's 16-inch ground clearance and Titan body provide stability and durability, making it suitable for rough terrains. With its onboard charger and six Interstate lead-acid batteries, this cart offers a long-lasting and efficient ride. In short, The Pro golf cart is a perfect blend of style, comfort, and functionality, making it an ideal choice for golfers in Denver.
Legend
In addition to its attention-grabbing design and high-tech features, the Legend golf cart offers practical benefits for golfers and outdoor enthusiasts. With its all-electric motor, you can enjoy a peaceful ride without the noise and emissions of cars. The USB charging connector also ensures that your phone or other devices stay charged on the go. Plus, the 14″ wheels and longer frame make it easier to navigate rough terrain on the course or the trail. Whether you're looking for a fun way to get around or a practical vehicle for your outdoor adventures, the Legend golf cart is a great choice.
The Beast
The Beast golf cart can carry a total of 500 pounds. There is a total weight capacity of 500 pounds for the cargo bed, front basket, and seat package combined. It can tow up to 500 pounds (flat ground only). The main characteristics include a windshield, an onboard charger, LED headlights, LED tail lights, a camo-dipped body with a UV matte finish, an OEM solid black top, a state-of-charge meter, heavy-duty front and rear springs, fender flares, an under-seat tray. This makes it the perfect upgrade for golfers who demand more from their game.
The Beast LE
The Beast LE is a top-tier golf cart with luxurious amenities and rigid construction that makes it appropriate for difficult terrain. It also has a twin-gun rack, high clearance, an 800-pound towing capacity, and a top speed of 25 mph. It is made for people who are picky about quality. On the golf course, trail, or hunting expedition, this model distinguishes itself from other carts thanks to a strong cargo bed, a front rack for gear, and elegant wood finishes. The Beast LE raises the bar for what qualifies as an opulent, tough golf buggy.
Where Can You Use a Golf Cart in Denver?
You may utilize a golf cart at a number of locations throughout Denver. The cart may be utilized on a number of golf courses in the city, including City Park Golf Course, Kennedy Golf Course, and Overland Golf Course, for golf lovers. On several routes in Denver parks, such as the Cherry Creek Trail and the Platte River Trail, golf carts are also permitted. Moreover, certain areas and neighborhoods in Denver allow golf carts to be used for local transportation.
Golf Cart FAQs
Q: Can I drive a golf cart on the road in Denver?
A: In most states, golf carts are not allowed to be driven on public roads. However, there are some exceptions, such as gated communities or private roads.
Q: How do I maintain my golf cart?
A: Regular maintenance is necessary to keep your golf cart running smoothly. This includes checking the batteries, tire pressure, brakes, and fluid levels.
Q: Can I modify my golf cart?
A: Yes, you can modify your golf cart. However, it is important to ensure that any modifications comply with the local laws of Denver.
Q: How much does a golf cart cost?
A: The cost of a golf cart varies depending on the brand, model, and features. Generally, Our electric golf carts are are not as expensive, with prices ranging from $3,000 to $10,000.
Visit Our Denver Location to Find the Perfect Golf Cart
If you have visitors or clients to transfer, a golf cart may make navigating your property much more straightforward. In addition, compared to other types of vehicles, golf carts are more cost-effective in terms of petrol and maintenance. So, a golf cart may provide you with a variety of advantages in Denver, whether you're an avid golfer, a property owner, or a company owner.
We'll be happy to help you find the golf cart that best suits your needs. Visit us at 1234 West Cedar Avenue, Denver, Colorado 80223 or visit our website.
About
Golfcarts.com is a premium, all-electric golf cart dealer with prices you can afford. Our carts make it simple for you to take a quick trip through the neighborhood, a family outing to the beach, and even go off-road with a cart perfect for hunting or chores around the farm or homestead.
You won't bother the neighbors with these carts! Our carts are completely quiet so you can feel comfortable that you aren't going to get a letter from your HOA, a noise complaint from your neighbors, or wake a sleeping baby when you pull away from the house.
Plus, we offer carts that can fit up to six people comfortably with our stretch upgrade. Room for the family and even a few more! You can save money with our affordable but luxury all-electric carts, plus it's the perfect way for you to save some gas and still be able to take your family on all the adventures they can dream of.