STORE DETAILS
Golf Carts For Sale in Richland
2469 Robertson Dr.
Richland, WA 99354
1(509) 594-4688
HOURS OF OPERATION
monday
10:00 am - 6:00 pm
tuesday
10:00 am - 6:00 pm
wednesday
10:00 am - 6:00 pm
thursday
10:00 am - 6:00 pm
friday
10:00 am - 6:00 pm
saturday
10:00 am - 5:00 pm
sunday
closed - closed
One of the best ways to enhance your free time on Richland's golf courses and golfing attractions is to purchase a golf cart. Whether you desire a golf cart for fun or utility, we can meet your needs.Our experts will help you find the best Golf Carts For Sale in Richland. To buy a golf cart in Richland, visit our dealership at 2469 Robertson Dr.
Golf Carts in Richland
Golf Carts in Richland offers a wide selection of golf carts. We also offer customization so that you can fully personalize your cart. We provide all the materials you need, such as additional decorations and color choices, to make your golf cart uniquely reflect your personality. Our skilled staff will help you select the best golf cart, add-ons, and customization options to ensure you get exactly what you want.
Rookie
Use our entry-level Rookie cart to get from one hole to the next. Six influential 48-volt Interstate powerhouses provide this cart's 20 mph top speed. Essential driving conveniences, including retractable glass, a horn, turn signals, and brake lights are included in the vehicle. Explore the area or one of the numerous nearby golf courses with your new cart. Our Rookie golf cart is ideal for beginners, whether you're new to golf or want a different way to get around town.
Pro
The Pro golf cart measures 116 inches in length, 52 inches in width, and 75 inches in height. It has a maximum cargo capacity of 800 pounds and a 16-inch ground clearance. With a lifted airframe, Titan body, 12-inch alloy wheels, onboard charger, six Interstate lead-acid battery packs with full warranty coverage, LED head/tail lights with brake lights and stop lights, a fold-down windshield, and custom black seats with a white sewn-in MD logo, this car has all the features you'll need for a stylish and comfortable ride. The seat and cargo bed alone can support 500 pounds of weight. The seven-color LED underbelly illumination of this cart's design is another attractive feature. Richland's top golfers should choose The Pro.
Legend
Make a statement using our Legend golf cart on the fairway, the road, or the trail. Use this all-electric golf cart to drive around in peace and comfort. Does the silent purr of the engine provide too much quiet? Take advantage of the two speakers and integrated Bluetooth audio to listen to your favorite podcasts or music. This cart has a larger frame, a top speed of 25 mph, 14″ wheels for better trail clearance, as well as standard safety features.
Beast
The Beast golf cart has a maximum weight capacity of 500 pounds. The cargo bed, front basket, and seat package combined may transport 500 pounds of cargo. It has a towing capacity of 500 pounds (flat ground only). It has a windshield, an onboard charger, LED headlights, LED tail lights, a camo-dipped body with a UV matte finish, six Interstate lead-acid batteries with full warranty coverage, a fold-down back seats kit, an OEM solid black top, a state-of-charge meter, heavy-duty front and rear springs, rear bumper flares, and an under-seat tray, making it the perfect upgrade for golfers who demand more from their game.
Beast LE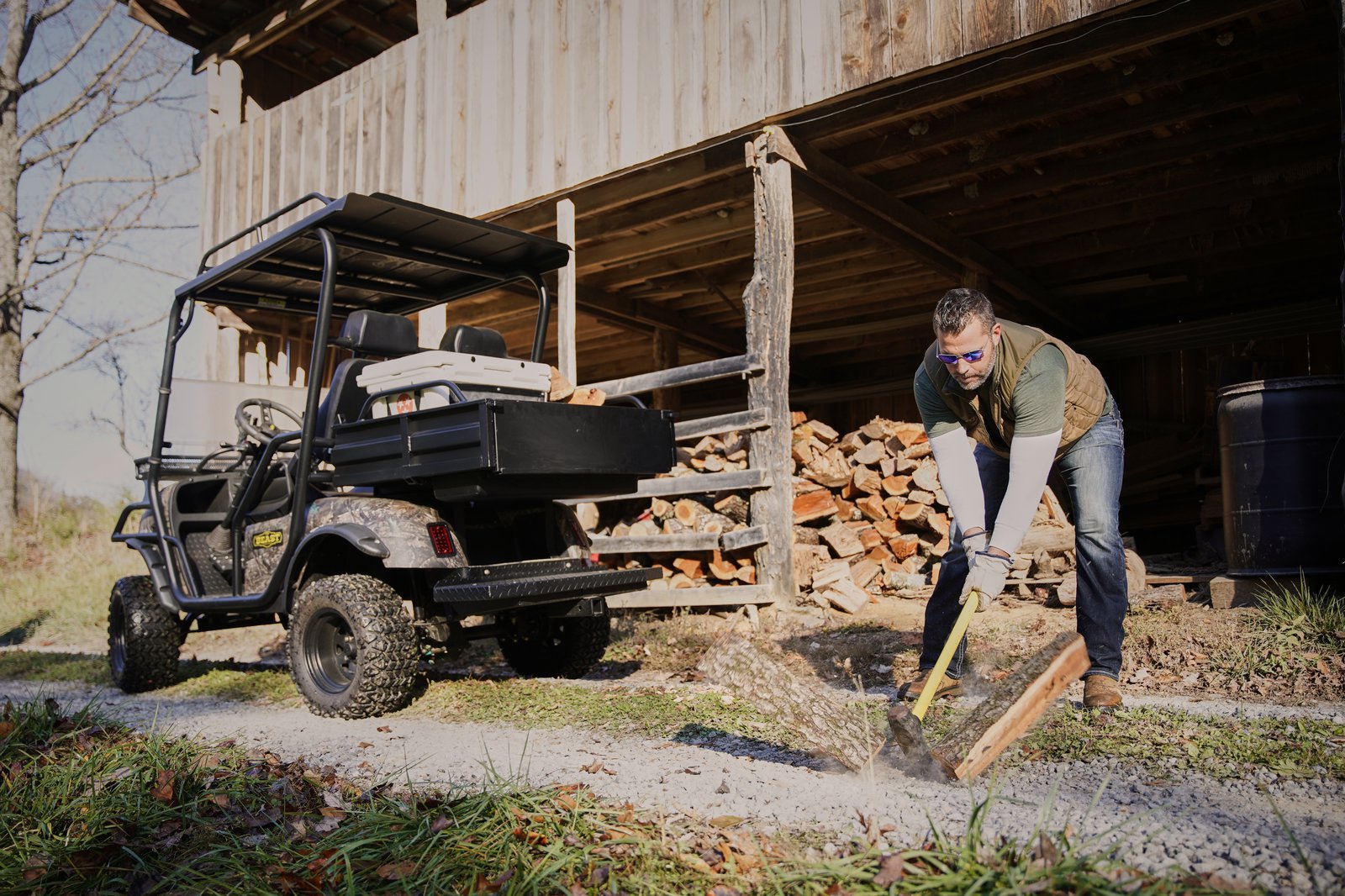 The Beast LE is a high-end golf cart that can handle rugged terrain because of its robust construction and luxurious amenities. It also has a twin-gun rack, high clearance, an 800-pound payload capacity, and a top speed of 25 mph in addition to its standard features. It is intended for people who place a premium on quality. This model distinguishes itself from other carts on the golf course, trail, or hunting excursion thanks to a firm cargo bed, a front rack for gear, and elegant wood finishes. The Beast LE raises the bar for what qualifies as an opulent, rugged golf cart.
Where Can You Use a Golf Cart in Richland?
There's a whole world to explore around Richland. You can maximize your time by buying a golf cart, which provides independence, luxury, and convenience. Explore the city's many attractions, including amusement parks like the Badger Mountain Splash Pad, as well as its golf courses, country clubs, and magnificent landscapes in your own personal golf cart. The West Richland Golf Course is a ten hole golf course that has beautiful contours; elevate your time on the golf course by purchasing a golf cart. A golf cart will enhance your experience if you want to explore more challenging terrain, view the city's famous landmarks, or take a leisurely trip.
Golf Cart FAQs
Q: Are Custom Golf Carts a Good Idea?
A: You can usually find a basic model golf cart with all the necessary features. However, if you want some add-ons for your golf cart, you can always get a custom golf cart. Custom golf carts offer personalization and they are highly durable. You can give your cart off-road capabilities by adding a bigger battery or improving the suspension. Golf cart accessories are easy to find and are generally affordable.
Q: What To Look For in a Golf Cart
A: When shopping for a golf cart, you can test drive various models to check out their performance. It's important to research each model so you can figure out if a particular golf cart is right for you.
Q: Is Maintenance Expensive For a Golf Cart?
A: A golf cart is a simple vehicle that offers transportation from one place to another. Since most golf carts are electric powered, they require minimum maintenance. The only thing you will ever need to maintain is the golf cart's battery. Unlike other vehicles, spare parts for golf carts are easy to find and affordable.
Q: How Far Does One Full Charge of a Golf Cart Take You?
A: When fully charged, a golf cart can drive for a minimum of 30 miles. With the advanced technology that modern golf carts come equipped with, the mileage on many of these vehicles has increased.
Visit Our Richland Location!
Richland offers a wide range of outdoor entertainment options such as lovely parks, golf courses, country clubs, and stunning landscapes. You can enjoy these activities comfortably and at your own pace with a golf cart. By organizing your trips and leisure activities using a golf cart, you can make the most of the world outside your door. Purchase a golf cart in Richland and let the adventure begin!
We'd be happy to help you find the golf cart that best suits your needs. You can come to see us in person at 2469 Robertson Dr. in Richland or visit our website for more information.
About
We are a premium, all-electric golf cart dealer with prices you can afford. Our carts make it simple for you to take a quick trip through the neighborhood, a family outing to the beach, and even go off-road with a cart perfect for hunting or chores around the farm or homestead. You won't bother the neighbors with these carts! Our carts are completely quiet so you can feel comfortable that you aren't going to get a letter from your HOA, a noise complaint from your neighbors, or wake a sleeping baby when you pull away from the house. Plus, we offer carts that can fit up to six people comfortably with our stretch upgrade. Room for the family and even a few more! You can save money with our affordable but luxury all-electric carts, plus it's the perfect way for you to save some gas and still be able to take your family on all the adventures they can dream of.