STORE DETAILS
Golf Carts For Sale in West Jordan
1346 W 7800 S
West Jordan, UT 84088
1(801) 478-5822
HOURS OF OPERATION
monday
10:00 am - 6:00 pm
tuesday
10:00 am - 6:00 pm
wednesday
10:00 am - 6:00 pm
thursday
10:00 am - 6:00 pm
friday
10:00 am - 6:00 pm
saturday
10:00 am - 5:00 pm
sunday
closed - closed
West Jordan is a suburban city of Salt City Lake in Utah with beautiful streets and a peaceful environment. In a place like West Jordan, you need to have a mode of transportation that is reliable and convenient. Golf carts are a great way to reduce emissions and comfortably explore West Jordan. If you're looking for golf carts for sale in West Jordan, visit our dealership at 1346 W 7800 S to find the most reasonable deals on a variety of golf cart models.
Golf Carts in West Jordan
Our team at GolfCarts.com in West Jordan knows that every person has different needs when deciding which golf cart to purchase. Because of this, our team helps you not only choose the ideal golf cart for your needs, but also customize it to reflect your style. Visit our website to learn more about our models and prices and to see the top golf carts in West Jordan.
Rookie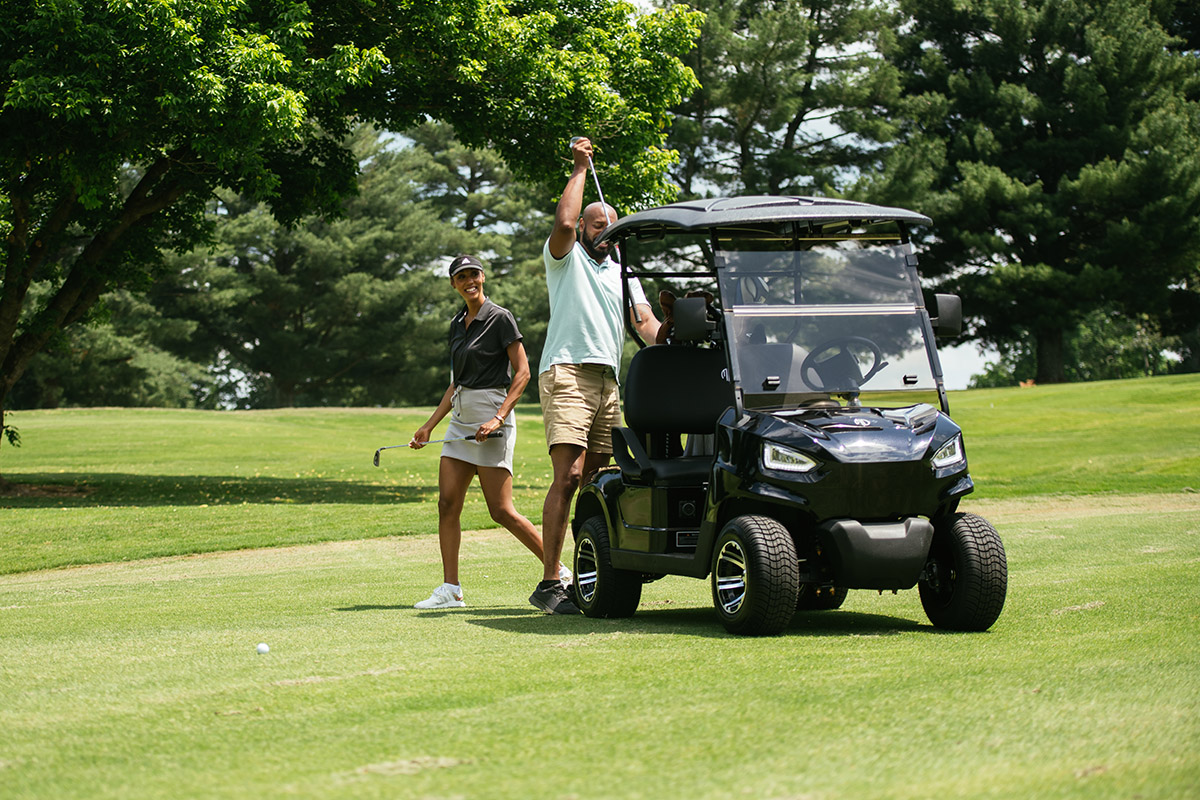 Our entry-level model, the Rookie, has all the features you need in a standard golf cart. It offers a 500 lb towing capability, fashionable LED lighting, and premium batteries with full warranties. Safety equipment like turn signals, brake lights, and a horn are installed to ensure safe driving. The fold-down windshield also gives you the choice of taking in the fresh air or shielding your eyes from the wind. This golf cart is an excellent option for people on a tight budget but still need a dependable and comfortable transportation solution.
Pro
Our Pro model takes things up a notch. A smoother driving experience is made possible by more prominent tires and better ground clearance. The inclusion of seven-color undercarriage LED lights improves its aesthetic appeal. The Pro model is ideal for upgrading your golf cart to a comfortable ride that can travel off the golf course.
Legend
With its impressive 16″ ground clearance, the Legend model offers an extraordinarily smooth driving experience on various terrains. It provides both style and utility thanks to its wider chassis, fender flares, speedometer, and fold-down windshields. While driving around the golf course, you can listen to your favorite music through the built-in Bluetooth audio system. The USB port lets you keep your devices charged and ready to go. The Legend model has you covered whether you want to listen to music or catch up on your favorite podcast.
Beast
The Beast model has a robust construction, excellent suspension, and brush guards, making it appropriate for activities on and off the golf course. It also has a double gun rack, which makes it perfect for keeping your firearms safe as you go on a hunting excursion. This is the ideal golf cart for someone who needs a car that can perform tasks that go beyond golfing.
Beast LE
The Beast LE has been carefully designed for individuals who expect the maximum level of comfort from their experiences. The Beast LE model golf cart enhances the Beast's characteristics by adding even more luxury features. It has all of the excellent qualities of the Beast, but it also features a more streamlined appearance that suits its agile handling. For golfers who enjoy exploring the outdoors, the Beast LE is the ideal vehicle. It is a multipurpose vehicle appropriate for various tasks with a payload capacity of 800 lbs and a top speed of 25 mph.
Where Can You Use a Golf Cart in West Jordan?
There are numerous golf cart attractions in West Jordan where you can travel. Mountain View Golf Course is one of the most popular places to go golf carting. On top of a hill, this beautiful 18-hole golf course offers breathtaking views of the city. The Gardner Village is another fantastic location where you can enjoy a round of golf when the weather is warm.
Golf Cart FAQs
Q: Can a 12-year-old drive a golf cart in Utah?
A: Legally, a 12-year-old can operate a golf cart, but they must be accompanied by an adult while doing so. Golf carts are only to be used in places that have been designated; they are not to be utilized on public roads.
Q: Is a license required to drive a golf cart in Utah?
A: Low-speed vehicles must be registered and have current license plates to be used on roads with a 35 mph maximum speed limit. Additionally, the driver must have a valid driver's license. For title, registration, and uniform fee assessment regulations, a low-speed vehicle qualifies as a motor vehicle.
Q: Is it easy to maintain a golf cart?
A: Yes. Since golf carts are electric vehicles, they are straightforward to maintain. They only require a fully functioning battery and wheels that are in good condition. However, it is necessary to regularly check the condition of the battery.
Q: Can a golf cart be driven on the streets in West Jordan?
A: Some parts of West Jordan allow golf carts if you maintain the posted speed limit. Utah law prevents driving golf carts on highways.
Visit Our West Jordan Location
Living in West Jordan calls for owning a fun vehicle to get you from place to place. A golf cart is the best vehicle in West Jordan to navigate the suburban streets and have a great time with your friends and family. If you're looking to purchase your first golf cart in West Jordan, visit our dealership at 1346 W 7800 S. to look at all our golf cart models. We have just the golf cart to fit your requirements. Contact us today to learn more.
About
We offer hot tubs & swim spas that give you luxury for less. Our spas are made in America by our skilled technicians. Here at Aqua Living, you'll find that our prices can't be beaten. This is due to us selling our tubs factory direct and sending them straight to you, allowing us to provide the very best deals to our customers. You'll also find top-notch service from our skilled technicians and knowledgeable service staff, ensuring that you get the proper assistance you need for your spa. We offer a wide range of hot tubs & swim spas to meet the exact needs of our customers. We are hot tub and swim spa experts. When you buy from Aqua Living, you're getting a high-quality hot tub that is built to last. Give us a call, you'll be glad you did.