STORE DETAILS
Golf Carts For Sale in Johnson City
506 Twin Oaks Drive
Johnson City, TN 37601
1(423) 806-0081
HOURS OF OPERATION
monday
10:00 am - 6:00 pm
tuesday
10:00 am - 6:00 pm
wednesday
10:00 am - 6:00 pm
thursday
10:00 am - 6:00 pm
friday
10:00 am - 6:00 pm
saturday
10:00 am - 5:00 pm
sunday
1:00 pm - 6:00 pm
Think golf carts are just for golfing? Winged Deer Park near Johnson City, with its boating and disc golf, and Buffalo Mountain Park, which has trails and panoramic views, are famous for outdoor sports. An active Miocene-era excavation site with fossilized mastodons is located northwest of the city at Gray Fossil Site and Museum. Take a look at our Golf Carts For Sale in Johnson City.
Visit our dealership in Johnson City to choose from a variety of golf carts that cater to your needs. Our golf carts provide comfort and excellence so anyone can have a great time outdoors. Whether you want a basic golf cart or a high-performance cart, we have you covered! Visit our golf cart dealership today.
Johnson City Golf Carts
When it comes to golf carts in Johnson City, we have the best selection. Do you want something that provides comfort and adequate power at affordable rates? Look no further! You'll be surprised to find how comfortable and easy it is to drive around the area in a golf cart! Our inventory spans basic model golf carts to the ultimate Beast LE model, which is great for fishing, hunting, and off-roading when it's not busy on the golf course. 
Johnson City is one of the most beautiful places to live in Tennessee. Washington County provides inhabitants with a suburban feel surrounded by nature. There are numerous parks to enjoy around Johnson City. If you live nearby, you can enjoy an easy commute to a wide variety of outdoor areas and historical venues. Golfcarts.com offers inexpensive golf carts suitable for suburban use, whether you're traveling around the neighborhood or exploring downtown.
Rookie
Our entry-level Rookie cart includes everything you need to stay safe while on the course or driving around the neighborhood. This cart is powered by six dependable 48-volt Interstate batteries, giving it a maximum speed of 20 mph. In addition, its safety features include a folding windshield, a horn, turn signals, and brake lights. For a price you'll love, you can cruise the neighborhood or hit the golf course!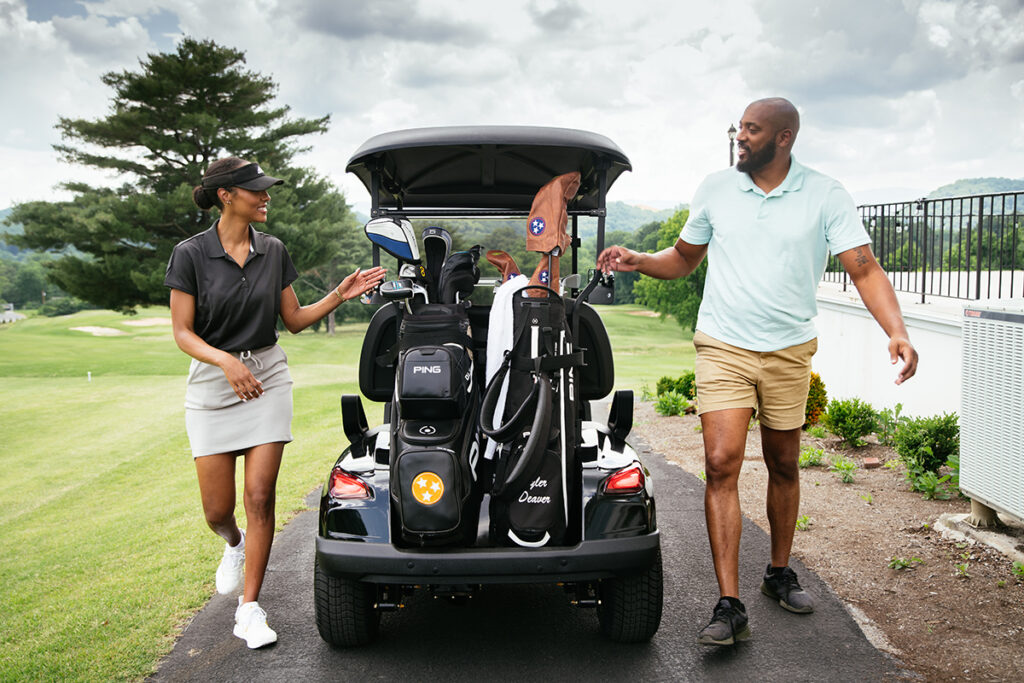 The Pro
Want to improve your performance? The Pro cart is the ideal addition to a great round of golf. This cart is prepared to take you around town, through the neighborhood, or to your next tee time with a top speed of 25 mph and the capacity to tow up to 800 lbs.
The Legend
With The Legend, you can turn heads on the fairway, the road, or the trail. Use the two speakers and built-in Bluetooth audio to play your preferred music or podcasts. With a towing capability of 800 lbs, this all-electric cart can gently transport you anywhere you need. Also, this cart boasts a USB charging station, a raised frame, 14″ wheels for added trail clearance, and a top speed of 25 mph.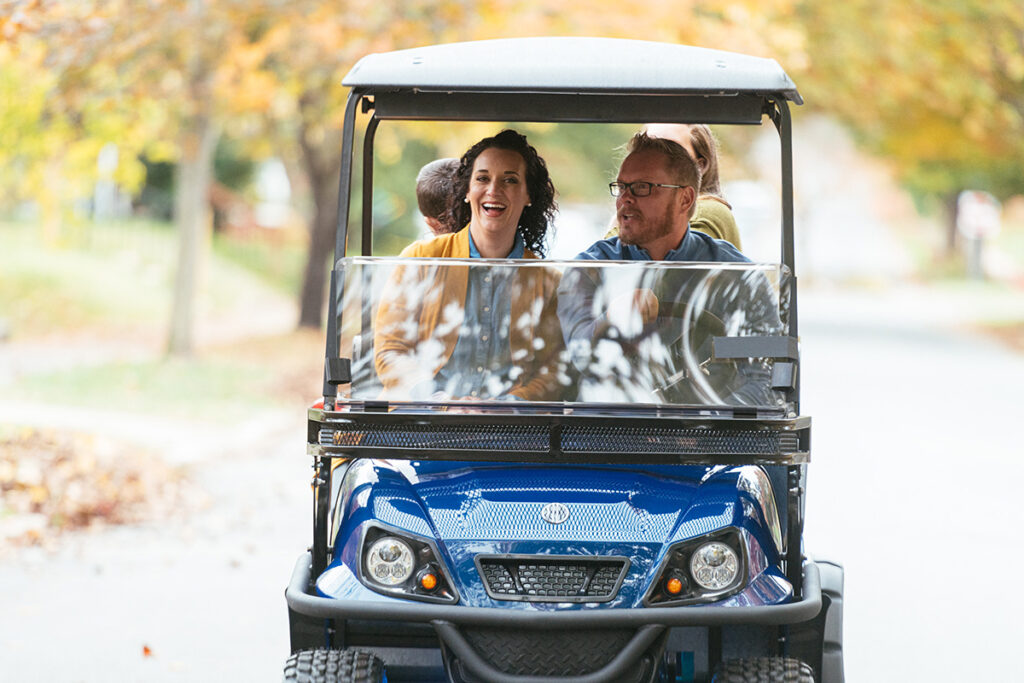 The Beast
Do you have any plans other than playing golf? The Beast is the ideal cart for every use. This sturdy cart can tow up to 800 lbs. and is built to tackle the roughest terrain. Moreover, the Beast has a top speed of 25 mph. The Beast can handle any demands you put on it, whether you wish to transport hunting equipment with comfort, carry many golf bags around the course, or enjoy stunning vistas from hiking routes.
The Beast LE
For individuals who seek nothing less than the best, The Beast LE is the ideal cart. This cart redefines luxury in a robust design that can handle the roughest terrain in the field. Similar to our basic The Beast model, this cart has an 800-pound towing capacity, a high clearance, a twin-gun rack, and high-quality suspension. With a sturdy bed, a front frame for gear, and exquisite wood finishes, this model ups the luxury factor and will make you the talk of the trail, course, and hunting trip. This cart can go 25 mph at its top speed, just like The Beast.
Where Can You Use Your Golf Cart in Johnson City?
You can take your golf cart to Willow Springs or Rotary park. You can also take your picnic supplies with you in the storage compartment of your golf cart. Having tons of space in the cart allows you to travel with your friends and enjoy the clean atmosphere of Johnson City. What better activity could you do other than driving to the Tweetsie Trail on your comfortable golf cart? You can munch on the snacks stored in the storage compartment of your golf cart after you're back from a hike!
Golf Cart FAQs
Q: Can I Drive My Golf Cart Somewhere Other Than a Golf Course?
A: Yes! You can use a golf cart for so many purposes. Most golf carts can have two passengers, but if you have one of the high-end golf carts, you can carry more people too.
Q: Is a 48V golf cart faster than a 36V?
A: More power equals higher volts—more power gives a more substantial capacity to navigate diverse terrain. Higher voltages also provide more speed for your golf cart. Hence, more voltage offers faster speeds and higher strength, which can be helpful for some of the tricky terrains around Johnson City.
Visit Our Dealership In Johnson City
If you're in Johnson City or somewhere nearby, visit our dealership at 506 Twin Oaks Drive, Johnson City, TN 37601. We will be happy to give you a detailed run through our various golf carts. You can buy new golf carts at reasonable prices. Our golf carts are equipped with a ton of features, and you can upgrade with additional amenities if you purchase one of our high-end carts. So come visit us today!
About
We are a premium, all-electric golf cart dealer with prices you can afford. Our carts make it simple for you to take a quick trip through the neighborhood, a family outing to the beach, and even go off-road with a cart perfect for hunting or chores around the farm or homestead. You won't bother the neighbors with these carts! Our carts are completely quiet so you can feel comfortable that you aren't going to get a letter from your HOA, a noise complaint from your neighbors, or wake a sleeping baby when you pull away from the house. Plus, we offer carts that can fit up to six people comfortably with our stretch upgrade. Room for the family and even a few more! You can save money with our affordable but luxury all-electric carts, plus it's the perfect way for you to save some gas and still be able to take your family on all the adventures they can dream of.