STORE DETAILS
Golf Carts For Sale in Ladson
9481 Industrial Center Drive
Ladson, SC 29456
1(843) 203-5403
HOURS OF OPERATION
monday
10:00 am - 6:00 pm
tuesday
10:00 am - 6:00 pm
wednesday
10:00 am - 6:00 pm
thursday
10:00 am - 6:00 pm
friday
10:00 am - 6:00 pm
saturday
10:00 am - 5:00 pm
sunday
closed - closed
With a variety of customization options, Golf Carts in Ladson offers an incredible chance for you to get the best prices for electric golf carts. You can choose the golf cart that most closely matches your needs and preferences from our wide variety of models and amenities. We offer Golf Carts For Sale in Ladson at the best prices around.
To make sure you get exactly what you want, our knowledgeable staff is committed to assisting you in choosing the ideal golf cart, accessories, and customization possibilities. Come to Golf Carts in Ladson and let us help you create your dream golf cart experience.
Golf Carts in Ladson
Driving Golf Carts in Ladson is an extremely personal activity for many. That is why we offer customization options so you can completely individualize your cart. To make your golf cart a unique reflection of your personality, we provide stylish models, luxury amenities, and additional decorations and color choices. Our skilled staff will help you select the best golf cart, accessories, and customization options to ensure you get precisely what you want.
Rookie
Experience the convenience of our entry-level Rookie golf cart. This dependable vehicle is equipped with six powerful power units from Interstate, which allows it to reach top speeds of up to 20 mph. To ensure a safe and comfortable ride, our Rookie includes valuable features such as retractable glass, a horn, turn signals, and brake lights. Whether you're exploring the surrounding areas or playing at one of the many golf courses nearby, our Rookie golf cart is the perfect choice for golfers and casual riders alike. It's an excellent option for beginners who are buying their first golf cart.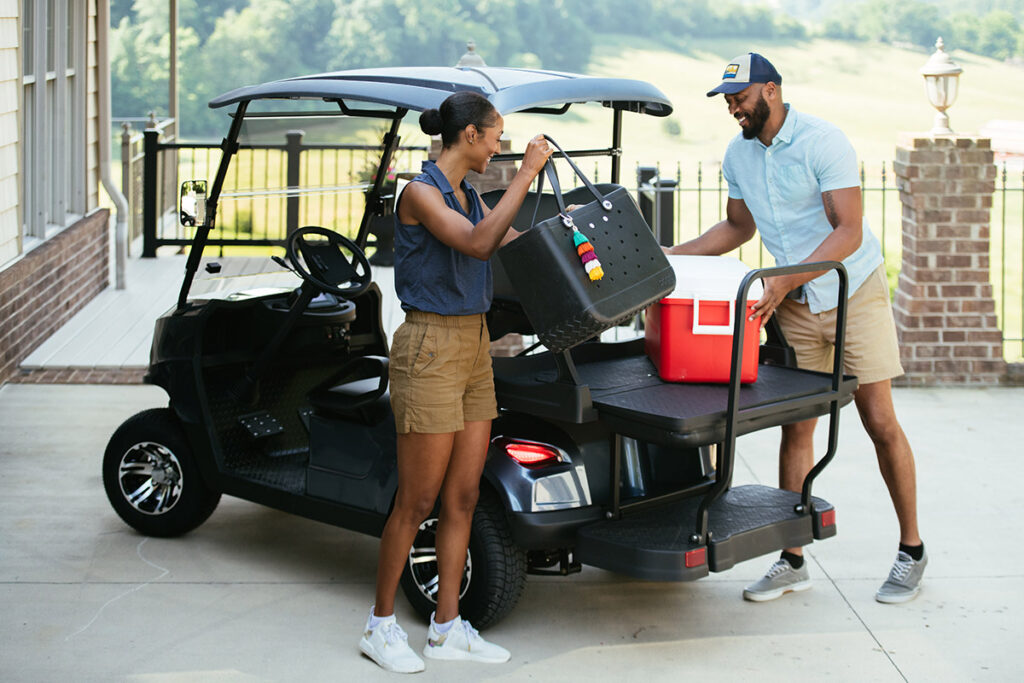 Pro
The Pro golf cart comes with a larger frame which enables it to tow weights of up to 800 lbs with ease on flat ground. It has powerful motors with top speeds of up to 25 mph. The seat and cargo bed alone can support 500 pounds of weight. The seven-color LED underbelly illumination of this cart's design elevates it beyond your average golf cart. As the name suggests, it is ideal for those who are professional or serious amateur golfers.
Legend
Our Legend golf cart is ideal for those that love to draw attention at the golf course! When using this all-electric cart, you can go about in peace and comfort. Are you tired of the quiet? Utilize the two speakers and inbuilt Bluetooth audio to listen to your favorite podcasts or music. Other features of this cart include a USB charging connector, a top speed of 25 mph, 14″ wheels for better trail clearance, and a longer frame.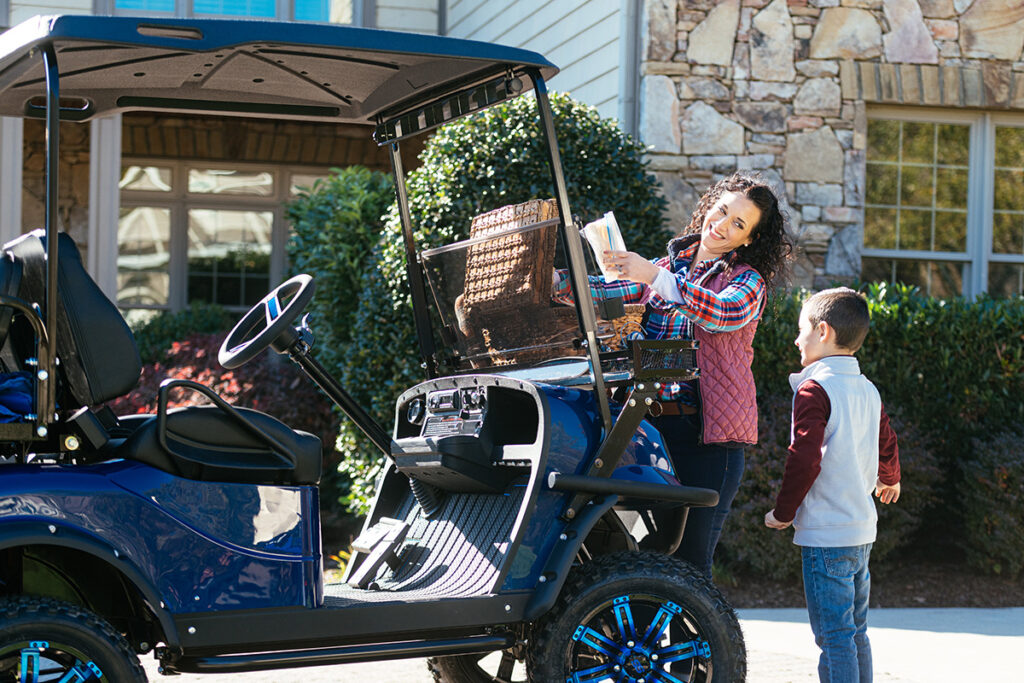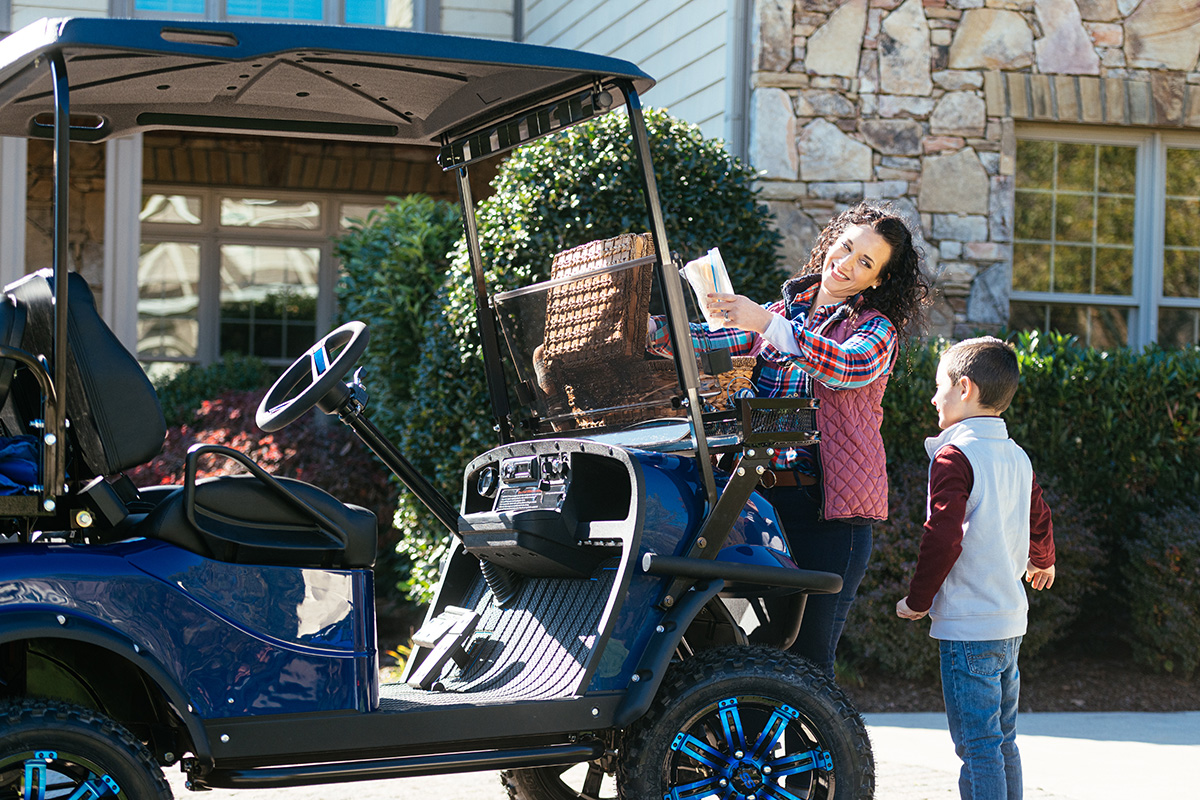 The Beast
The Beast golf cart can carry a total of 500 pounds. There is a total weight capacity of 500 pounds for the cargo bed, front basket, and seat package combined. It can tow up to 500 pounds (flat ground only). The main features include a windshield, an onboard charger, LED headlights, LED tail lights, a camo-dipped body with a UV matte finish, six Interstate lead-acid batteries with full warranties, a fold-down rear seat kit, an OEM solid black top, a state-of-charge meter, heavy-duty front and rear springs, fender flares, and an under-seat tray. This makes it the perfect upgrade for golfers who demand the most from their game.
The Beast LE
The Beast LE is a top-tier golf cart with luxurious amenities and rugged construction that makes it appropriate for challenging terrain. It has a twin-gun rack, high clearance, an 800-pound towing capacity, and a top speed of 25 mph. It is made for people who are picky about quality. On the golf course, trail, or hunting expedition, this model distinguishes itself from other carts thanks to a heavy-duty cargo bed, a front rack for gear, and elegant wood finishes. The Beast LE raises the bar for what qualifies as an opulent, rugged golf cart.
Where Can You Use a Golf Cart in Ladson?
There are ample places in Ladson where you can ride a golf cart. One of the most popular places to ride a golf cart in Ladson is the Charleston KOA campground. This campground offers a scenic landscape with a peaceful atmosphere that makes it ideal for golf cart riding. Another great place to ride a golf cart is the Crowfield Golf Club. This golf course is perfect for golf enthusiasts who want to take in the sights in luxury while enjoying the game. It offers a challenging course with stunning views that make golf cart riding an exciting experience. The Colonial Dorchester State Historic Site is also an excellent option for golf cart riders. The site features a historic plantation home, the ruins of an old church, and several other historic structures. The peaceful environment and picturesque views make it an ideal place to ride a golf cart.
Golf Cart FAQs
Q: Is it permissible to operate a golf cart on the streets of Ladson?
A: Typically, public roadways do not permit golf carts to be driven. However, exceptions exist for private roads or gated communities.
Q: What steps should I take to maintain my golf cart?
A: To ensure the proper functioning of your golf cart, it is crucial to perform routine maintenance. This includes monitoring battery levels, tire inflation, brake condition, and fluid levels.
Q: Am I allowed to alter or customize my golf cart?
A: It is possible to modify your golf cart, but it is essential to verify that any changes made comply with the local laws and regulations of Ladson.
Q: What is the approximate cost of a golf cart?
A: The cost of a golf cart depends on the make, model, and features. In general, electric carts are less expensive, ranging from $5,000 to $10,000.
Visit Our Ladson Location to Find the Perfect Golf Cart
If you are looking to buy a golf cart in Ladson or surrounding areas, look no further than our dealership. We have a wide array of options that you can choose from, and we would be happy to assist you in finding the perfect golf cart to match your requirements. Come and see us at 9481 Industrial Center Drive, Ladson, SC 29456 or browse our selection online.
About
We are a premium, all-electric golf cart dealer with prices you can afford. Our carts make it simple for you to take a quick trip through the neighborhood, a family outing to the beach, and even go off-road with a cart perfect for hunting or chores around the farm or homestead. You won't bother the neighbors with these carts! Our carts are completely quiet so you can feel comfortable that you aren't going to get a letter from your HOA, a noise complaint from your neighbors, or wake a sleeping baby when you pull away from the house. Plus, we offer carts that can fit up to six people comfortably with our stretch upgrade. Room for the family and even a few more! You can save money with our affordable but luxury all-electric carts, plus it's the perfect way for you to save some gas and still be able to take your family on all the adventures they can dream of.