STORE DETAILS
Golf Carts For Sale in Cranston, Rhode Island
1185 Jefferson Blvd
Warwick, RI 02886
1(401) 868-4400
HOURS OF OPERATION
monday
10:00 am - 6:00 pm
tuesday
10:00 am - 6:00 pm
wednesday
10:00 am - 6:00 pm
thursday
10:00 am - 6:00 pm
friday
10:00 am - 6:00 pm
saturday
10:00 am - 5:00 pm
sunday
closed - closed
Cranston, Rhode Island is an ideal place to buy and own a golf cart. Cranston provides its residents with a wealth of stunning scenery, including views of the Pawtuxet River, and plenty of beautiful parks and gardens. Cranston is also home to some outstanding golf courses like Cranston Country Club and Midville Golf Club. 
Golf Carts for Sale – Cranston 
When it comes to golf carts, we have a selection that is sure to meet your needs. We offer carts that can get you around town, meander through neighborhoods and apartment complexes, or ferry you around the course. If you're looking for golf carts for sale in Cranston, Rhode Island – look no further. We've got you covered. 
Rookie
Our entry-level Rookie cart is perfect for those who need something to carry them from one hole to another in style. It also makes for a great ride around the neighborhood. Powered by six dependable 48-volt Interstate batteries, this cart can reach a top speed of 20mph. It also comes equipped with necessities for the road like turn signals, a horn, brake lights, and a folding windshield. So, whether you're cruising through Ayoho Campground, or hitting the links at Alpine Country Club, the Rookie has got you covered.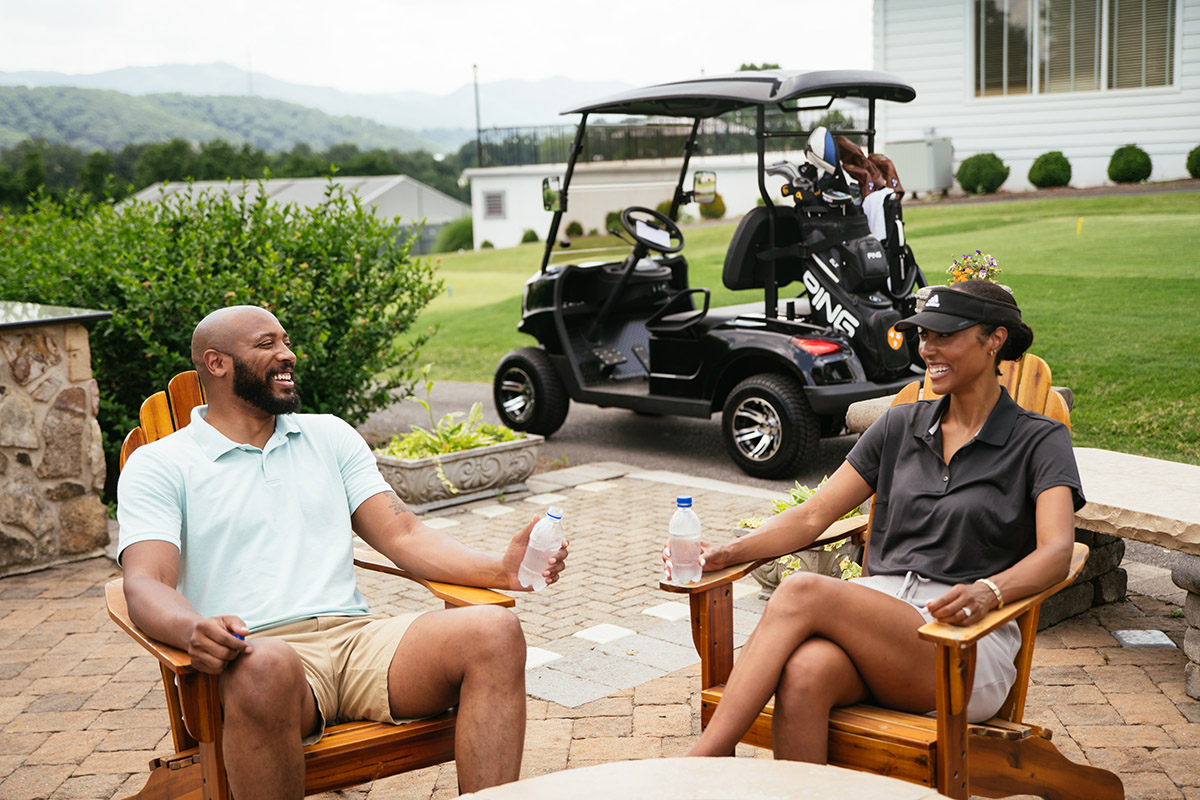 Legend
Cranston Rhode Island is the perfect place to take advantage of our Legend Golf Cart. Whether you're hitting up Cranston's trails, roads or even some beachfront in town, you can drive around with ease and style. Our all-electric cart has a lifted chassis that gives it extra clearance for off-roading and reaches a top speed of 25mph. Not only does this quiet vehicle carry 500 pounds of cargo, but you can also enjoy your favorite music via the built-in Bluetooth audio with two speakers or charge your devices from the USB charging port. Whatever your Cranston adventure, our Legend golf cart will take you there!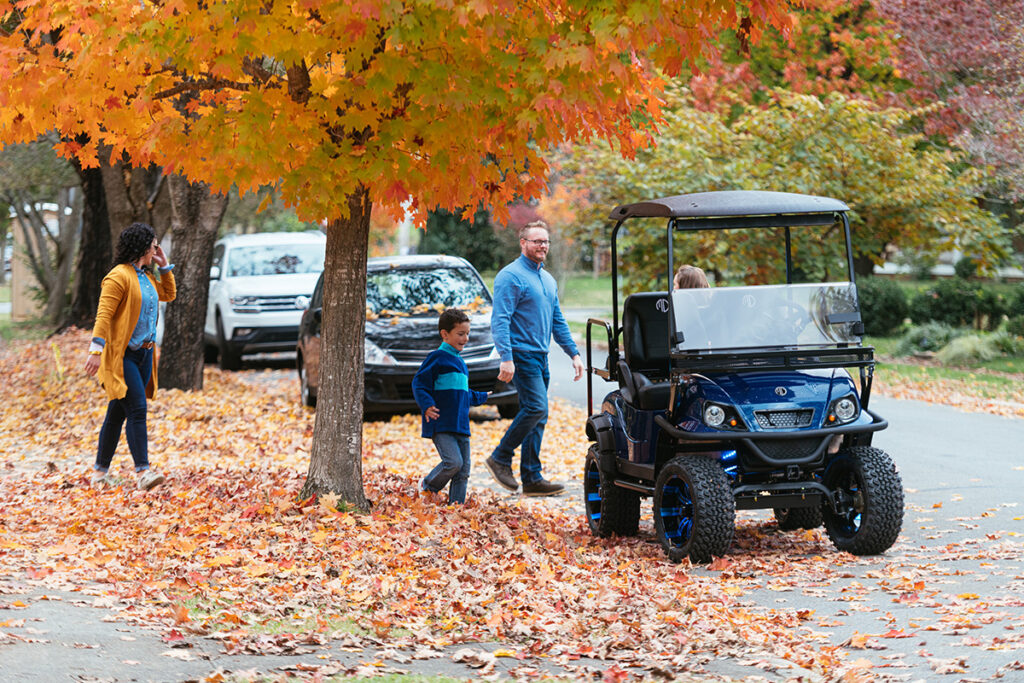 Where You Can Use Golf Carts – Cranston, RI
Cranston, Rhode Island is one of the best places to use a golf cart. Cranston is home to several golf courses and country clubs which, in addition to providing plenty of opportunity to use a golf cart while playing the sport itself, often provide additional amenities such as food and drink that can be easily navigated to with a golf cart. Cranston also offers ample opportunities for nature lovers to explore the outdoors and take in spectacular scenery from the comfort of a golf cart.
Whether it's taking a slow drive through Roger Williams Park or scaling Cranston's impressive hillside trails, there are countless advantages to getting behind the wheel of a golf cart for your next Cranston adventure. Just remember to check all local golf cart laws before riding in any area!
Cranston Golf Carts FAQs
Q: Does my golf cart need insurance in Cranston?
A: No, typically golf carts will only legally require insurance if they are registered for road use.
Q: How should I store my golf cart during the winter months in Cranston?
A: Rhode Island does get cold, and Cranston is no exception. These simple tips will help ensure your cart stays in top condition during winter storage.
Clean the vehicle

Park the vehicle in a covered, dry location

Fully charge the battery

Disconnect battery cables

Check the tire pressure

Turn the key switch to the OFF position and remove the key

Turn the power switch under the seat to the TOW position
Read this to learn more about how long golf cart batteries last.
Q: Where can I drive my golf cart in Cranston, RI?
A: Cranston is home to a variety of golf courses, parks, and campgrounds that are ideal for golf cart use. There is also nothing like a cruise through your own neighborhood.
Q: What parks in Cranston, RI allow golf cart usage?
A: Cranston, RI is home to many beautiful parks and campgrounds. These are wonderful places to take advantage of your golf cart. However, it is important to call before visiting to insure that golf cart usage is allowed. Many parks do allow golf carts, and some do not. The rules in each park can also change, so calling ahead is paramount. 
Q: Will the Cranston, RI winters cause my golf cart's batteries to freeze?
A: Cranston, Rhode Island has relatively mild winter temperatures, rarely sinking below the single digits. However, if you're using rechargeable batteries in Cranston's cool weather, it is important to be mindful of the temperature. If a battery is uncharged, it can freeze at temperatures as high as 20°F. On the other hand, if a battery is charged, it can withstand temperatures as low as -80°F! To be extra cautious during Cranston's chillier days and nights, we recommend keeping your cart indoors or in a garage. This way you won't be caught off-guard should temperatures suddenly drop.
Visit Our Cranston Location to Find the Perfect Golf Cart 
If you're in Cranston, Rhode Island and need to find the perfect golf cart, a visit to our location is a must! Our expert staff and selection of high-quality golf carts are sure to help you find the cart of your dreams. Whether you are looking for something adventurous or a neighborhood cruiser, we've got it all! Come by today and experience the shopping experience with us in Cranston.
Go online to Compare our golf carts and find your cart or visit us in person at 1147 Cranston St. Cranston, RI. 02920. 
About
Golfcarts.com is a premium, all-electric golf cart dealer with prices you can afford. Our carts make it simple for you to take a quick trip through the neighborhood, a family outing to the beach, and even go off-road with a cart perfect for hunting or chores around the farm or homestead.
You won't bother the neighbors with these carts! Our carts are completely quiet so you can feel comfortable that you aren't going to get a letter from your HOA, a noise complaint from your neighbors, or wake a sleeping baby when you pull away from the house.
Plus, we offer carts that can fit up to six people comfortably with our stretch upgrade. Room for the family and even a few more! You can save money with our affordable but luxury all-electric carts, plus it's the perfect way for you to save some gas and still be able to take your family on all the adventures they can dream of.