STORE DETAILS
Golf Carts For Sale in Eugene
5250 Highbanks Rd
Eugene, OR 97478
1(541) 539-2425
HOURS OF OPERATION
monday
10:00 am - 6:00 pm
tuesday
10:00 am - 6:00 pm
wednesday
10:00 am - 6:00 pm
thursday
10:00 am - 6:00 pm
friday
10:00 am - 6:00 pm
saturday
10:00 am - 5:00 pm
sunday
closed - closed
Eugene has plenty of places to enjoy a golf cart. If you want to buy a golf cart, we have a vast selection of golf carts for sale in Eugene. Visit us at 5250 Highbanks Rd and let us help you find the right electric golf cart for your needs.
Golf Carts in Eugene
Our dealership, Golf Carts in Eugene, has a wide range of models you can choose from. We also offer unique modification and customization services to ensure your golf cart is yours. Visit our Eugene branch today and let our professional staff help you make the best purchase.
Rookie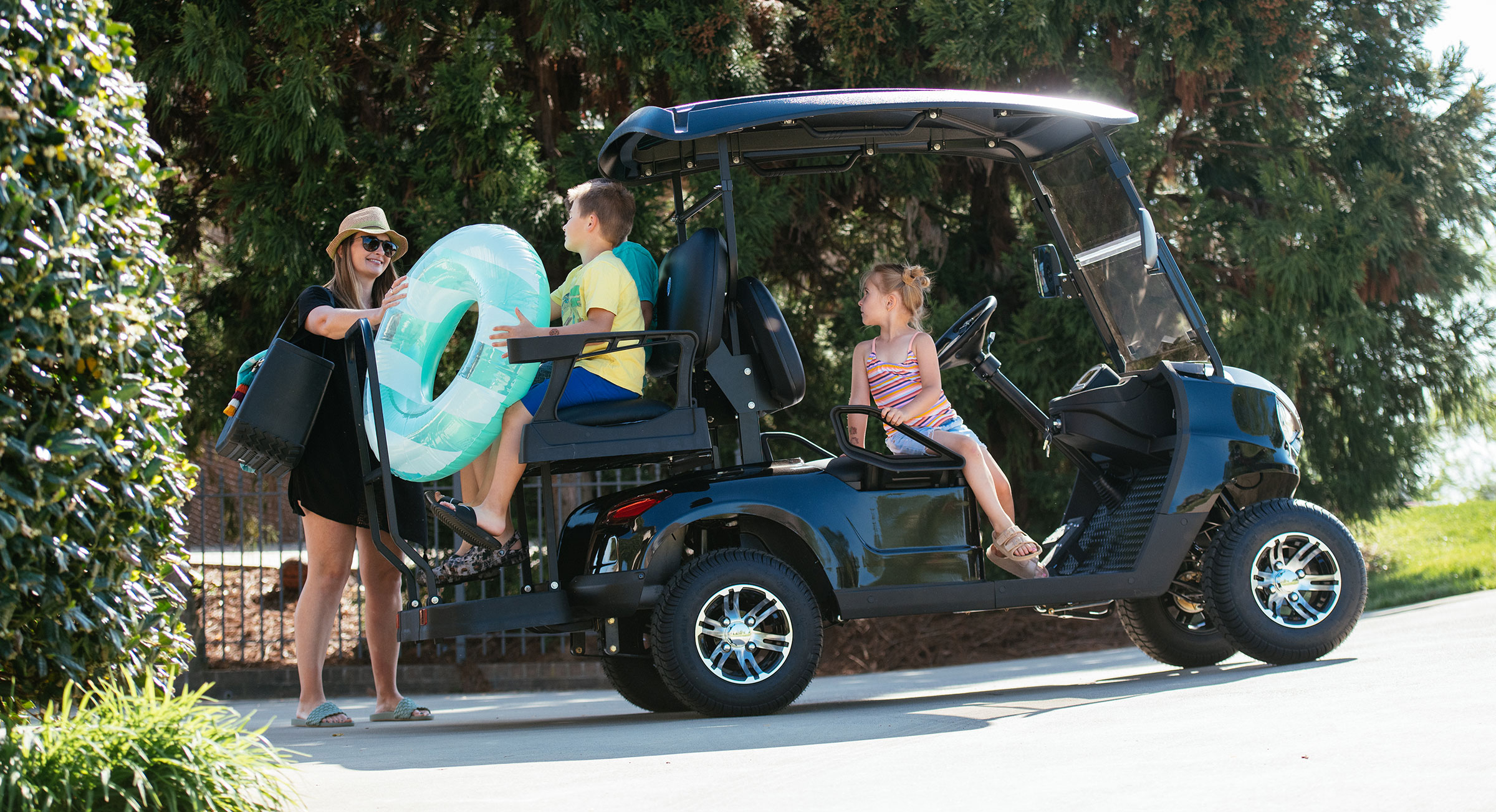 Whether you're a professional golfer or just looking for a convenient way to get around, the Rookie golf cart is the perfect choice for those on a budget. Don't let its affordability fool you – this golf cart packs a punch in performance and style. Safety is also a top priority with the Rookie, which has turn signals, brake lights, and a horn. And when you want to feel the breeze in your hair, the fold-down windshield allows you to enjoy the fresh air.
Pro
Built with professional golfers in mind, the Pro model surpasses our entry-level Rookie model in terms of performance and aesthetics. It boasts bigger tires and higher ground clearance, ensuring a smoother ride over uneven terrain. Its seven-color undercarriage LED lights make it a standout sight, especially in the dark. The Pro model is a must-have for those who want to elevate their golf cart game to the next level. Whether you're an experienced player or a casual golfer, you'll appreciate the added comfort and convenience. Upgrade your golfing experience today with the Pro golf cart model!
Legend
If you're looking for the ultimate golf cart experience, look at the Legend model. This top-of-the-line cart is a cut above the rest with advanced features and upgrades that take your game to the next level. One of the standout features of the Legend model is its impressive 16″ ground clearance. This allows for an even smoother ride over various terrains, making it an excellent choice for those who play on challenging courses. The oversized frame and fender flares add to its rugged appearance and durability, while the speedometer and fold-down windshields provide added convenience and functionality.
For those who enjoy listening to music while they play, the Legend model comes equipped with a Bluetooth audio system. You can easily connect your device and listen to your favorite tracks on the go. Plus, with a USB port on the cart, you can keep your phone or other devices charged while you play, ensuring you never miss a moment of your favorite podcast or audiobook.
The Beast
The Beast model features firm suspension and brush guards, perfect for outdoor adventures. It even came equipped with a double gun rack and added storage for your hunting gear. With a state-of-charge meter, you'll always know how much battery life you have left. And with upgraded body features, you'll experience excellent steering and a smooth ride on any terrain.
The Beast LE
For those who demand even more luxury from their golf cart experience, the Beast LE has everything the Beast has and more. Its sleek design is sure to turn heads, while its impressive payload of 800 lbs and a top speed of 25 mph make it a versatile vehicle for any use. No matter where you're headed, the Beast LE is the ultimate choice for those who want to explore the outdoors in style and comfort.
Where Can You Use a Golf Cart in Eugene?
In Eugene, Oregon, golf carts can be used at golf courses such as Emerald Valley, Laurelwood, and Oakway. They can also be used to transport people with disabilities at Autzen Stadium during University of Oregon football games. However, golf carts are not street legal and are not permitted to be driven on public roads in Eugene except for specific exemptions such as those granted for golf courses or during special events.
Golf Cart FAQs
Q: How much does a golf cart cost?
A: The cost of a golf cart varies depending on the make and model. Entry-level models can cost around $3,000-$5,000, while more high-end models can cost upwards of $10,000 or more.
Q: Do you need a driver's license to drive a golf cart?
A: The rules and regulations regarding driver's licenses for golf carts vary depending on the location. In some places, a driver's license is not required; in others, a valid one is necessary.
Q: Can you customize a golf cart?
A: Yes, golf carts can be personalized with a wide range of features and accessories, including custom paint jobs, upgraded wheels, and sound systems.
Q: Can golf carts be used beyond just golfing?
A: Yes, golf carts can be used for a variety of purposes, including transportation around residential communities, camping, and utility purposes such as landscaping and maintenance work.
Q: How do you maintain a golf cart?
A: Regular maintenance is crucial for keeping a golf cart in good condition. This includes checking and maintaining the battery, tires, brakes, and other components and cleaning and lubricating the cart's moving parts.
Visit Our Eugene Location to Find the Perfect Golf Cart
If you want to become a golf cart owner in Eugene or the surrounding areas, look at our branch at 5250 Highbanks Rd. and let our passionate staff assist in purchasing a golf cart that matches your needs.
About
We are a premium, all-electric golf cart dealer with prices you can afford. Our carts make it simple for you to take a quick trip through the neighborhood, a family outing to the beach, and even go off-road with a cart perfect for hunting or chores around the farm or homestead. You won't bother the neighbors with these carts! Our carts are completely quiet so you can feel comfortable that you aren't going to get a letter from your HOA, a noise complaint from your neighbors, or wake a sleeping baby when you pull away from the house. Plus, we offer carts that can fit up to six people comfortably with our stretch upgrade. Room for the family and even a few more! You can save money with our affordable but luxury all-electric carts, plus it's the perfect way for you to save some gas and still be able to take your family on all the adventures they can dream of.