STORE DETAILS
Golf Carts For Sale in Lima
1200 Findlay Rd.
Lima, OH 45801
1(419) 293-5400
HOURS OF OPERATION
monday
10:00 am - 6:00 pm
tuesday
10:00 am - 6:00 pm
wednesday
10:00 am - 6:00 pm
thursday
10:00 am - 6:00 pm
friday
10:00 am - 6:00 pm
saturday
10:00 am - 5:00 pm
sunday
closed - closed
Store Info
By Appointment Only!
Lima, Ohio, offers scenic golf cart paths that allow golfers to navigate the courses easily. These paths offer a fun and unique way to enjoy the beautiful views of the city while playing a round of golf. Whether you're a seasoned golfer or a beginner, Golf Carts in Lima are the best way to move around and are sure to enhance your golfing experience. We offer the best prices for Golf Carts For Sale in Lima.
Why not elevate your leisure time and experience an effortless lifestyle with a golf cart? Don't wait any longer to make your decision. Our team is ready to assist you in finding the right option for you. Come and see us today at 1200 Findlay Rd, Lima, OH 45801.
Golf Carts in Lima
Many people use Golf Carts in Lima to get around, so we understand that everyone has unique preferences. That's why we offer a range of customization options alongside our vast selection of golf carts, allowing you to fully personalize your cart. From choosing additional decorations to selecting your preferred color, we have everything you need to make your golf cart a true representation of your personality. Our knowledgeable team will assist you in selecting the perfect golf cart, accessories, and customization options to make sure you get exactly what you need.
Rookie
Are you looking for an affordable mode of transportation to cruise around town or the golf course? Look no further than our Rookie cart, which is perfect for beginners or anyone seeking a straightforward option. Equipped with six reliable 48-volt Interstate powerhouses, this cart can travel up to 20 mph and features important driving conveniences such as retractable glass, a horn, turn signals, and brake lights. Whether you're exploring nearby golf courses or simply getting around town, our Rookie golf cart is an excellent choice for those seeking an efficient and enjoyable ride.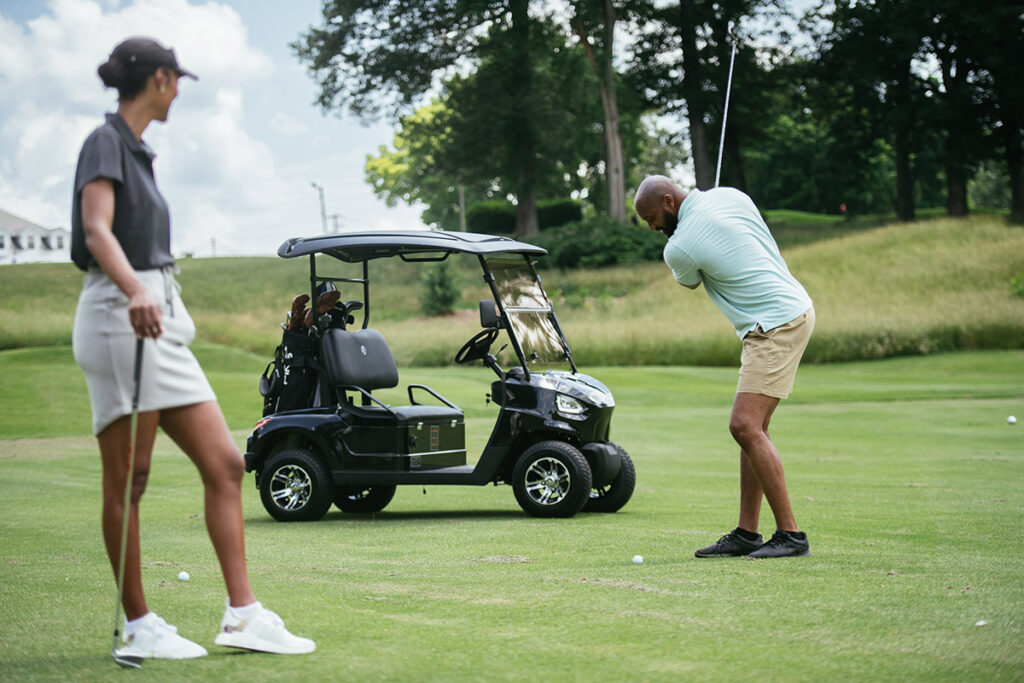 Pro
If you are a professional golfer, look no further than The Pro golf cart. This vehicle boasts an elevated framework, a sturdy Titan exterior, and sleek 12-inch aluminum wheels. With a maximum cargo capacity of 800 pounds and a clearance of 16 inches, it's ready to handle whatever you need to transport across the course. The cart is equipped with six Interstate lead-acid batteries, complete with full warranties, an onboard charging system, a collapsible windshield, LED headlights, tail lights, and turn indicators, making it perfect for a smooth and enjoyable ride. 
The distinctive black seats, featuring a white stitched MD logo, are custom-made, and the seat and cargo bed can accommodate up to 500 pounds. The undercarriage's seven-color LED lighting adds a unique flair to its looks.
Legend
The Legend all-electric cart allows you to enjoy a comfortable ride without any noise. However, if you prefer background music or listen to your favorite podcasts, you can blast your favorite tunes from the built-in Bluetooth audio and two speakers with incredible sound quality. The cart also includes a USB charging connector to ensure your phone charge never runs out while you spend time on the course. With a top speed of 25 mph, you can easily keep up with the game's pace or explore new trails in style.
The Beast
Golfers who demand top performance from their equipment will find that The BEAST meets their needs perfectly. If you're looking for a cart equipped to handle heavy loads, The BEAST is the one for you. With a total weight capacity of 500 pounds for the cargo bed, front basket, and seat package combined and the ability to tow up to 500 pounds (on flat ground), it's a true workhorse. Other notable features include a windshield, onboard charger, LED headlights and tail lights, camo-dipped body with a UV matte finish, six Interstate lead-acid batteries with full warranties, fold-down rear seat kit, OEM solid black top, state-of-charge meter, heavy-duty front and rear springs, fender flares, and under-seat tray. 
The Beast LE
The Beast LE is the perfect match for golfers who prefer to golf in class! With a top speed of 25 mph, an 800-pound towing capacity, and a high clearance, it is designed to tackle even the most difficult of courses. The cart also has classy amenities, including a twin-gun rack, elegant wood finishes, and a strong cargo bed and front rack for gear. Whether on the golf course, trail, or hunting expedition, The Beast LE stands out from other carts with its toughness and opulence.
Where Can You Use a Golf Cart in Lima?
Golf carts are permitted on certain golf courses in Lima, Ohio, as well as on privately owned land with the owner's permission. Using the city of Lima's network of picturesque golf cart pathways that snake through the city's parks and green areas is a pleasant and different way to explore the region. The golf cart routes in Lima are a fantastic choice if you want to play a game of golf or just go for a leisurely ride. So why not purchase a golf cart and tour the city in style?
Golf Cart FAQs
Q: In Lima, USA, do I need a driver's license to operate a golf cart?
A: A valid driver's license is necessary in Lima, USA, in order to operate a golf cart on public highways.
Q: In Lima, USA, is it legal to use a golf cart on public roads?
A: In Lima, USA, golf carts are legal as long as they have the necessary safety equipment, including seat belts, turn signals, brake lights, and headlights.
Q: In Lima, USA, do I need golf cart insurance?
A: Insurance is strongly advised to protect you in the event of an accident, even if it is not legally needed.
Q: May I use my golf cart on the sidewalk in Lima, USA?
A: No, it is illegal to operate a golf cart on sidewalks in Lima, USA.
Visit Our Lima Location to Find the Perfect Golf Cart
Whether you're looking to play golf, explore the city's many sights, or enjoy a leisurely ride through the park, a golf cart can be a great way to do it all in comfort and style. At our location in Lima, we have a variety of golf carts to choose from, each with its own unique features and capabilities. See us today at 1200 Findlay Rd, Lima, OH 45801 or check out our website to find the perfect golf cart for your needs.
About
By Appointment Only! We are a premium, all-electric golf cart dealer with prices you can afford. Our carts make it simple for you to take a quick trip through the neighborhood, a family outing to the beach, and even go off-road with a cart perfect for hunting or chores around the farm or homestead. You won't bother the neighbors with these carts! Our carts are completely quiet so you can feel comfortable that you aren't going to get a letter from your HOA, a noise complaint from your neighbors, or wake a sleeping baby when you pull away from the house. Plus, we offer carts that can fit up to six people comfortably with our stretch upgrade. Room for the family and even a few more! You can save money with our affordable but luxury all-electric carts, plus it's the perfect way for you to save some gas and still be able to take your family on all the adventures they can dream of.