STORE DETAILS
Golf Carts For Sale in Seabrook
270 Lafayette Rd.
Seabrook, NH 3874
1(603) 583-4244
HOURS OF OPERATION
monday
10:00 am - 6:00 pm
tuesday
10:00 am - 6:00 pm
wednesday
10:00 am - 6:00 pm
thursday
10:00 am - 6:00 pm
friday
10:00 am - 6:00 pm
saturday
10:00 am - 5:00 pm
sunday
closed - closed
Seabrook, Texas, offers excellent outdoor spaces to take your golf carts for a spin. If you want to drive around Old Seabrook or visit Clear Lake Park, having a golf cart will take your recreational ventures to the next level. If you're looking forGolf Carts For Sale in Seabrook, visit us at  270 Lafayette Rd. and let us help you select the golf cart that meets your needs.
Golf Carts in Seabrook
Our staff understands that different customers walk in with different needs and expectations from their golf carts so we provide the best variety of Golf Carts in Seabrook. We carefully analyze your wants and help you choose the best option to match your lifestyle. We also offer personalization and customization options for the golf cart that you select. You can personalize anything from the seat covers to the design of your frame. Our team is always willing to assist you with any modifications you may require.
Become a golf cart owner by visiting our Seabrook store or our website for additional information!
Rookie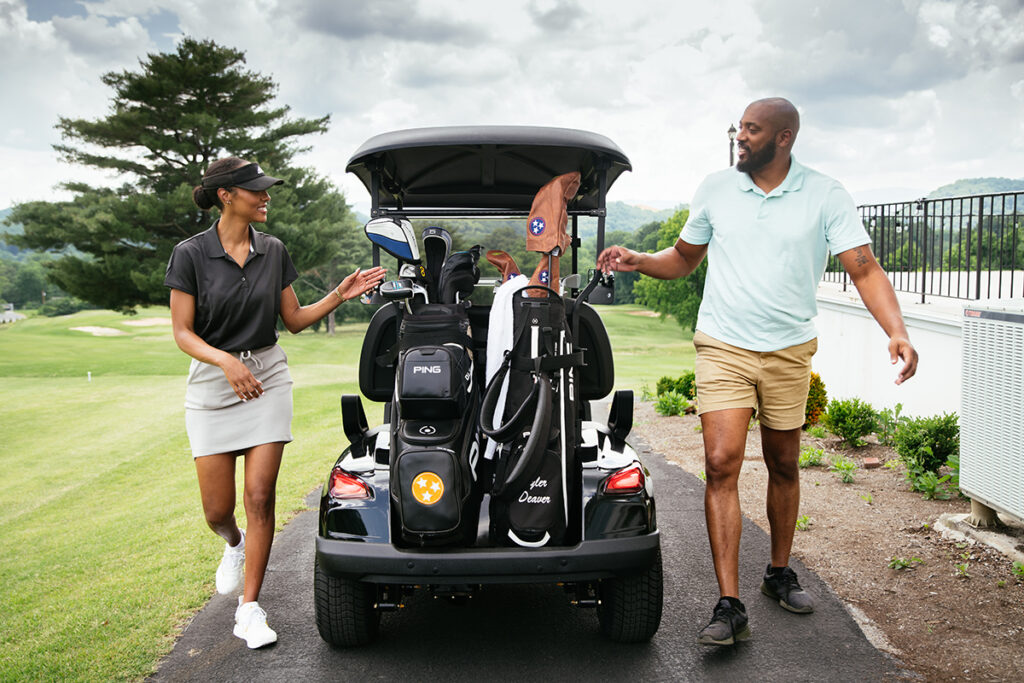 Our Rookie model is an ideal first golf cart. It comes with all the essential features you expect from an entry-level golf cart. It has LED lights, turn signals, and brake lights. In addition, it has a fold-down rear seat and a fold-down windshield. It is the best option for those looking to get the benefits of owning a golf cart while sticking to a budget.
Pro
As the name suggests, we made our Pro model with professionals in mind. It comes with bigger wheels and higher ground clearance than the Rookie model, giving it a smoother and more comfortable ride on the golf course. It also has a lifted chassis and a durable titan body. It has seven color undercarriage lights, which increase its aesthetic appeal as well as visibility in low light, which is a great feature for people who want to drive their golf cart at night. This cart is ideal for professional golfers that live near Seabrook.
Legend
Our Legend model is one of a kind; it comes with an even larger frame and more towing power. It also comes equipped with a Bluetooth audio system, so you can listen to your favorite tunes as you cruise through the beautiful landscapes around Seabrook. It features  a standard USB charging port, so you can power your devices while on the go. This golf cart is ideal for those that demand more from their game.
The Beast
The Beast is undoubtedly an industry standard for what a luxury golf cart should be. It is designed to combine performance with comfort and an aesthetic design. Its oversized frame and heavy-duty front and rear shocks enable it to go beyond the golf course. It is also ideal for hunting expeditions, since it can handle more difficult terrains than some of our other golf cart models. Whether you're hitting nature trails, going off-road, or simply want more from your next game of golf, the Beast will give you power and comfort.
The Beast LE
The Beast LE has everything the Beast has and more. The Beast LE will turn heads on Seabrook golf courses, nature trails, and residential roads. With a towing capacity of 800 lbs and a top speed of 25 mph, this golf cart is equipped for any outdoor adventures you want to embark on. This model is geared toward people who want nothing less than the best from their golf cart.
Where Can You Use a Golf Cart in Seabrook?
The beautiful area of Seabrook, Texas, offers a variety of places you can enjoy with your golf cart. Seabrook Island is a gated community that allows the use of golf carts; it has a stunning pool, golf court, and scenic views that you can enjoy. Old Seabrook is another great place to take your golf cart for a spin; it's a historic district with many attractions such as shops and museums that will be more enjoyable to explore on a golf cart than on foot. 
So if you are looking forward to getting a golf cart in Seabrook or the surrounding areas, visit Golf Carts in Seabrook. We'll help you find the perfect golf cart for your lifestyle.
Golf Cart FAQs
Q: Do I need a special license to drive a golf cart in Seabrook?
A: No, you do not need a special license to drive a golf cart in Seabrook. However, you must have a valid driver's license and be at least 16 years old to operate a golf cart on public roads.
Q: Can I drive a golf cart on the beach in Seabrook?
A: No, golf carts are not allowed on the beach in Seabrook.
Q: What are the speed limits for golf carts in Seabrook?
A: The speed limit for golf carts on public roads in Seabrook is 20 miles per hour. However, golf carts must always travel at a safe and reasonable speed and obey all laws.
Q: Are golf carts allowed on public roads in Seabrook?
A: Yes, golf carts are allowed on public roads in Seabrook if they meet specific requirements, such as being equipped with a headlight, taillight, and rearview mirror. Additionally, golf carts must be operated by a driver who is at least 16 years old and has a valid driver's license.
Visit Our Seabrook Location to Find the Perfect Golf Cart
If you want an easy way to explore Seabrook or the surrounding areas, look no further than our golf cart dealership in Seabrook. We have a vast selection of golf carts for you to choose from, with models to suit every lifestyle and budget as well as unique personalization options to make your golf cart one of a kind.
Visit our store at 270 Lafayette Rd today and become a golf cart owner! To learn more about our models and pricing, you can give us a call or visit our website for additional information.
About
We are a premium, all-electric golf cart dealer with prices you can afford. Our carts make it simple for you to take a quick trip through the neighborhood, a family outing to the beach, and even go off-road with a cart perfect for hunting or chores around the farm or homestead. You won't bother the neighbors with these carts! Our carts are completely quiet so you can feel comfortable that you aren't going to get a letter from your HOA, a noise complaint from your neighbors, or wake a sleeping baby when you pull away from the house. Plus, we offer carts that can fit up to six people comfortably with our stretch upgrade. Room for the family and even a few more! You can save money with our affordable but luxury all-electric carts, plus it's the perfect way for you to save some gas and still be able to take your family on all the adventures they can dream of.