STORE DETAILS
Golf Carts For Sale in Reno
770 Smithridge Dr
Reno, NV 89502
1(775) 499-4551
HOURS OF OPERATION
monday
10:00 am - 6:00 pm
tuesday
10:00 am - 6:00 pm
wednesday
10:00 am - 6:00 pm
thursday
10:00 am - 6:00 pm
friday
10:00 am - 6:00 pm
saturday
10:00 am - 5:00 pm
sunday
closed - closed
One of the most ideal ways to improve your leisure time on Reno's golf courses and golfing attractions is to purchase a golf cart. Golfcarts.com has the best golf carts for sale in Reno, whether you need one for leisure or practical purposes. Our experts will help you select the best golf cart based on your requirements, budget, and personal preferences. Visit our dealership at 770 Smithridge Dr Reno if you're looking for golf carts for sale in Reno.
Golf Carts in Reno
At Golf Carts in Reno, we offer customization options to help you build a one-of-a-kind golf cart. As a base, we also offer a wide range of golf cart models. To make your golf cart a unique expression of your personality, we have everything you need, including additional decorations and color options. Our knowledgeable staff will guide you to the best golf cart, accessories, and customization options.
Rookie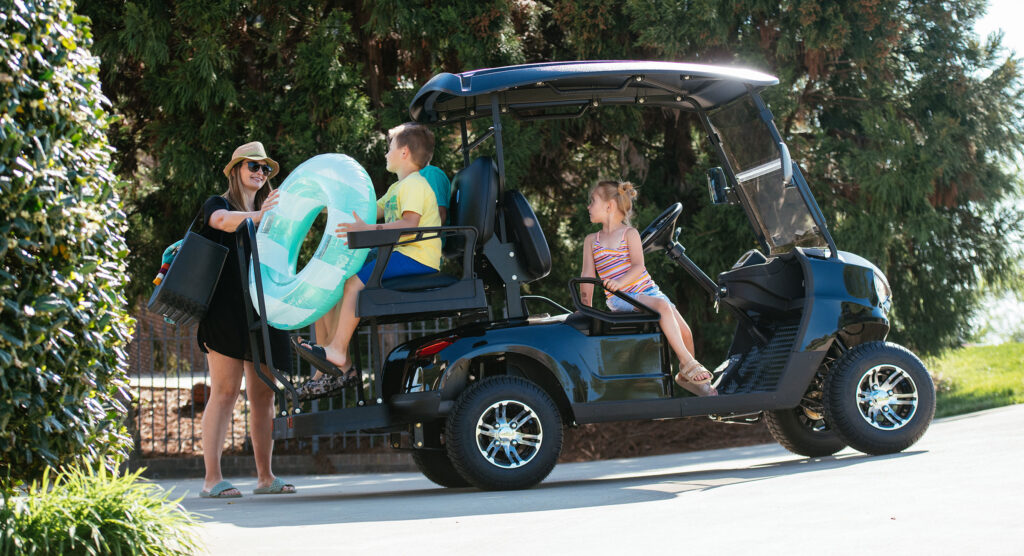 The Rookie features essential driving amenities, including a retractable windshield, turn signals, and brake lights for optimal comfort and safety. This entry-level golf cart is the ideal way to travel from one golf hole to the next. The Rookie's 20 mph top speed is made possible by six robust 48-volt Interstate powerhouses. Explore the neighborhood or one of the several neighboring golf courses with your new cart. Whether you're new to golf or want an alternative way to get around town, our Rookie golf cart is perfect for beginners.
Pro
The PRO golf cart has proportions of 116 inches long, 75 inches tall, and 52 inches wide. Its max storage capacity is 800 pounds and its ground clearance is 16 inches. Experienced golfers in Reno should go with The PRO. This car has all the specifications you'll need for a good-looking and comfortable ride, including a lifted chassis, Titan body, 12-inch alloy wheels, onboard power adapter, six Interstate lead-acid batteries with full warranty coverage, LED head/tail lights with hazard lights and stop lights, a fold-down windshield, and handmade black seats with a white sewn-in MD logo. The seat and cargo bed can support five hundred pounds, making it great for both passengers and gear. This cart stands out around town because of its seven-color, LED underbody lighting system.
Legend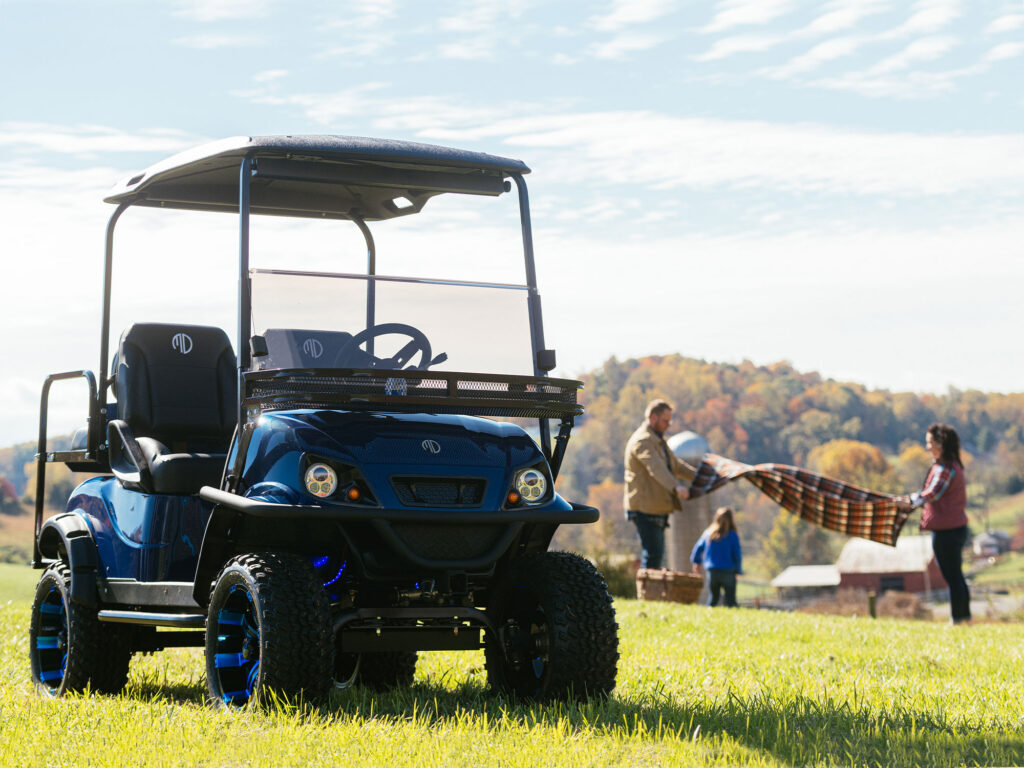 Make a statement on the fairway, the road, or the trail using our Legend golf cart. You can do so in peace and comfort when driving in this all-electric golf cart. This Legend has a longer frame than our entry-level versions, a USB charging port, a top speed of 25 mph, and 14″ wheels for more trail clearance. You can use the two speakers and built-in Bluetooth audio to listen to your favorite music or podcasts wherever the day takes you.
The Beast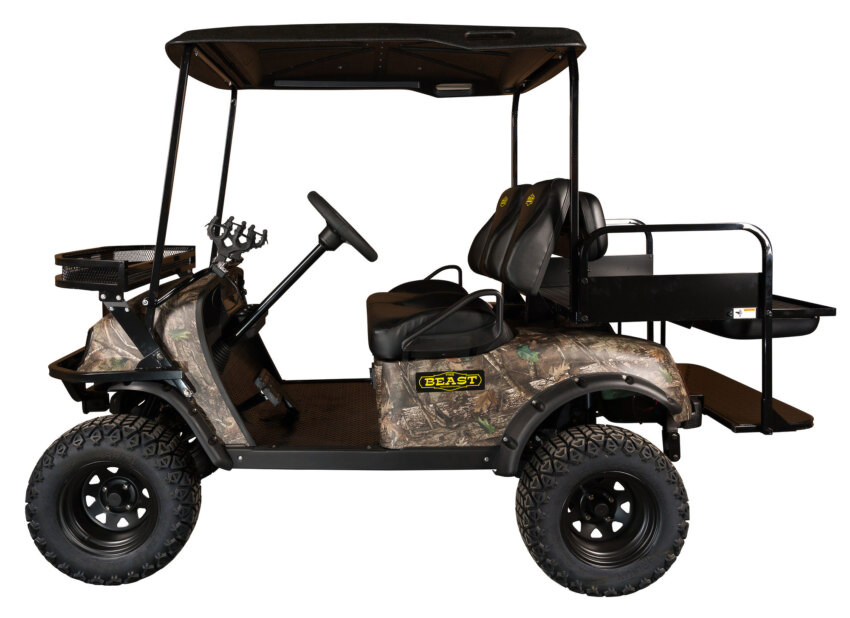 The BEAST golf cart can carry a total of 500 pounds across the cargo bed, front basket, and seat assembly. It is capable of towing 500 pounds on flat ground. It has a windshield, LED lights, an onboard charger, and tail lights, a UV matte-finished camo body, a fold-down rear seat kit, six Interstate lead-acid batteries with full warranties, an OEM solid black top, heavy-duty front and rear springs, a state-of-charge meter, fender flares, and an under-seat tray. It is the ideal upgrade for golfers who want more from their game.
The Beast LE
The Beast LE is a luxurious golf cart with abundant amenities and robust construction, making it suitable for challenging terrain. It also has a dual-gun rack, high clearance, an 800-pound towing capacity, and a top speed of 25 mph. The Beast LE takes golf cart luxury to the next level. It is designed for folks who are particular about quality. With a sturdy cargo bed, and attractive wood finishes, a front rack for gear, this model will stand out from the other carts on the golf course, trail, or hunting adventure.
Where Can You Use a Golf Cart in Reno?
The environs of Reno are perfect for exploration. By purchasing a golf cart, you can easily tour the city's many attractions, including theme parks, golf courses like the Lakeridge Golf Course, country clubs, and our breathtaking landscapes. Purchasing a golf cart could enable you to make the most of your time in Reno due to the independence, simplicity, and convenience of owning a golf cart. A golf cart will enhance your practical experience if you want to explore more challenging terrain, view the city's famous landmarks, or go on a leisurely tour.
Golf Cart FAQs
Q: What is the legal age for driving a golf cart in Reno?
A: If you own a golf cart in Reno, Nevada, you can drive it regardless of age. Reno has no age limitation for driving a golf cart.
Q: Are golf carts legal in Reno, Nevada?
A: A golf cart is a small vehicle, powered by electricity, used for transporting golfers and their equipment around a golf course.
Q: Is it necessary to register a golf cart in Greenville?
A: Yes, golf carts are legal to drive in Reno, Nevada.
Visit Our Reno Location
Are you searching to buy a golf cart in the Reno area? The place to be is Golf Carts in Reno! Our dealership offers a range of golf cart types for purchase. Visit our showroom at 770 Smithridge Dr. to see them in person. We'll gladly assist you in choosing the ideal golf cart for your requirements!
About
We are a premium, all-electric golf cart dealer with prices you can afford. Our carts make it simple for you to take a quick trip through the neighborhood, a family outing to the beach, and even go off-road with a cart perfect for hunting or chores around the farm or homestead. You won't bother the neighbors with these carts! Our carts are completely quiet so you can feel comfortable that you aren't going to get a letter from your HOA, a noise complaint from your neighbors, or wake a sleeping baby when you pull away from the house. Plus, we offer carts that can fit up to six people comfortably with our stretch upgrade. Room for the family and even a few more! You can save money with our affordable but luxury all-electric carts, plus it's the perfect way for you to save some gas and still be able to take your family on all the adventures they can dream of.