STORE DETAILS
Golf Carts For Sale in Las Vegas
6287 Dean Martin Dr
Las Vegas, NV 89118
1(702) 659-5490
HOURS OF OPERATION
monday
10:00 am - 6:00 pm
tuesday
10:00 am - 6:00 pm
wednesday
10:00 am - 6:00 pm
thursday
10:00 am - 6:00 pm
friday
10:00 am - 6:00 pm
saturday
10:00 am - 5:00 pm
sunday
closed - closed
If you're an avid golfer in Las Vegas, a golf cart is an excellent addition to your recreational time on the course. GolfCarts.com in Las Vegas provides a variety of golf carts that can be customized to meet your specific needs, whether you want to improve your golfing experience or you need a way to make the course more accessible. We offer the most affordable golf carts for sale in Las Vegas.
Our location at 6287 Dean Martin Dr is convenient and easily accessible. So, whether you're a resident or a business owner, we're here to provide you with the best golf carts in Las Vegas. Don't wait to enhance your golfing experience — visit us today!
Golf Carts in Las Vegas
When driving golf carts in Las Vegas, you can personalize your cart with upgrades, amenities, and visual customization options. In addition to our diverse range of golf carts, we also offer a wide array of add-ons and color choices to make your cart a true reflection of your individuality. To ensure complete satisfaction, our expert team will help you select the perfect golf cart, accessories, and customization features. Trust us to help you create a unique golf cart that speaks to your style!
Rookie
The Rookie cart is the perfect vehicle to cruise around the golf course, whether you're new to golfing or finally ready to upgrade your game. It comes equipped with all the basics like a retractable windshield, horn, turn signals, and brake lights to make your driving experience smooth and safe. Whether you're an avid golfer or just looking for a convenient way to get around town, the Rookie golf cart is an excellent choice. Take it for a spin and explore the local entertainment scene or drive it around one of the many golf courses in Las Vegas.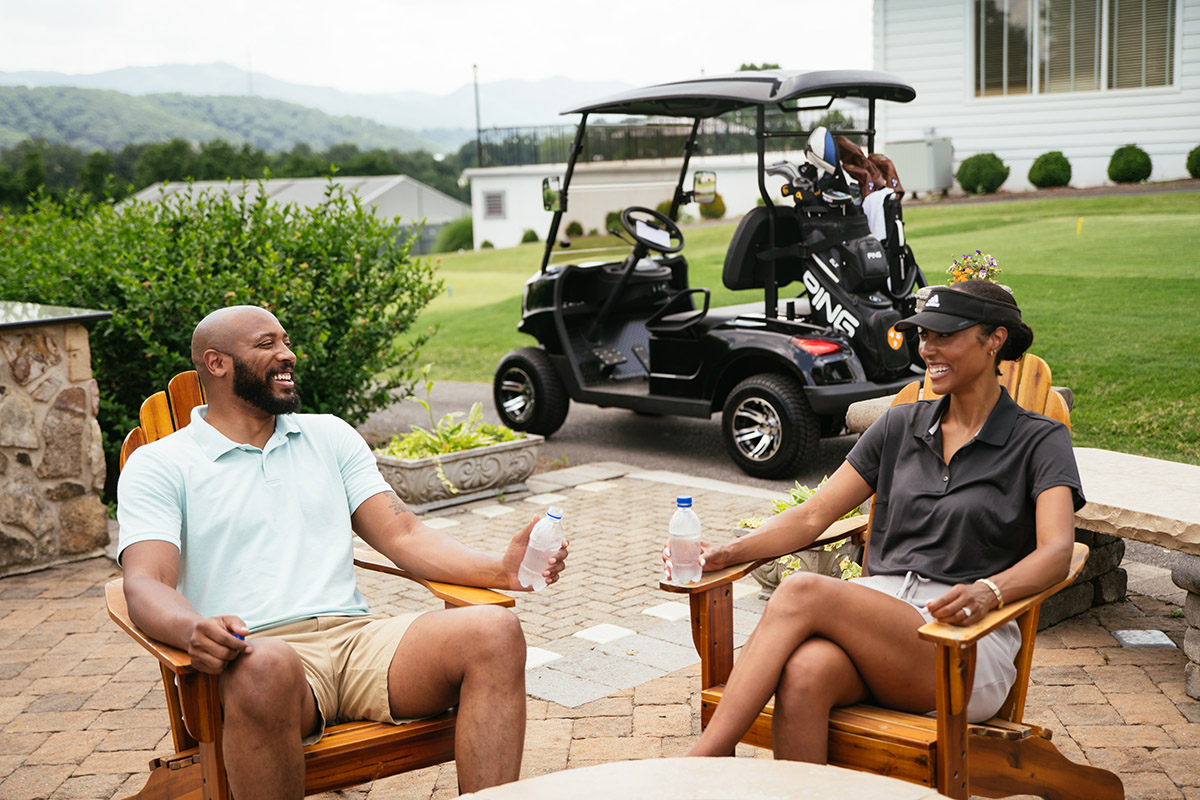 Pro
The Pro golf cart takes everything you love about the Rookie and elevates it. With dimensions of 116 inches in length, 52 inches in width, and 75 inches in height, you and your gear will have a comfortable ride. It boasts a maximum payload of 800 pounds and a ground clearance of 16 inches. The vehicle has a lifted chassis, a Titan body, 12-inch aluminum wheels, an onboard charger, and six Interstate lead-acid batteries with full warranties.
The cart also features LED head and tail lights, turn signals, stop lights, and a fold-down windshield. Its seat and cargo bed are capable of towing up to 500 pounds. The seven-color LED underbelly illumination is a standout design feature of this cart. The PRO is the ideal choice for golfers in Las Vegas seeking a stylish and comfortable ride.
Legend
Experience the ultimate in style and comfort with our Legend golf cart. Glide around the golf course, neighborhood, or trail with ease while making a bold statement with this all-electric cart. Enjoy the serenity of your surroundings or crank up your favorite tunes through the built-in Bluetooth audio system. With a USB charging port and 14-inch wheels, you can stay connected while exploring the outdoors. The longer frame design offers a smooth ride and improved clearance on rough terrain, while the top speed of 25 mph adds excitement to your journey. Travel in style and comfort with the Legend golf cart, your perfect choice for an efficient and exhilarating ride.
The Beast
The Beast golf cart is a powerful vehicle that can haul up to 500 pounds. It boasts a combined weight capacity of 500 pounds for the cargo bed, front basket, and seat package. The cart can also tow up to 500 pounds on flat ground, making it ideal for carrying golfing equipment, tools and construction materials, or camping gear. It is also equipped with six Interstate lead-acid batteries with full warranties, a fold-down rear seat kit, an OEM solid black top, a state-of-charge meter, heavy-duty front and rear springs, fender flares, and an under-seat tray. These features make it ideal for golfers who are in the market for a classy and rugged golf cart.
The Beast LE
The Beast LE is a premium golf cart that offers a luxurious experience. Coupled with its robust construction, The Beast LE is ideal for navigating challenging terrains without sacrificing style. Its features include a twin-gun rack, high clearance, an impressive 800-pound towing capacity, and powerful motors that allow a top speed of 25 mph.
The Beast LE is designed for individuals with discerning tastes who prioritize quality. Whether on the golf course, trails, or hunting expeditions, this model stands out from the rest thanks to its durable cargo bed, front rack for storing gear, and stylish wood finishes that give it a luxury look. In essence, the Beast LE sets a new standard for high-end, rugged golf carts.
Where Can You Use a Golf Cart in Las Vegas?
In Las Vegas, Nevada, golf carts are a versatile method of transportation. Most golf courses, including some of the most well-known courses in Las Vegas like the TPC Las Vegas and the Desert Pines Golf Club, allow golfers to bring their own carts for a day of play. Golf carts can be used for transportation on the grounds of some Las Vegas resorts and hotels. 
Additionally, certain Las Vegas communities and neighborhoods allow golf carts to be used on their private streets. Golf carts must only be driven on specified paths and routes; they cannot be driven on Las Vegas's public highways.
Golf Cart FAQs
Q: What are some common features of a Golf Cart?
A: Common features of a golf cart include a roof or canopy for sun protection, seating for two to four people, a windshield, headlights, taillights, turn signals, and a storage compartment for golf bags and equipment. Some golf carts may also have cup holders, Bluetooth connectivity, and USB charging ports.
Q: Can I drive my Golf Cart on the road in Las Vegas?
A: Golf carts are not allowed to operate on public roads in Las Vegas unless they meet certain requirements and are properly registered as a low-speed vehicle with the state. It is important to check local regulations before operating a golf cart on public roads.
Q: Can Golf Carts be modified?
A: Golf carts can be modified, but it is important to ensure that any modifications comply with local laws and regulations. Modifications may include adding custom seats, sound systems, lift kits, and upgraded wheels and tires.
Visit Our Las Vegas Location to Find the Perfect Golf Cart
If you're in Las Vegas and looking for the perfect golf cart, look no further than our Las Vegas dealership. Our showroom offers a wide selection of golf carts that cater to a variety of needs and preferences. By using a golf cart, you can plan your leisure activities more efficiently and make the most of your time in Las Vegas.
Our experienced staff is devoted to helping you locate the ideal golf cart that fits your needs in terms of price, style, and intended use. We'll help you make an informed choice that will improve your golfing experience, whether you want an entry-level model or an upgraded golf cart with extra amenities. Make sure you do your research before visiting our dealership to buy the perfect cart for yourself. Break the club car precedent and buy your very own golf cart today!
Ready to give yourself the golfing experience you deserve? We're here to help you find the ideal golf cart to fit your needs, from the wheels and engine to the paint job. Visit our golf cart dealership at 6287 Dean Martin Dr or shop our online selection.
About
We are a premium, all-electric golf cart dealer with prices you can afford. Our carts make it simple for you to take a quick trip through the neighborhood, a family outing to the beach, and even go off-road with a cart perfect for hunting or chores around the farm or homestead. You won't bother the neighbors with these carts! Our carts are completely quiet so you can feel comfortable that you aren't going to get a letter from your HOA, a noise complaint from your neighbors, or wake a sleeping baby when you pull away from the house. Plus, we offer carts that can fit up to six people comfortably with our stretch upgrade. Room for the family and even a few more! You can save money with our affordable but luxury all-electric carts, plus it's the perfect way for you to save some gas and still be able to take your family on all the adventures they can dream of.