STORE DETAILS
Golf Carts For Sale in Oakdale
7111 Stillwater Blvd.
Oakdale, MN 55128
HOURS OF OPERATION
monday
10:00 am - 6:00 pm
tuesday
10:00 am - 6:00 pm
wednesday
10:00 am - 6:00 pm
thursday
10:00 am - 6:00 pm
friday
10:00 am - 6:00 pm
saturday
10:00 am - 5:00 pm
sunday
closed - closed
Are golf carts only useful for golfing? No! Golf carts are great for playing golf, but using a Golf Cart in Oakdale has many advantages. It's a practical mode of transportation whether you're driving it around the golf course, going to the local park with relatives or friends, or driving around the neighborhood. If you're looking for Golf Carts For Sale in Oakdale, head on down to our dealership.
Do you play golf frequently? We know you would rather swing your clubs than carry them around the golf course. Owning an electric golf cart from Golfcarts.com is also more environmentally friendly than driving a conventional car or a gas powered golf cart. Visit our golf cart dealership at 7111 Stillwater Blvd to see some of the top golf carts we have available for purchase!
Golf Carts in Oakdale
Are you seeking a Golf Carts in Oakdale that have an attractive appearance and high performance? There are many different models that will meet your needs in our selection of golf carts at Golfcarts.com! Each of our carts has a ton of features to help you find the best cart for your adventures. Having a golf cart in Oakdale will let you easily navigate the golf course, browse local stores, or travel to the waterfront to spend the day with your family. Our store has several high-quality models for a fantastic price, as well as add-on amenities if you already own a golf cart you want to upgrade!
Rookie
Our entry-level golf cart is the Rookie. These carts are perfect for those who want simple, convenient transportation in comfort. You'll have more options for leisure and relaxation with a golf cart at your disposal. The Rookie model has a battery that enables the cart to accelerate up to 20 mph. Also, it has all the normal safety features, including LED turn signals and brake lights. The Rookie is an affordable, entry-level golf cart model that's perfect for casual golfers or first time buyers.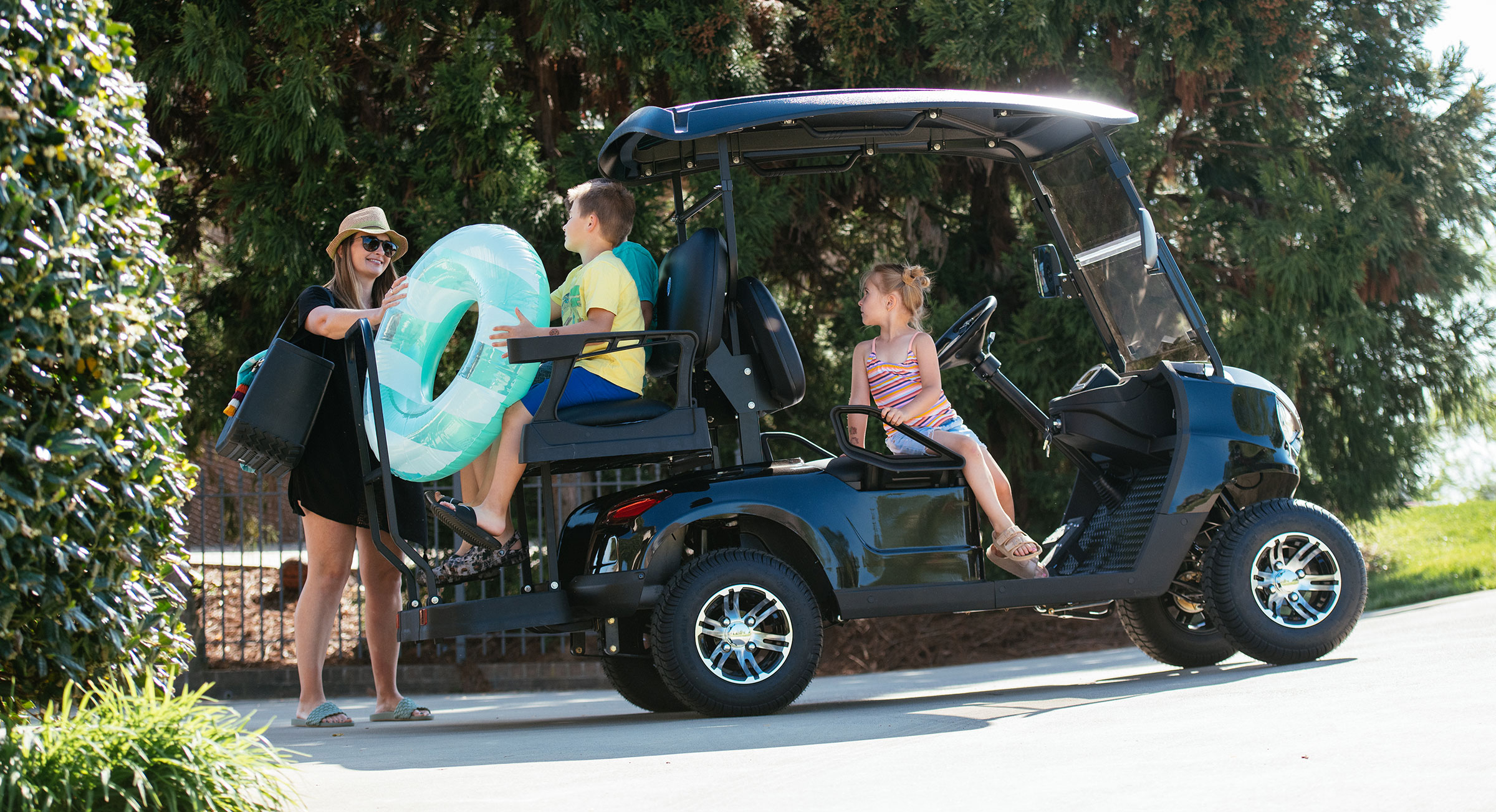 Pro
If you want to advance your game, buy the Pro model. These golf carts offer more than simple transportation; they also provide power and comfort. The Pro model has an even stronger battery that can propel the cart up to 25 mph. Do you have multiple golf bags or hefty baggage to bring to your upcoming picnic in the park? The Pro model can tow up to 800 lbs effortlessly and has a ton of storage capacity!
Legend
The Legend model takes fun to the next level. You can go anywhere on Oakdale's trails with the great ground clearance provided by 14-inch alloy rims. The Legend model has an audio entertainment system, so you can enjoy listening to music as you and your friends and family travel around Oakdale parks. The Legend may appear to be an easy, enjoyable ride, but that's not all there is to it. When put to the test, The Legend is capable of incredible strength, making it a great choice for off-roading and hauling cargo.
The Beast
Is The Beast the best golf cart yet? You be the judge! With its numerous features and added luxuries, this golf cart is prepared to handle any occasion. The Beast offers high-end performance, added storage capacity, additional safety features, and luxuries like bluetooth audio and LED underlighting. With The Beast golf cart, you can take any experience to the next level.
The Beast LE
What is superior to the best? The Beast LE! It's everything you enjoy about The Beast LE taken to the next level of luxury. Custom storage options, a safety grill to guard the Beast LE's matte finish paint job, and a wide range of high-end amenities are all available when you buy the Beast LE. This golf cart can tow 800 lbs and travel at a top speed of 25 mph.
Where Can You Use a Golf Cart in Oakdale CA?
In Oakdale, several public and private roads are suitable for golf cart transportation. The closest family park in town is reachable by a golf cart. With golf carts, you can easily transport your friends and family to parks, hiking trails, and other destinations. Are you playing golf? One of the top-notch golf courses in Oakdale is the Escalon course. With the variety of features that come with our golf cart models, you can use your new golf cart in countless ways.
Golf Cart FAQs
Q: What Should You Look For in a Golf Cart?
A: When you purchase your first golf cart, look for the features you expect to use. If you're okay with no speakers, you should get a basic model like The Rookie. However, if you expect to use your cart off the golf course, choose a higher-end model with higher ground clearance and a more durable body.
Q: Are Golf Carts Sustainable Vehicles?
A: Golf carts are extremely versatile vehicles. They can be used on the streets, as utility vehicles, or for coasting around. If you want to go get groceries, a golf cart is a more eco-friendly alternative than using a traditional car. It's safe and easy to drive, it can be easily charged, and anyone with a valid license can drive it due to its low speed.
Q: Can You Customize Golf carts?
A: Yes! Golf carts are customizable. You can add a bigger battery to your cart so that it can move faster and tow even more weight. You can also add amenities like bluetooth speakers and larger storage capacity. The modifications you will make to your golf cart will depend on your lifestyle.
Q: Are Golf Carts Easy to Maintain?
A: Electric golf carts require minimal effort to maintain. Unlike gas golf carts, electric golf carts don't have any engines, so you don't have to worry about changing the engine oil or checking for leaks. However, since an electric cart runs on batteries, you will need to check the battery's condition regularly. Thanks to advanced technology, local experts can check any mechanical or computer-related issues in your golf cart through a quick digital diagnostic.
Visit Our Oakland Dealership!
If you're looking for affordable golf carts in Oakland, there's no place better than Golfcarts.com. We have a wide variety of golf carts that you can choose from. Do you want a heavy-duty golf cart that can climb intense hilltops or go off-road? You want the Beast model! If you want something simple to get you through your golf game or cruise around the neighborhood visiting friends, the Rookie or Pro models are the best choice. 
Contact us today and visit our Oakdale dealership at 7111 Stillwater Blvd. We'd be happy to show you around our showroom!
About
We are a premium, all-electric golf cart dealer with prices you can afford. Our carts make it simple for you to take a quick trip through the neighborhood, a family outing to the beach, and even go off-road with a cart perfect for hunting or chores around the farm or homestead. You won't bother the neighbors with these carts! Our carts are completely quiet so you can feel comfortable that you aren't going to get a letter from your HOA, a noise complaint from your neighbors, or wake a sleeping baby when you pull away from the house. Plus, we offer carts that can fit up to six people comfortably with our stretch upgrade. Room for the family and even a few more! You can save money with our affordable but luxury all-electric carts, plus it's the perfect way for you to save some gas and still be able to take your family on all the adventures they can dream of.