STORE DETAILS
Golf Carts For Sale in Lexington
1263 E New Circle Rd #180
Lexington, KY 40505
1(859) 869-9808
HOURS OF OPERATION
monday
10:00 am - 6:00 pm
tuesday
10:00 am - 6:00 pm
wednesday
10:00 am - 6:00 pm
thursday
10:00 am - 6:00 pm
friday
10:00 am - 6:00 pm
saturday
10:00 am - 5:00 pm
sunday
12:00 pm - 4:00 pm
Lexington is a beautiful city where you can drive your golf cart to explore parks, golf courses, and city destinations. You will find parks, museums, and recreational spots to visit with your family and friends. What better way to see these recreational spots in Lexington than on a golf cart? If you're looking for golf carts for sale in Lexington, contact us today to explore the best options.
You can use your golf cart to commute to the city without the hassle of taking your car out. Electric golf carts are ideal for city travel because they do not emit harmful gasses that can affect the environment. Whether you want to go for a quick shopping trip with your family or visit the Kentucky Horse Park with your children, a golf cart will get you there in comfort and style.
Golf Carts in Lexington
You can find the finest electric golf carts in Lexington at our dealership. Want to get your hands on golf carts in Lexington that are reliable, reasonably priced, and durable? Getting a golf cart from Golfcarts.com is the best pick. With our golf carts, you can traverse areas with rough terrain or coast along smooth roads. You can use your golf cart for a wide variety of activities besides golfing.
Our golf carts are reliable and easy to drive. Because electric golf carts have fewer maintenance requirements, our carts will last a long time. Contact us now to learn more about our golf cart models. We can help you choose the best golf cart according to your requirements.
Rookie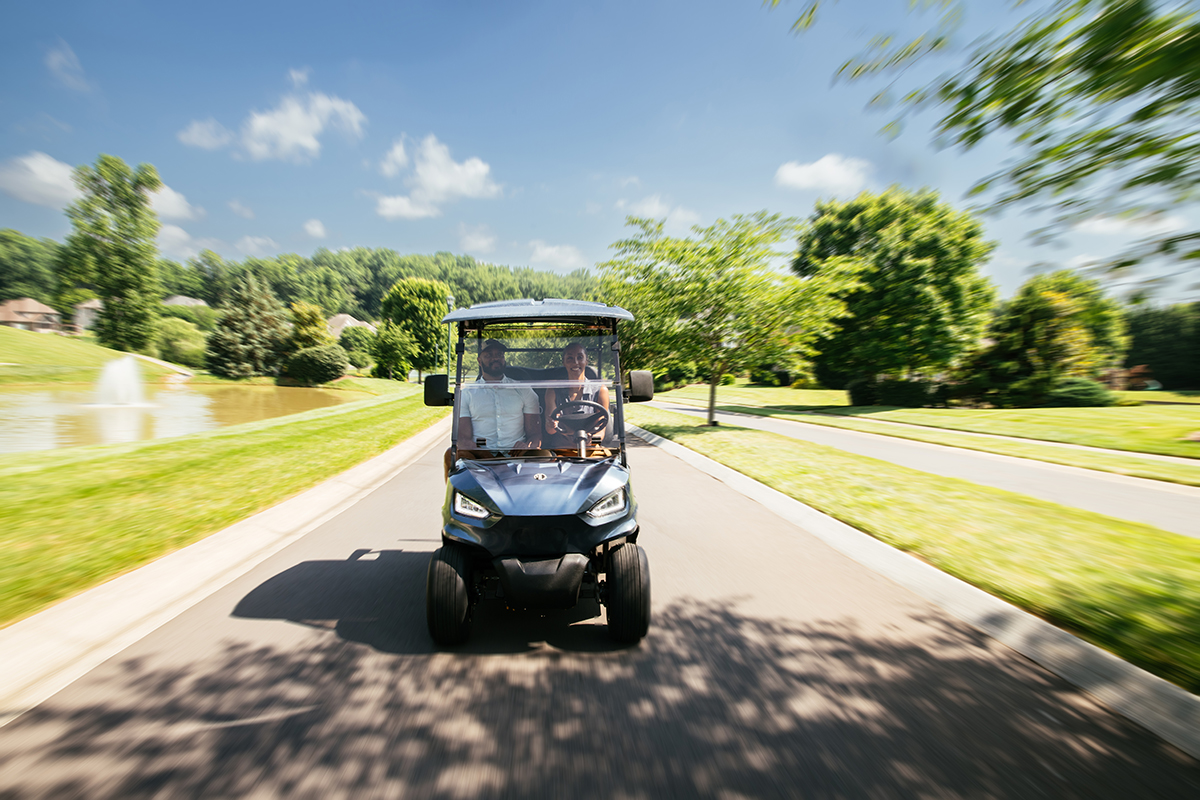 Our Rookie model is for people who want a basic golf cart for the right price. The Rookie features a 48-volt dependable battery that can take you up to 20 mph. It also comes equipped with many necessary safety features like turn signals, brake lights, LED lights, a windshield, and durable tires. When you own the Rookie, you can go golfing or shopping without ease. The Rookie model is a safe bet and fulfills all the basic golf cart requirements.
Pro
Do you want to up your game? The Pro model offers some fancy new features that provide even more durability and style. The Pro model comes with a lifted chassis thanks to the 12-inch aluminum wheels, as well as a lit undercarriage with seven different colors of LED lights. You can turn heads on the golf course or the streets by choosing the Pro model golf cart.
Legend
With the Legend, things keep on getting better and better. With a powerful battery that can take the cart up to speeds of 25 mph, a towing capacity of 800 lbs, and two built-in speakers with Bluetooth connectivity, you can enjoy your trip in the cart listening to your favorite tunes or podcasts. The Legend also has 14-inch aluminum wheels that offer more ground clearance than the Pro model. Golfing in style when you have the Legend.
Beast
Here's where the fun begins. The Beast model has an even more powerful battery that can make the cart go up to speeds of 35 mph and features a towing capacity of 800 lbs. Do you wish to drive on rough terrain? No problem! The Beast can easily handle rough terrain and inclines. The Beast is a highly capable golf cart with aggressive looks to complement its powerful capabilities.
Beast LE
The Beast LE is for people who don't want to compromise on anything. With this model, you get stunning looks and outstanding performance. This cart has an 800-pound towing capacity, a twin-gun rack, high clearance, and superior suspension. With a sturdy bed, a front frame for gear, and exquisite wood finishes, this model ups the luxury factor and will make you talk of the trail, course, or hunting trip. This cart can go 35 mph at its top speed, just like The Beast.
Where Can You Use a Golf Cart in Lexington?
Golf carts have become a prevalent and convenient mode of transportation. There are plenty of places in Lexington where a golf cart can be used; for instance, the Kentucky Aviation Museum or the Kearney Hill Golf Course. Lexington is a calm place to take your children for a spin in your golf cart without fear. The traffic regulations for driving a golf cart in Lexington are simple and helpful. The residents of some neighborhoods can also avoid clogged highways while still going where they need to go swiftly and comfortably thanks to unique access routes expressly intended for golf cart traffic.
To help golf cart users safely navigate their way around the various parts of the city, the city has also put several designated paths with speed restrictions and traffic lights in place.  You can get a golf cart in Lexington at Golfcarts.com for the most reasonable price. Our golf carts are highly durable and capable of going on rough terrain.
Golf Cart FAQs
Q: Are golf carts street-legal in Lexington?
A: A legal golf cart may be used on streets with a posted speed restriction of 35 mph or less. The golf cart may only be driven between sunrise and dusk, and the driver must have a current driver's license.
Q: What is the required age to drive a golf cart in Lexington?
A: The golf cart may be used on routes with posted speeds of 35 mph or below. The golf cart may only be used throughout the day. The driver must be at least 16 years old and have a valid driver's license.
Q: Can you golf all year round in Lexington?
A: Yes, Lexington, Kentucky, offers world-class golf courses at reasonable costs. Golf may be played all year round due to the favorable environment and breathtaking location.
Visit Our Lexington Location
Golf carts offer a lot of comfort. People use golf carts to get around places in Lexington. If you own a golf cart in Lexington, Kentucky, you can drive it to the nearest parks with your family. Are you looking to purchase the finest electric golf carts in Lexington? Come to our dealership in Lexington, where you will find a variety of carts to choose from. Contact us today.
About
We are a premium, all-electric golf cart dealer with prices you can afford. Our carts make it simple for you to take a quick trip through the neighborhood, a family outing to the beach, and even go off-road with a cart perfect for hunting or chores around the farm or homestead. You won't bother the neighbors with these carts! Our carts are completely quiet so you can feel comfortable that you aren't going to get a letter from your HOA, a noise complaint from your neighbors, or wake a sleeping baby when you pull away from the house. Plus, we offer carts that can fit up to six people comfortably with our stretch upgrade. Room for the family and even a few more! You can save money with our affordable but luxury all-electric carts, plus it's the perfect way for you to save some gas and still be able to take your family on all the adventures they can dream of.