STORE DETAILS
Golf Carts For Sale in Oakland Park
4511 NE 5th Terrace
Oakland Park, FL 33334
1(954) 320-6022
HOURS OF OPERATION
monday
10:00 am - 6:00 pm
tuesday
10:00 am - 6:00 pm
wednesday
10:00 am - 6:00 pm
thursday
10:00 am - 6:00 pm
friday
10:00 am - 6:00 pm
saturday
10:00 am - 5:00 pm
sunday
12:00 pm - 4:00 pm
Looking to purchase golf carts in Oakland Park? Golf carts are a great way to get around the city and the golf course. Golf carts for sale in Oakland Park can help you find the best golf cart for you to move around the city in style and comfort.
When you own a golf cart, you can visit numerous parks, museums, and recreational areas with ease. It's a convenient way to tour your favorite recreational areas in Oakland Park. Because electric golf carts don't expel exhaust or other detriments to the environment, they are perfect for commuting through the city, around nature trails, and on golf course paths.
Golf Carts in Oakland Park
If you want to get your hands on a durable, affordable, and dependable golf cart in Oakland Park, the finest dealership is Golfcarts.com. At our showroom, you can find the best electric golf carts in Oakland Park. You can use your golf cart for a variety of activities besides just playing golf. When you buy the right golf cart model, you can ride on smooth roads or challenging terrain in comfort and style.
Our golf carts have minimal maintenance requirements, so they last longer than gas powered models. Contact us today to learn more about our electric golf cart models. We will help select the ideal golf cart for your needs.
Rookie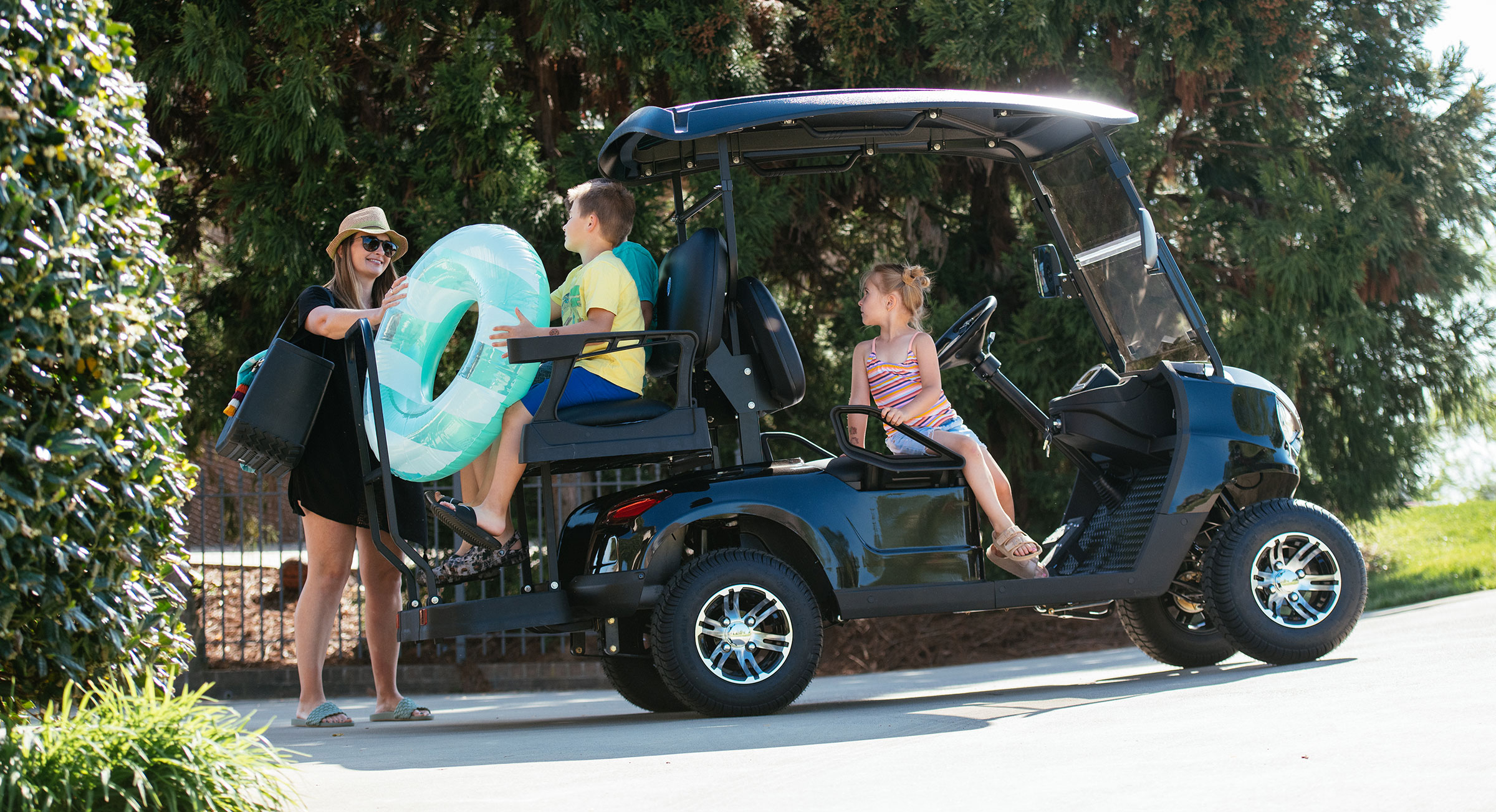 We offer the Rookie model for those looking for a straightforward golf cart at an affordable price. The reliable, 48-volt battery in this entry-level model has a 20 mph maximum speed. It also has numerous essential safety features like a windshield, sturdy tires, turn signals, brake lights, and LED lighting for low light visibility. With the Rookie, you can quickly go golfing or shopping without wasting gas driving your car. The Rookie model is simple, dependable, and satisfies all the standard criteria for a golf cart.
Pro
Do you want to improve your golf game? The Pro model has a few upgraded features that increase the style and durability of this golf cart. With the help of 12-inch aluminum wheels, the Pro model sits on a raised chassis, and its undercarriage is illuminated in seven distinct colors. You can draw attention on the golf course or in public by upgrading to the mid-tier Pro model golf cart.
Legend
Things keep getting better with the Legend. You can enjoy your ride in this golf cart while listening to your favorite podcasts or music thanks to the two built-in Bluetooth speakers. The Legend golf cart also features a strong battery that can propel the cart up to speeds of 25 mph and an 800 pound towing capability. The 14-inch aluminum wheels on the Legend provide more ground clearance than those on the Pro model, giving you more freedom to take your golf cart off road. With the Legend at your disposal, why not play golf in style?
Beast
The excitement starts right now! Want to take your golf cart on rugged terrain? Not to worry! You can traverse any slope or challenging terrain driving the Beast. The Beast is a powerful golf cart with aggressive aesthetics to match its strength. The Beast model's battery is significantly more powerful, allowing it to propel the cart up to 35 mph and pull 800 lbs. If you want peak performance on and off the course, the Beast is the golf cart for you.
Beast LE
The Beast LE is for those who will settle for nothing less than the best. This model offers a luxury design and exceptional performance. It boasts a twin-gun rack, high clearance, improved suspension, and an 800-pound towing capacity. This model increases the level of luxury and will make you the talk of the trail, course, or hunting trip thanks to its full bed, front frame for gear, and gorgeous wood finishes. Like The Beast, this cart has a top speed of 35 mph.
Where Can You Use a Golf Cart in Oakland Park?
Golf carts have become a familiar and practical form of transportation. You can use golf carts to tour the nearby golf courses or Hugh Taylor Birch State Park. You'll feel safe driving your kids around in your golf cart at Oakland Park. Driving a golf cart on Oakland Park's roads is easy and convenient. The city has established several dedicated paths with speed limits and traffic lights to aid golf cart users in securely navigating their way through the various regions of the city. Thanks to unique access routes created just for golf carts, residents of Oakland Park can escape congested freeways while getting where they need to go quickly and comfortably.
Contact Golfcarts.com to get the most reliable golf carts with the features you need. Our carts are designed to be used on both smooth roads and rough terrains, so you'll have a stylish ride no matter where you need to go.
Golf Cart FAQs
Q: Are golf carts street-legal in Oakland Park?
A: The Oakland Police Department records all registered golf carts. On Oakland streets, only golf carts owned by residents are allowed. The Oakland Police Department asks residents to wait to use their carts until they have registered them correctly.
Q: What is the required age to drive a golf cart in Oakland Park?
A: 13 years old is the minimum age requirement in Oakland Park to drive a golf cart. To operate a golf cart, an individual must use a suitably sized vehicle where they have no trouble reaching the controls and pedals.
Q: Can you golf all year round in Oakland Park?
A: Golf is a year-round sport in Oakland Park, with wintertime highs averaging in the mid-60s and lows averaging in the mid-40s. Get an early golfing time in the summer to avoid the hot weather and potential afternoon downpours.
Visit Our Oakland Park Location
If you own a golf cart, you can take your family to the closest parks and attractions in Oakland Park. Golf carts are comfortable. In Oakland Park, golf carts are used by residents and businesses to get around. The Xtreme Action Park and the Oswald Golf Course are just two locations in Oakland Park where a golf cart can be used.
Are you looking to buy the best electric golf carts in Oakland Park? Come check out the carts our company has to offer at our Oakland Park dealership.
About
We are a premium, all-electric golf cart dealer with prices you can afford. Our carts make it simple for you to take a quick trip through the neighborhood, a family outing to the beach, and even go off-road with a cart perfect for hunting or chores around the farm or homestead. You won't bother the neighbors with these carts! Our carts are completely quiet so you can feel comfortable that you aren't going to get a letter from your HOA, a noise complaint from your neighbors, or wake a sleeping baby when you pull away from the house. Plus, we offer carts that can fit up to six people comfortably with our stretch upgrade. Room for the family and even a few more! You can save money with our affordable but luxury all-electric carts, plus it's the perfect way for you to save some gas and still be able to take your family on all the adventures they can dream of.