STORE DETAILS
Golf Carts For Sale in Melbourne
295 S Wickham Rd.
Melbourne, FL 32904
1(321) 802-6848
HOURS OF OPERATION
monday
10:00 am - 6:00 pm
tuesday
10:00 am - 6:00 pm
wednesday
10:00 am - 6:00 pm
thursday
10:00 am - 6:00 pm
friday
10:00 am - 6:00 pm
saturday
10:00 am - 5:00 pm
sunday
closed - closed
Electric golf carts are a great personal vehicle since they are simple to customize and easy to maintain. You can use the same golf carts on the course and on the road. You can transform a golf cart's rear section into a compact flatbed for moving equipment. For transportation, you can use our Golf Carts For Sale in Melbourne FL.
Professors, staff and students may quickly and safely cross big campuses thanks to golf carts. They also offer mobility options to people with disabilities. Consider how much more productive your grounds crew can be if they have easy access to every location and can use all their equipment and supplies. If you're in Melbourne or nearby, visit our showroom and check out our golf carts!
Top Rated Golf Carts Melbourne FL
Golf carts are growing in popularity in the area, maybe because Melbourne is so well-recognized for its golf courses! Both locals and visitors can easily move around on Golf Carts in Melbourne FL. Electric golf carts are a fun and practical way to discover Melbourne, whether you're riding through a State Park, exploring Historic Villages, or splashing around at Port Melbourne Beach. We have a wide selection of golf carts available for purchase in Melbourne. Our golf carts are dependable, cost-effective, and sure to stand out anywhere you take your cart.
Rookie
The Rookie cart, our entry-level model, comes with all the safety features you'll need on the course or driving about the neighborhood. The maximum speed of this cart, which is operated by six reliable 48-volt Interstate batteries, is 20 mph. In addition, it has standard safety features including a folding windscreen, a horn, turn signals, and brake lights. For a price you'll love, you  can explore the area, or hit the golf course!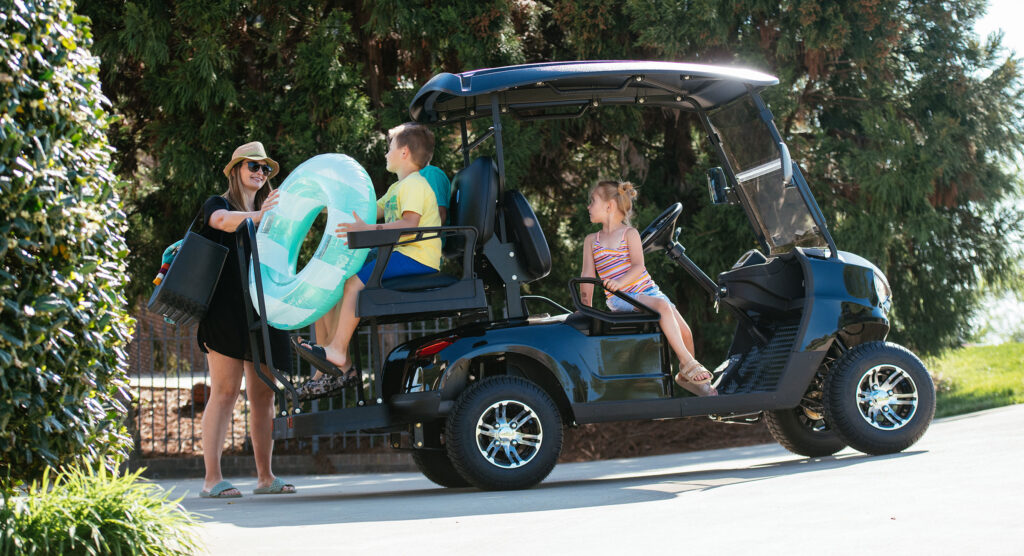 Pro
The Pro model is a step ahead of the Rookie with many additional features. The features you're getting with the pro model are unmatched. It has a top speed of 25 mph and can tow 800 lbs effortlessly. This cart isn't only meant for golf. You can also use it on the trail, off-roading, or to explore private communities in Melbourne.
Legend
The Legend is a head-turner. It can go up to 25 mph and can tow 800 lbs. Are you fond of listening to music while driving? The Legend comes with excellent speakers and Bluetooth connectivity to keep you entertained. It also comes with built-in charging ports to charge your devices while driving. It offers excellent ground clearance because of its 14-inch alloy rims. You can take the Legend on any rough terrain without any hesitation.
The Beast
Are you considering activities besides golf? The Beast is the ultimate cart for every use. This sturdy cart can tow up to 800 lbs. and is built to tackle the roughest terrain. Moreover, the Beast has a top speed of 25 mph. The Beast can handle any demands you put on it, whether you wish to transport hunting equipment comfortably, carry many golf bags around the course, or enjoy stunning vistas from hiking routes.
The Beast LE
For individuals who seek nothing less than the best, The Beast LE is the ideal cart. This cart epitomizes luxury in a robust design that can handle the roughest terrain in the field. Similar to our basic The Beast model, this cart has an 800-pound towing capacity, a high clearance, a twin-gun rack, and high-quality suspension. With a sturdy bed, a front frame for gear, and exquisite wood finishes, this model ups the luxury factor and will make you the talk of the trail, course, or hunting trip. Like The Beast, this cart can go 25 mph at its top speed.
Where Can You Use a Golf Cart in Melbourne?
A golf cart is a terrific way to get around Melbourne. All of our electric golf carts can be used to travel on trails, off-road, to the beach, and through residential areas and popular tourist destinations. And of course, they can also be utilized on the golf course! We have a cart for you whether you want to travel down to International Drive/I-Drive to see the city's sights or to Drummond Melbourne Golf Club for 36 holes of championship golf. But before traveling, remember that golf carts must stay on designated highways.
Golf Cart FAQs
Q: Can Golf Carts Be Driven On The Streets?
A: Yes! If you have a golf cart, you don't have to stick to the golf course. Check local regulations and drive your golf cart on streets with appropriate posted speed limits.
Q: What Should You Consider Before Buying a Golf Cart?
A: Always check the batteries and tires before you buy your golf cart. Also check the condition of the frames.
Visit Our Melbourne FL Golf Cart Dealership!
If you're looking for a golf cart dealership in Melbourne, there's no place better than ours! We have a huge variety of golf carts. You can get all sorts of features installed to customize your cart. We will offer delivery as well! 
Getting a new golf cart may seem tricky, but not when you buy one from us. Visit our dealership at 295 S Wickham Rd., Melbourne FL 32904 and get your new golf cart today.
About
We are a premium, all-electric golf cart dealer with prices you can afford. Our carts make it simple for you to take a quick trip through the neighborhood, a family outing to the beach, and even go off-road with a cart perfect for hunting or chores around the farm or homestead. You won't bother the neighbors with these carts! Our carts are completely quiet so you can feel comfortable that you aren't going to get a letter from your HOA, a noise complaint from your neighbors, or wake a sleeping baby when you pull away from the house. Plus, we offer carts that can fit up to six people comfortably with our stretch upgrade. Room for the family and even a few more! You can save money with our affordable but luxury all-electric carts, plus it's the perfect way for you to save some gas and still be able to take your family on all the adventures they can dream of.