STORE DETAILS
Golf Carts for Sale in Jacksonville, FL
8409 Bay Meadows Road
Jacksonville, FL 32256
1(904) 647-2313
HOURS OF OPERATION
monday
10:00 am - 6:00 pm
tuesday
10:00 am - 6:00 pm
wednesday
10:00 am - 6:00 pm
thursday
10:00 am - 6:00 pm
friday
10:00 am - 6:00 pm
saturday
10:00 am - 5:00 pm
sunday
closed - closed
The city of Jacksonville, Florida has embraced golf cart use as an affordable and convenient way to get around town. Known for its stunning beaches and proximity to some of the most beautiful parks in the country like St. Johns River State Park, Timucuan Ecological & Historic Preserve, and Fort Caroline National Memorial, Jacksonville is an ideal destination for outdoor enthusiasts.
Whether it's for a day of shopping or just cruising the streets, golf carts provide an enjoyable and efficient mode of transportation for many locals.
Jacksonville Golf Carts 
When it comes to golf carts in Jacksonville, we have the best selection that is sure to meet your needs. We offer carts that can get you around the town, off-road, to and from the beach, throughout neighborhoods and condos, or take you around the course.
In addition to recreational purposes in Jacksonville's residential areas, there have been increasing opportunities for commercial uses such as shuttling customers from businesses to their cars or providing transportation services from one location to another within a neighborhood or community center.
Rookie
Our entry-level Rookie cart is perfect for those who need something to carry them from one hole to another or to a neighbor's house for a friendly visit. Powered by six dependable 48-volt Interstate batteries this cart can reach a top speed of 20mph. It also comes equipped with necessities for the road like turn signals, a horn, brake lights, and a folding windshield. Cruise the neighborhood or hit the links for a price you'll love!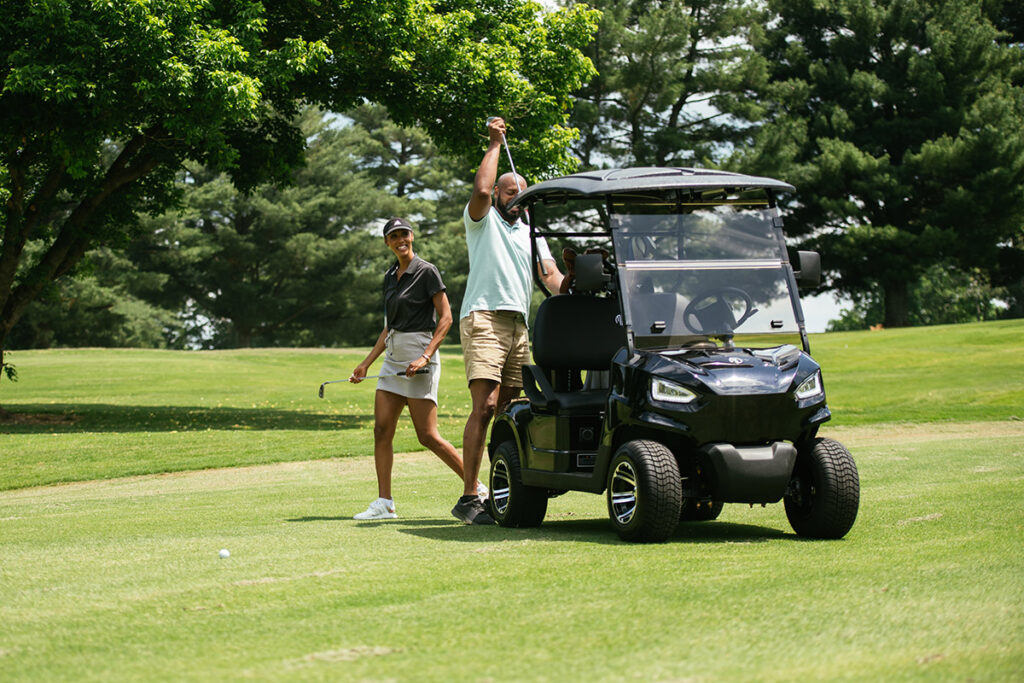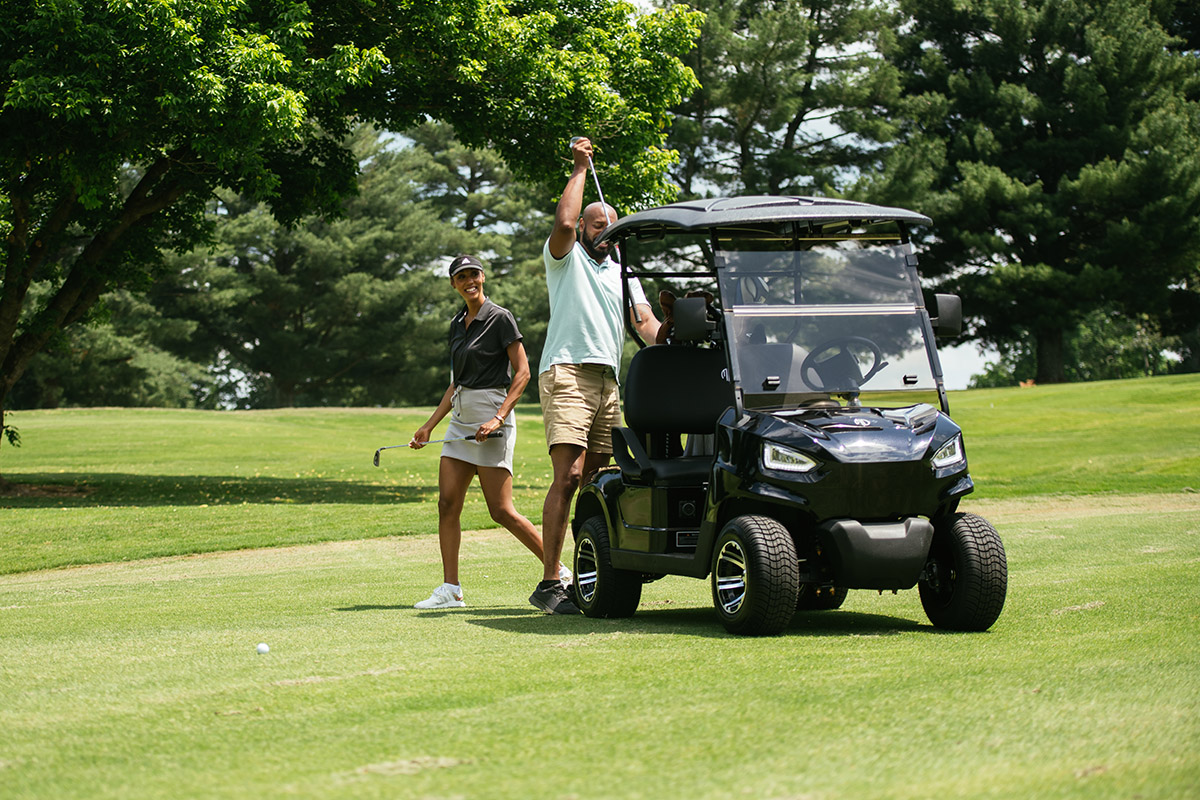 Pro
Looking to take your game to the next level? Our Pro cart is the perfect accessory to a killer golf game or riding around the town. With its lifted chassis, 12" Aluminum wheels, and 7-color undercarriage LED lighting, this cart is sure to turn heads around town or the course.
Legend
Make a statement on the course, road, or trail with our Legend golf cart. This all-electric cart can quietly move you wherever you need to go and you'll look good while doing it. Not interested in being quiet? Take advantage of the built-in Bluetooth audio with two speakers to play your favorite tunes or podcasts. This cart also includes a USB charging port, has a lifted chassis with 14″ wheels for extra clearance on trails, and can reach a top speed of 25mph.
The Beast
Need a vehicle designed for all-terrain? The Beast is the perfect cart to get you across the sandy beaches of Jacksonville. Whether you're quietly fishing along the banks or simply exploring some new hiking trails, this tough cart is designed to handle the toughest terrain, with a top speed of up to 35 mph and towing capabilities of up to 800 lbs.
The Beast LE
The Beast LE is the ultimate cart for those who demand the absolute best. Capable of handling the toughest terrain out in the field, this cart redefines luxury in a heavy-duty package. Like our standard The Beast model, this cart comes with a double gun rack, quality suspension, high clearance, and a towing capacity of 800 lbs. This model ups the luxury with a heavy-duty bed, a front rack for equipment, and stunning wood finishes that are sure to make you the envy on every trail, course, and hunting trip. Like The Beast, this cart has a top speed of 25mph.
Where You Can Use a Golf Cart in Jacksonville, FL?
Golf carts have become a popular form of transportation in recent years. They're becoming increasingly popular for getting around in the downtown area of Jacksonville, on the beaches, and even on the popular trails and parks throughout the city. The city has also implemented several designated paths for golf cart drivers with speed limits and traffic signals so that drivers can safely navigate their way through different areas of town with ease. Additionally, some neighborhoods have specialized access roads specifically designed for golf cart traffic only – such as St Johns Bluff Road South – allowing residents to bypass congested highways while still getting where they need to go quickly and comfortably.
From Little Talbot Island State Park in Atlantic Beach all the way up north past Amelia Island State Park near Fernandina Beach – there are countless trails and parks throughout Jacksonville that are perfect for driving your golf cart!
Golf Cart FAQs
Q: Are electric golf carts loud?
A: No, Electric golf carts accelerate quickly and quietly. They make very little noise, so they're an attractive option for people who don't like to announce their presence everywhere they go. Gas-powered golf carts are relatively noisy.
Q: Are electric golf carts a good choice for driving around Jacksonville?
A: Absolutely! Electric golf carts are a great option for getting around the city. They are eco-friendly, easy to maneuver through traffic or down narrow roads, and cost much less to maintain than traditional cars or trucks. Plus, they come in a variety of styles and colors that can easily be customized to fit your personality. Lastly, electric golf carts have fewer moving parts than gas-powered vehicles so you don't have to worry about breakdowns as often.
Q: Can anyone drive a golf cart?
A: Legally, anyone driving a golf cart must be a licensed driver. 
Q: How do I charge my golf cart?
A: To charge the battery, you need to use the portable charger included in your vehicle. The charger first needs to be connected to the vehicle and then plugged into a GFCI outlet. Once plugged in, the charger will fuel the golf cart until it has reached maximum charge. At this point, it will automatically shut off. We recommend leaving the vehicle plugged in when not in use.
Q: How far can an electric golf cart go on a single charge?
A: Electric-powered golf carts can get you up to 30-35 miles on a single charge. 
Visit Our Jacksonville Location to Find the Perfect Golf Cart
It's not hard to see why so many people have come to embrace using golf carts as an effective means of exploration here in Jacksonville Florida! With its diverse range of uses – from businesses, neighborhoods, beaches and parks – there is no shortage of opportunities for those looking to add some extra convenience into their daily routines or spice up their vacation plans.
So whether you want to rule the neighborhood with a brand-new ride or need help carrying fishing gear to the water, a golf cart may be your answer. 
Looking to purchase one soon? Compare our golf carts to find the right one or visit us in person at 8286 Western Way Circle, Jacksonville, FL 32811.
About
Golfcarts.com is a premium, all-electric golf cart dealer with prices you can afford. Our carts make it simple for you to take a quick trip through the neighborhood, a family outing to the beach, and even go off-road with a cart perfect for hunting or chores around the farm or homestead. You won't bother the neighbors with these carts! Our carts are completely quiet so you can feel comfortable that you aren't going to get a letter from your HOA, a noise complaint from your neighbors, or wake a sleeping baby when you pull away from the house. Plus, we offer carts that can fit up to six people comfortably with our stretch upgrade. Room for the family and even a few more! You can save money with our affordable but luxury all-electric carts, plus it's the perfect way for you to save some gas and still be able to take your family on all the adventures they can dream of.