STORE DETAILS
Golf Carts For Sale in Fort Myers
16360-C Innovation Lane
Fort Myers, FL 33913
1(239) 310-0901
HOURS OF OPERATION
monday
10:00 am - 6:00 pm
tuesday
10:00 am - 6:00 pm
wednesday
10:00 am - 6:00 pm
thursday
10:00 am - 6:00 pm
friday
10:00 am - 6:00 pm
saturday
10:00 am - 5:00 pm
sunday
closed - closed
With its warm climate, stunning scenery, and world-class golf courses, Fort Myers is a golfer's paradise. And what better way to explore this beautiful city than in a comfortable and stylish golf cart? There are many reasons why you should look for a golf cart for sale, Fort Myers has courses, parks, and other attractions that can make your experience more enjoyable and memorable. Whether you're a serious golfer or just looking for a fun way to get around, our Golfcart.com Fort Myers team can help you find the perfect golf cart that meets your needs and fits your lifestyle. Visit us today at 16360-C Innovation Lane in Fort Myers, and choose from our wide range of Golf carts for Sale in Fort Myers.
Golf Carts in Fort Myers
Golfcarts.com in Fort Myers can help you get through golf courses faster and travel around the city with ease and comfort. This is why we have something for everyone. We understand that each customer has a unique style and taste, so we offer customization services to personalize your golf cart even further. Our team of experts will work closely with you to understand your requirements and provide recommendations on the best add-ons and customization options to ensure your golf cart reflects your personality and needs. When you're in town, you don't have to look for golf carts for sale, Fort Myers offers the best lineup at Golfcats.com. So whether you need a golf cart for a leisurely ride around town or for commercial purposes, Golfcarts.com has you covered!
Rookie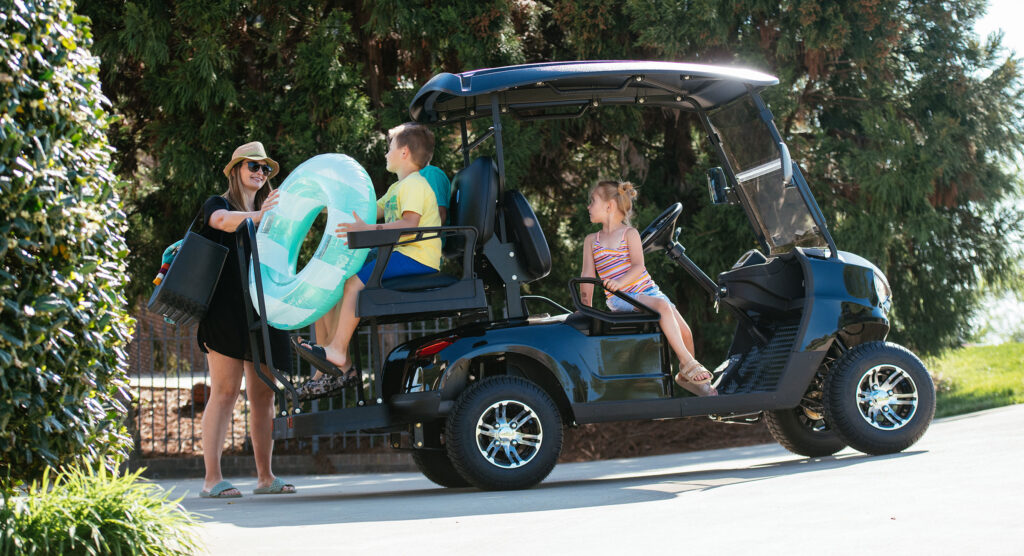 Discover the convenience of our entry-level Rookie Cart, perfect for transporting you from one golf hole to the next. This reliable vehicle is equipped with six sturdy batteries that power it to a maximum speed of 20 mph. Enjoy the ease of driving with retractable glass, a horn, turn signals, and brake lights included in the vehicle. Take advantage of the versatility of the Golf Cruiser by exploring the surrounding area or making your way to one of the many nearby golf courses in Fort Myers. It is ideal for beginners and people that are new to the world of golf carts as the name suggests.
Pro
Looking for a reliable and stylish golf cart? Look no further than The PRO, a top-of-the-line vehicle that combines performance with luxury. With dimensions of 116 x 52 x 75 inches, The PRO is equipped with a robust lift kit, a durable Titan frame, and 12-inch aluminum wheels that provide a smooth and comfortable ride. Boasting a maximum hauling capacity of 800 pounds and a ground clearance of 16 inches, this golf cart is perfect for avid golfers and those who require a reliable and versatile mode of transportation. The interior is designed with plush black seating featuring a white stitched emblem, a collapsible windshield, and LED headlights, brake lights, and turn signals for added convenience and safety. With its six Interstate lead-acid batteries covered by a complete warranty, The PRO can handle your transportation needs with ease. Plus, with a seat and cargo compartment that can hold up to 500 pounds and a seven-hued undercarriage light system, this golf cart is sure to turn heads and impress. Choose The PRO for the ultimate golfing experience in Fort Myers.
Legend
Take advantage of our Legend golf cart to turn heads on the course, the street, or the path. With an all-electric vehicle, you can glide along in tranquility and luxury. Need some excitement? Make use of the built-in Bluetooth audio and dual speakers to enjoy your preferred tunes or podcasts. The cart also boasts a USB charging port, a maximum speed of 25 mph, 14-inch wheels for improved terrain clearance, and an elongated chassis for added comfort.
The Beast
The Beast is the ultimate golf cart for those who demand excellence. This model is more than just a mode of transportation, it's a statement. The Beast is designed to exceed expectations, with impressive features that will leave you in awe. With a top speed of 25mph and a towing capacity of 800 lbs, this golf cart is a powerhouse. It can effortlessly tackle steep hills and rough terrain, making it the perfect companion for adventurous golfers. And let's not forget about its sleek and stylish design – the Beast commands attention with its aggressive yet sophisticated look. If you want the best of the best, the Beast is the way to go.
The Beast LE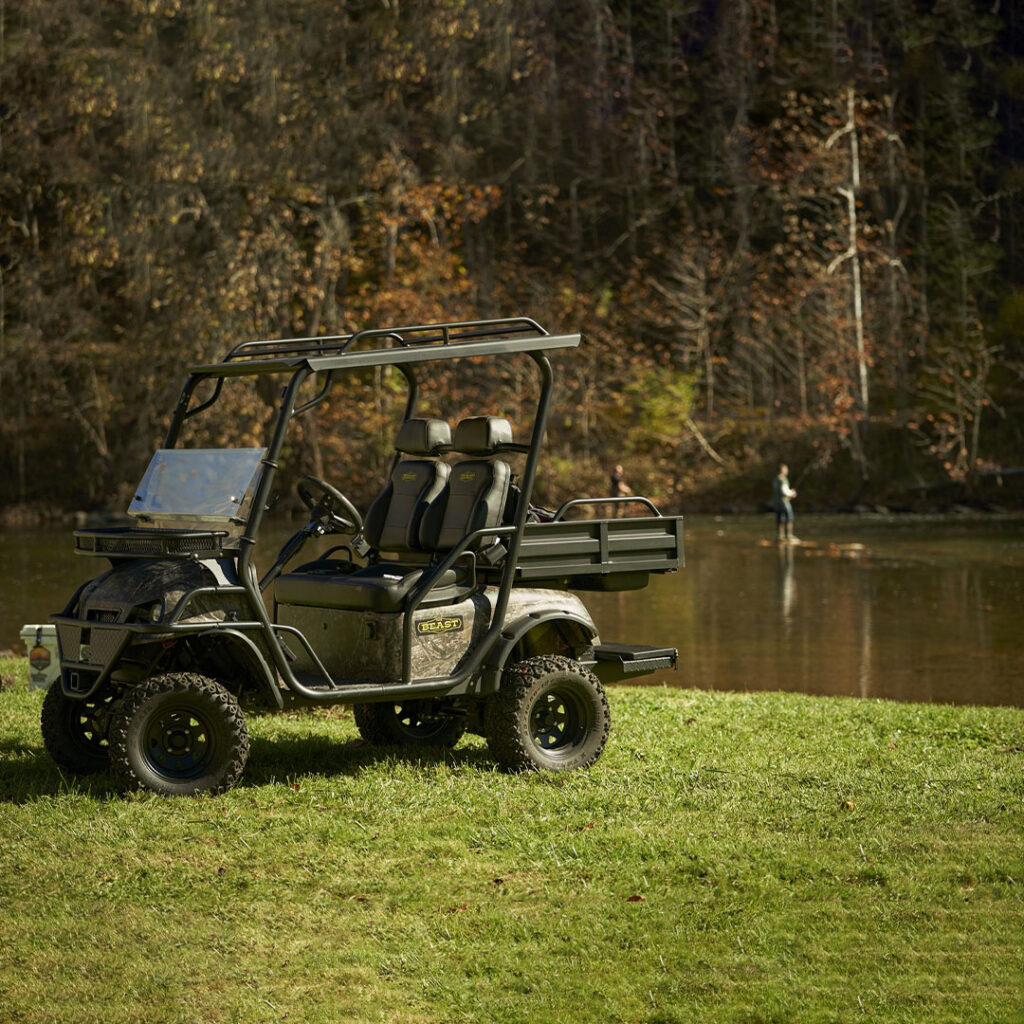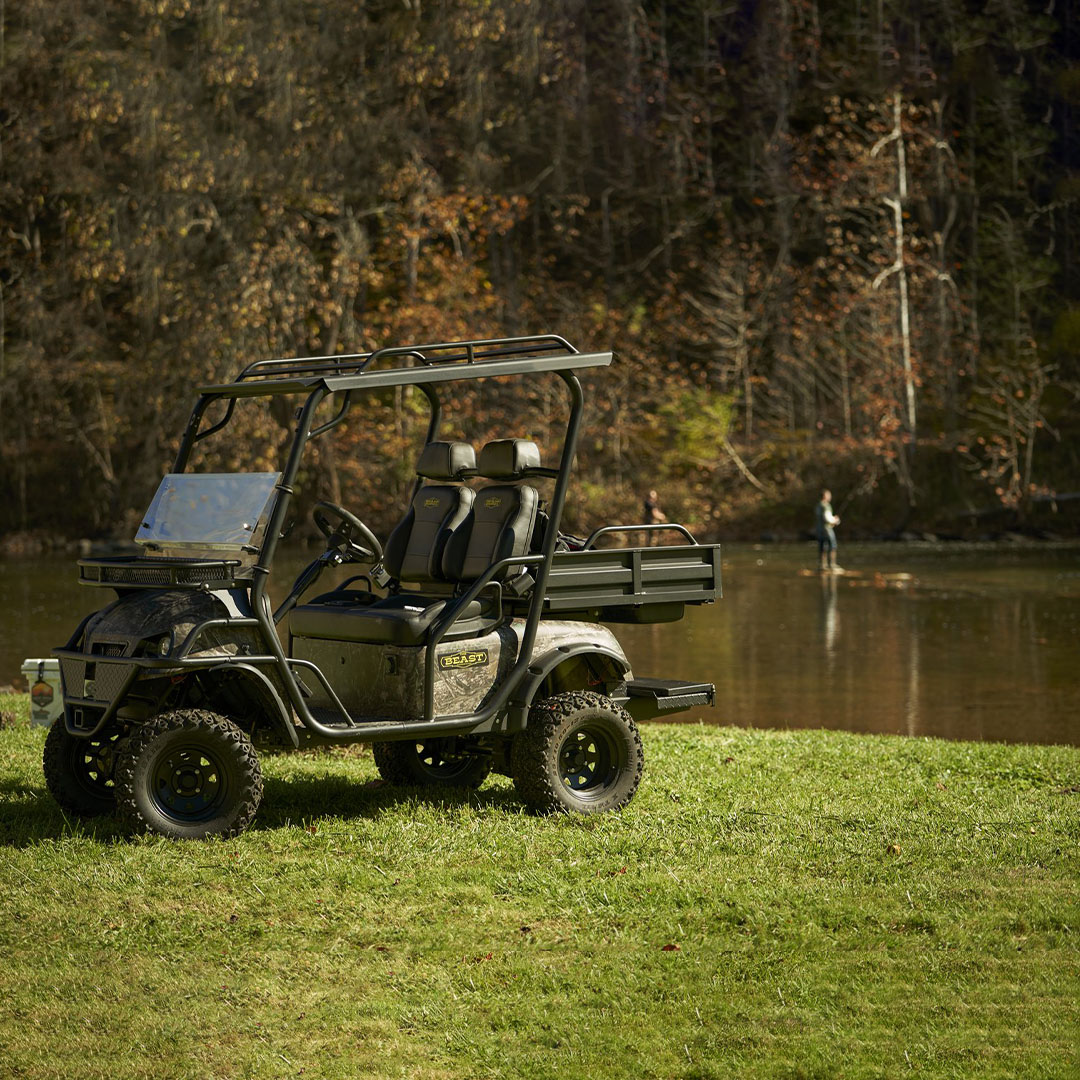 Looking for a golf cart that can handle more than just golf? Look no further than The Beast LE, the ultimate all-purpose cart designed to handle any terrain and task. With a towing capacity of up to 800 lbs and a top speed of 25 mph, The Beast is perfect for a wide range of activities, from transporting hunting gear to carrying camping equipment, or simply exploring rugged terrain. With its sturdy design and powerful engine, The Beast can handle any challenge you throw at it, making it the perfect choice for anyone who wants a versatile and reliable cart for all their outdoor adventures. So whether you're hitting the trails, exploring the wilderness, or just need a powerful and versatile cart for your business or personal use, The Beast is the perfect choice.
Where Can You Use a Golf Cart in Fort Myers?
Golf carts are a common sight in Fort Myers, and they can be used for a variety of purposes. The most popular places to use a golf cart is on the many golf courses in the area, such as the Eagle Ridge Golf Club, Heritage Palms Golf and Country Club, and Shell Point Golf Club. But golf carts aren't just limited to the fairways – they can also be used to explore nearby communities and neighborhoods like McGregor, Gulf Harbour, and Pelican Preserve. 
Additionally, many people use golf carts to navigate through the bustling streets of downtown Fort Myers, where parking can be a challenge. Whether you're a resident, a tourist, or a business owner, a golf cart can provide a convenient and eco-friendly way to get around Fort Myers. If any golf cart enthusiast is searching for a golf cart for sale, Fort Myers has the best selection, thanks to Golfcarts.com.
Golf Cart FAQs
Q: What is the age requirement for driving a golf cart in Fort Myers?
A: In Fort Myers, the age requirement to drive a golf cart is 16 years old.
Q: What is a golf cart?
A: A Golf Cart is a small electric or gas-powered vehicle designed to transport golfers and their equipment around a golf course.
Q: Do I need to register my golf cart in Fort Myers?
A: If a four-wheeled electric vehicle's top speed is higher than 20 mph but lower than 25 mph, it qualifies as a low-speed vehicle. Low-speed vehicles are registered and have license plates that are issued by the state.
Q: What is the range of a golf cart on a single charge?
A: The range of a Golf Cart depends on the type of cart and the battery or fuel capacity. Generally, electric golf carts can travel up to 30 miles on a single charge.
Visit Our Fort Myers Location to Find the Perfect Golf Cart
Fort Myers is renowned for its beautiful landscapes and outdoor activities, making it a popular destination for locals and tourists alike. Whether you're an avid golfer or simply enjoy exploring nature, a golf cart can enhance your experience by providing comfort and convenience. At Golf Carts in Fort Myers, we offer a wide range of golf carts to suit various preferences and budgets. From electric to gas-powered carts, we have everything you need to enjoy your outdoor adventures. 
Our knowledgeable team will guide you through the selection process and help you choose the perfect golf cart that meets your needs. So why wait? Visit us at 16360-C Innovation Lane, Fort Myers FL 33913, or check out our website to find your dream golf cart today and explore Fort Myers in style!
About
If you're in Fort Myers, Florida, and searching for high-quality electric golf carts, you've come to the right place. We are Golfcarts.com, and we offer a variety of electric golf carts for everyone. Whether you're looking to customize your golf cart or simply want to enjoy driving one in camping grounds and gated communities, we've got you covered.
Our golf carts are perfect for quick trips around your neighborhood, as well as for off-road activities like farm work. What makes them even better is that they're incredibly quiet since they're electric. This means you won't disturb your neighbors or wake a sleeping baby when you use them. We also offer a wide range of golf cart accessories if you're interested in customizing your golf cart to match your unique style and needs.
Our golf carts are not only affordable but also help you save on gas while allowing your family and friends to enjoy thrilling adventures. We have outlets in Fort Myers and its neighboring regions, including Cape Coral, Bonita Springs, and Sanibel Island. If you reside in these areas and are searching for golf carts or related accessories, we invite you to visit us today: