STORE DETAILS
Golf Carts For Sale in Chesapeake
1244-B Executive Blvd.
Chesapeake, VA 23320
1(757) 349-7055
HOURS OF OPERATION
monday
10:00 am - 6:00 pm
tuesday
10:00 am - 6:00 pm
wednesday
10:00 am - 6:00 pm
thursday
10:00 am - 6:00 pm
friday
10:00 am - 6:00 pm
saturday
10:00 am - 5:00 pm
sunday
closed - closed
Golf Carts in Chesapeake, VA
One of the best things you can do to improve your leisure time visiting golfing attractions in the Chesapeake area of Virginia is to own a golf cart. Whether you're looking for a golf cart for fun or for utility, we can meet your needs. Based on your requirements, spending limit, and preferences, our experts will help you purchase the best golf cart for you. To browse through a wide selection of golf carts for sale in Chesapeake, visit our location at 1244-B Executive Blvd.
At Golfcarts.com, you can choose from our large selection of Golf Carts in Chesapeake and customize each golf cart according to your personal style. We have everything you need to make your golf cart stand out and represent your individuality, from color selections to extra decorations. To guarantee you get exactly what you want, our skilled staff will help you select the appropriate golf cart, accessories, and customization options.
Rookie
Our entry-level Rookie cart is perfect for getting from one hole to the next, exploring nature, or driving to a neighbor's house for a quick visit. This cart's six dependable 48-volt Interstate powerhouses enable it to drive at a top speed of 20 mph. Additionally, it incorporates elements necessary for driving safety such as a retractable windshield, a horn, turn signals, and brake lights. Explore the neighborhood or play some golf with a personal vehicle that fits your budget! The Rookie is the best golf cart for beginners.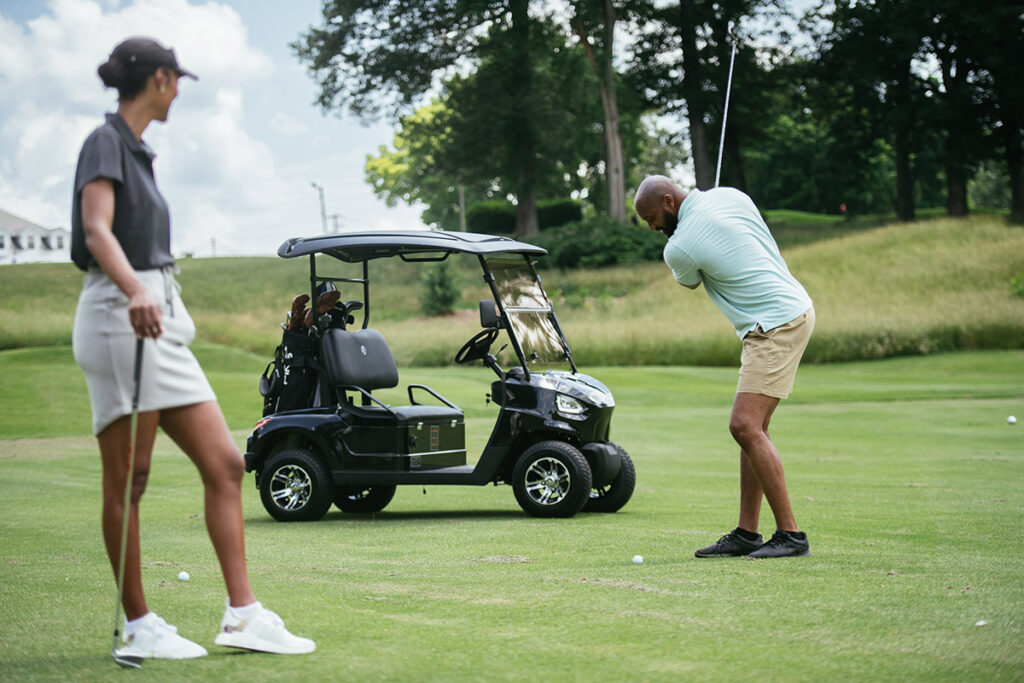 Pro
The PRO golf cart measures 116 inches in length, 52 inches in width, and 75 inches in height. It can carry a payload of 800 pounds in total and has a 16-inch ground clearance. With a lifted chassis, Titan body, 12-inch aluminum wheels, onboard charger, six Interstate lead-acid batteries with full warranties, LED head/tail lights with turn signals and stop lights, a fold-down windshield, and custom black seats with a white sewn-in MD logo, this vehicle is equipped with all the essentials and plenty of amenities. Both the seat package and the cargo bed have weight capacities of 500 pounds. Additionally, the Pro golf cart boasts 7-color LED underbody lighting, making it the best option for Chesapeake's professional golfers.
Legend
Use our Legend golf cart to make a statement on the course, the road, or the trail. You can travel everywhere you need to go with this all-electric cart, and you'll look nice doing it. Use the two speakers and built-in Bluetooth audio to play your preferred music or podcasts. This cart also boasts a USB charging station, a raised frame, 14″ wheels for added trail clearance, and a top speed of 25 mph.
The Beast
The BEAST golf cart has a total payload capacity of 500 pounds, with individual payload capacities of 500 pounds for the seat package, 50 pounds for the front basket, and 500 pounds for the cargo bed. It is capable of towing 500 pounds (flat ground only). The primary characteristics include an HD front clay basket, custom high-back seats, HD brush guard, windshield, onboard charger, LED headlights and taillights, a camo-dipped body with a UV matte finish, six Interstate lead-acid batteries with full warranties, front and rear receiver hitches, fold-down rear seat kit, OEM solid black top, state of charge meter, heavy-duty front & rear springs, fender flares, and an under-seat storage tray.
The Beast LE
The Beast LE is a high-end golf cart with upmarket amenities and tough construction that makes it a great choice for unpaved roads. It includes a twin-gun rack, high clearance, an 800-pound towing capacity, and a top speed of 25 mph, and is built for people who expect the finest. This model differs from other golf carts because of its added features, including a strong cargo bed, a front rack for equipment, and gorgeous wood finishes. The Beast LE raises the bar for an opulent, tough golf cart.
Where Can You Use a Golf Cart in Chesapeake, VA?
Chesapeake, Virginia is a fantastic location to explore nature or enjoy local activities. If you own a golf cart, you can explore the city's many attractions, including amusement parks, golf courses, country clubs, and picturesque views, at your own speed. The independence, ease, and convenience a golf cart offers will allow you to fully appreciate your life in Chesapeake, VA. A golf cart can improve your experience in this lovely city, whether you're golfing or simply cruising around the neighborhood.
Golf Cart FAQs
Q: What is the age requirement for driving a golf cart in Chesapeake?
A: The minimum age to drive a golf cart in Chesapeake, VA is 16 years old.
Q: Are there any restrictions on where I can use my golf cart?
A: It is not permitted in Chesapeake to operate a golf cart on public roads with a posted speed limit of 35 mph or higher. Golf carts are allowed on public roads with a posted speed limit of 25 mph or lower.
Q: Do I need to register my golf cart in Chesapeake?
A: A four-wheeled electric vehicle is considered a low-speed vehicle if its top speed is greater than 20 mph but lower than 25 mph. Low-speed vehicles (such as golf carts) must be registered and carry state-issued license plates.
Q: How much maintenance do golf carts need?
A: Once every 12 months, schedule professional maintenance for your golf cart. By having a professional maintain your golf cart, you can fix any problems before they become costly repairs.
Visit Our Chesapeake Location to Find the Perfect Golf Cart 
Theme parks, golf courses, country clubs, and picturesque views are just a few of Chesapeake, Virginia's outdoor entertainment options. A golf cart can give you the comfort, convenience, and freedom to take these activities at your own pace. A golf cart lets you plan your leisure activities in Chesapeake and maximize your enjoyment. So don't miss this chance for a unique experience in Chesapeake, Virginia. Buy a custom golf cart and upgrade your lifestyle.
Visit our website or come see us at 1244-B Executive Boulevard in Chesapeake, VA. We'll be happy to help you locate the new golf cart that best meets your requirements.
About
We are a premium, all-electric golf cart dealer with prices you can afford. Our carts make it simple for you to take a quick trip through the neighborhood, a family outing to the beach, and even go off-road with a cart perfect for hunting or chores around the farm or homestead. You won't bother the neighbors with these carts! Our carts are completely quiet so you can feel comfortable that you aren't going to get a letter from your HOA, a noise complaint from your neighbors, or wake a sleeping baby when you pull away from the house. Plus, we offer carts that can fit up to six people comfortably with our stretch upgrade. Room for the family and even a few more! You can save money with our affordable but luxury all-electric carts, plus it's the perfect way for you to save some gas and still be able to take your family on all the adventures they can dream of.