STORE DETAILS
Golf Carts For Sale in Salt Lake City
1346 W 7800 S
Salt Lake City, UT 84088
1(801) 478-5822
HOURS OF OPERATION
monday
10:00 am - 6:00 pm
tuesday
10:00 am - 6:00 pm
wednesday
10:00 am - 6:00 pm
thursday
10:00 am - 6:00 pm
friday
10:00 am - 6:00 pm
saturday
10:00 am - 5:00 pm
sunday
closed - closed
Residents of Salt Lake City regularly use golf carts to move their golf, picnic, or hunting equipment around. Many people also use golf carts for everyday transportation. Due to the tranquil environment of Salt Lake City, golf carts serve a variety of functions for users. You should consider a few things before investing the money to buy a golf cart. Do you feel like going on a brief shopping trip in the area? Would you like a convenient way to explore our beautiful landscapes? Check out the best golf carts for sale in Salt Lake City. Visit our dealership at 1346 W 7800 S. and get your golf cart today!
Golf Carts in Salt Lake City
The use of golf carts extends beyond only getting around golf courses. They are a more environmentally friendly mode of transportation in Salt Lake City than using regular cars. But how can you be sure you bought the best one for your needs? When looking for the best golf cart, it is crucial to understand what you are getting. Golfcarts.com offers distinctive golf carts in Salt Lake City with top-notch construction that balances comfort and drivability.
Residential areas in Salt Lake City have increasing possibilities for using golf carts for commercial and recreational use. A few options include escorting customers to their cars from workplaces and providing transportation services within a neighborhood or community center.
Rookie
Our Rookie model golf cart is great for transportation inside the city since it has compact dimensions and excellent ground clearance. It's quite simple for you to travel with your friends in Salt Lake City and have pleasant conversations along the way in this low speed vehicle. Would you like to bike at night? The entry-level model contains LED lights to keep the road lit so you have good visibility. It also uses 48-volt lead-acid batteries to provide you with enough power to keep you going around the neighborhood.
Pro
Do you want something that will give you greater strength and style at an affordable rate? If you want to stand out on the golf course, our Pro models are the best choice. With all-terrain wheels, the Pro model provides more power and ground clearance. The Pro model will comfortably transport you around the valleys surrounding Salt Lake City thanks to a significantly larger battery cell. It is more powerful than the entry-level Rookie and can support more weight. You won't need to worry about using this vehicle anywhere in Salt Lake City because it is outfitted with all the standard safety features!
Legend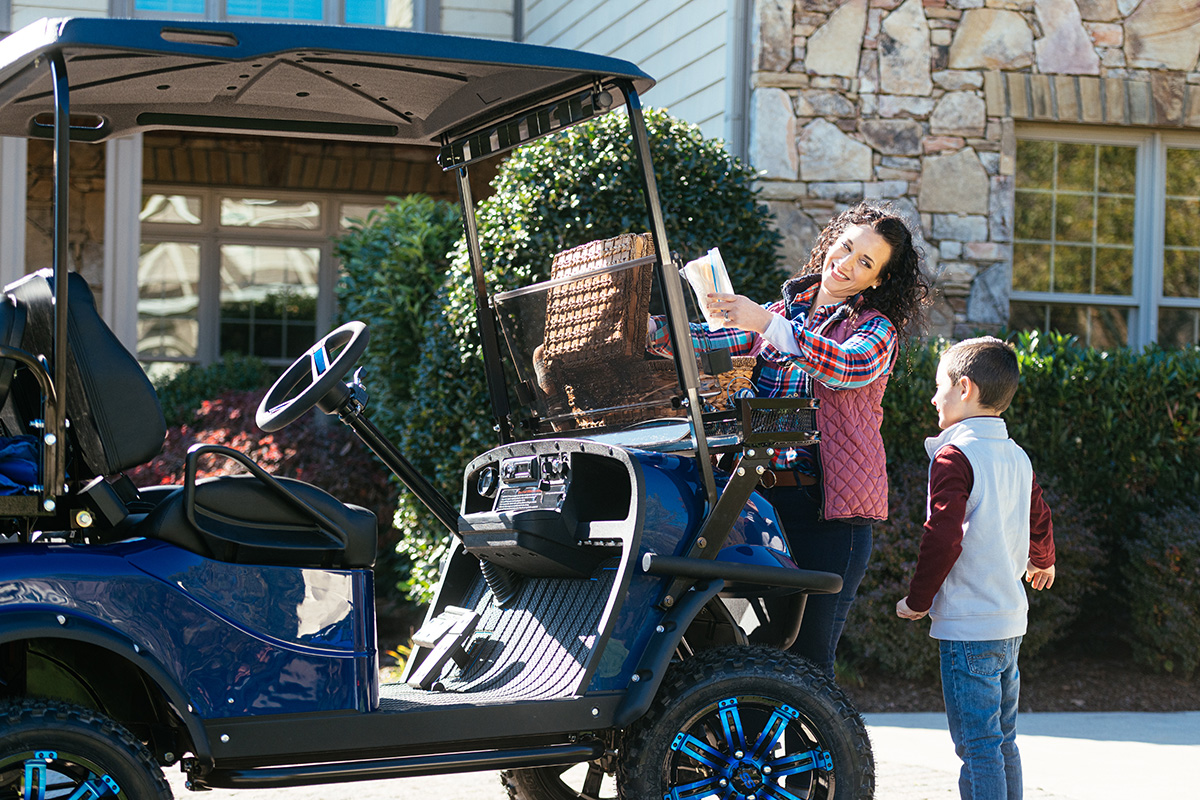 You'll appreciate the commanding and powerful road presence of our Legend golf cart! Due to the fender flares, additional features, and many paint color options, you'll catch every eye when you drive this cart around Salt Lake City neighborhoods. Our Legend model can be utilized in cities and on any unpaved surface. Do you wish to go on a block-long ride in your cart with some friends? The Legend is trouble-free! Want to traverse nature paths around the area? It's no problem for the Legend. You can feel at ease inside this cart thanks to a variety of features and upgrades.
Beast
As the name implies, our Beast model golf cart showcases the height of excellence and strength. You can use the Beast golf cart on the road or off it thanks to its high powered battery and great ground clearance. You will stay energized on your commute, no matter how short or how long or long it is, thanks to the built-in Bluetooth speakers and added comfort of this model!
Beast LE
Want a golf cart to match your game? The Beast LE variant model is the height of luxury and power. It features an aluminum cage for added storage space, a powerful frame, and a luxurious design so you'll look as good as you play. Tackle paved roads and challenging terrain alike with the Beast LE golf cart.
Where Can You Drive a Golf Cart in Salt Lake City?
Buying a golf cart is the ideal way to explore Salt Lake City's outdoor areas. A golf cart gives you easy access to explore the city's many attractions, such as the Bonneville golf course, local country clubs, and our magnificent local landscapes. The golf cart is the perfect form of transportation due to its simplicity, freedom, and convenience. Use your cart to visit the popular Dodo restaurant in Salt Lake City with your family. A golf cart will improve your overall experience, whether you're looking to travel across rough terrain, see well-known attractions, or take a leisurely journey.
Golf Cart FAQs
Q: Do you need a license to drive a golf cart in Salt Lake City?
A: On routes with a top speed of 35 mph, low-speed vehicles must be registered and have valid license plates. A driver's license is also required. A low-speed vehicle meets the definition of a motor vehicle for the title, registration, and uniform fee assessment requirements.
Q: Is a golf cart easily maintainable?
A: Golf carts are easy to maintain. If your golf cart battery and tires are in good shape, you don't need to worry about additional maintenance. It needs a fully functional battery to power it. The battery needs to be checked regularly to perform at optimal levels.
Q: Are golf carts street-legal in Salt Lake City?
A: It is permitted to drive a golf cart within the posted speed limit in several areas of Salt Lake City. You are not allowed to drive your golf cart on the highway.
Visit Our Salt Lake City Location
There are many outdoor entertainment adventures in Salt Lake City, including lovely parks, golf courses, country clubs like Rose Park Golf Club, and breathtaking scenery. A golf cart can be the ideal transportation to thoroughly enjoy these activities in luxury and at your own pace. You can schedule your free time more effectively and cover most of Salt Lake City using a golf cart. Take advantage of this chance to have fun and discover the area. We can help you select the perfect golf cart for your requirements. Visit us at 1346 W 7800 S Salt Lake City, UT 84088 and get your golf cart today!
About
We are a premium, all-electric golf cart dealer with prices you can afford. Our carts make it simple for you to take a quick trip through the neighborhood, a family outing to the beach, and even go off-road with a cart perfect for hunting or chores around the farm or homestead. You won't bother the neighbors with these carts! Our carts are completely quiet so you can feel comfortable that you aren't going to get a letter from your HOA, a noise complaint from your neighbors, or wake a sleeping baby when you pull away from the house. Plus, we offer carts that can fit up to six people comfortably with our stretch upgrade. Room for the family and even a few more! You can save money with our affordable but luxury all-electric carts, plus it's the perfect way for you to save some gas and still be able to take your family on all the adventures they can dream of.