STORE DETAILS
Golf Carts For Sale in La Marque
13009 Delaney Rd
La Marque, TX 77568
1(409) 356-4532
HOURS OF OPERATION
monday
10:00 am - 6:00 pm
tuesday
10:00 am - 6:00 pm
wednesday
10:00 am - 6:00 pm
thursday
10:00 am - 6:00 pm
friday
10:00 am - 6:00 pm
saturday
10:00 am - 5:00 pm
sunday
closed - closed
If you're looking to add more enjoyment to your golfing experiences in La Marque, owning a golf cart can be a great solution. Whether you need it for practical purposes or just for fun, Golf Carts in La Marque is here to help you find the perfect option based on your requirements, budget, and preferences. Our team of experts will guide you in selecting the best fit. Visit us at 13009 Delaney Road, La Marque, Texas 77568 and take the first step towards a convenient and relaxed lifestyle with a golf cart.
Golf Carts in La Marque
Are you looking for Golf Carts in La Marque that can be customized fully? With us, you have the opportunity to personalize your cart completely with our wide range of customization options. Our selection of golf carts is vast and we provide you with all the essentials, optional amenities, and a variety of colors and decorations to create a distinct representation of your personality. Our team is here to help you choose the best golf cart, add-ons, and customization alternatives, so you can buy the golf cart of your dreams.
Rookie
Experience smooth and easy transportation from hole to hole with our Rookie golf cart, an ideal option for beginner golfers or those who want to travel around town in style. With six powerful Interstate batteries, this cart has a maximum speed of 20 mph, making it an excellent choice for leisurely rides around the golf courses in La Marque.
The retractable glass, horn, turn signals, and brake lights make for a comfortable and secure driving experience. Explore the beautiful surroundings of the neighborhood or take on one of the many golf courses nearby with this exceptional cart. Whether you're new to the game or just looking for a fun and convenient way to get around, the Rookie golf cart is the perfect choice for you.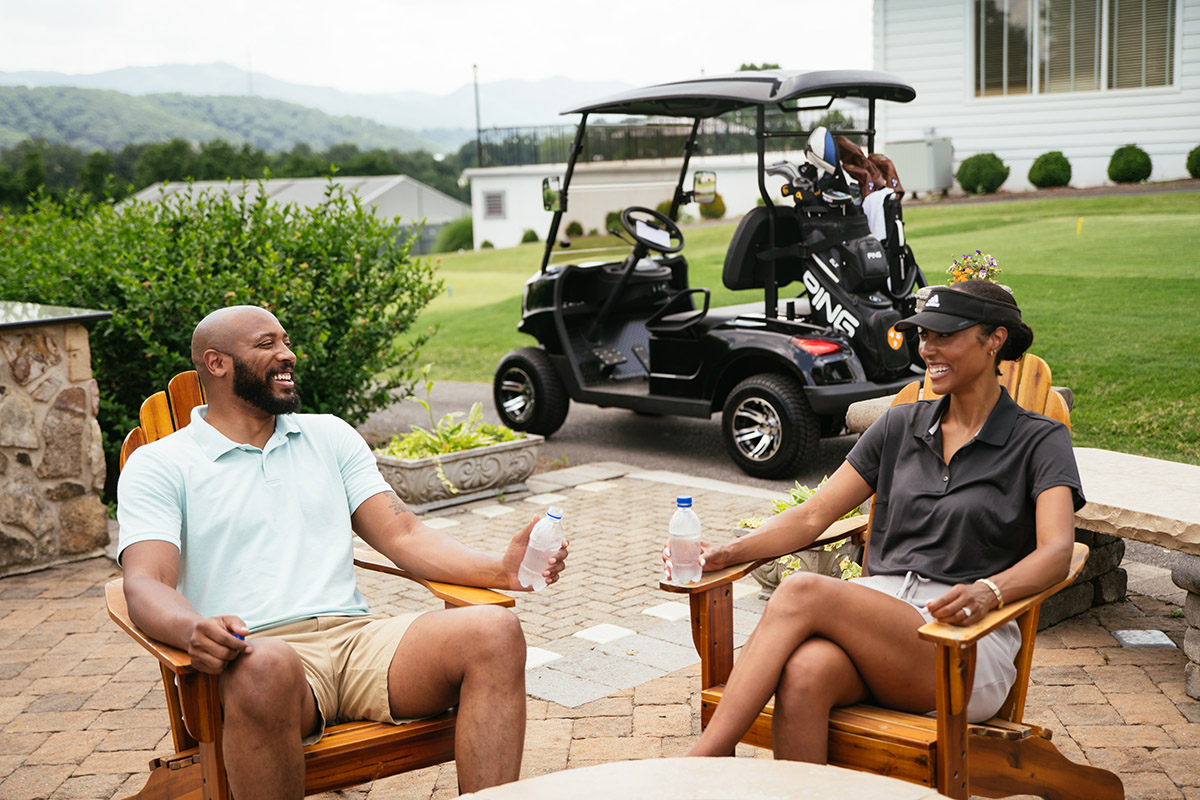 Pro
If you're looking for a stylish and comfortable ride, The PRO golf cart could be the perfect choice. With a maximum cargo capacity of 800 pounds and a ground clearance of 16 inches, this vehicle has everything you need to carry your belongings with ease. Its lifted chassis, Titan body, and 12-inch aluminum wheels provide stability and durability on the course. 
Additionally, this cart features LED head/tail lights with turn signals and stop lights, and a fold-down windshield. The seat and cargo bed can support up to 500 pounds of weight. Moreover, the seven-color LED underbelly illumination adds an extra touch of charm to its design. If you're a professional golfer, the PRO golf cart may be the best option for you.
Legend
Stand out on the golf course, road, or off-road trails with the exceptional Legend golf cart. Its electric-powered design allows you to travel comfortably and quietly. Want some sound? Enjoy your favorite podcasts or music with the built-in Bluetooth audio and dual speakers. This cart boasts a lengthy chassis, 14-inch wheels for greater ground clearance, a maximum speed of 25 mph, and even a USB charging port so you can keep your devices charged while on the go.
The Beast
Get ready to experience the ultimate in golf cart performance with the BEAST. It's designed to handle a total weight of up to 500 pounds, with the cargo bed, front basket, and seat assembly offering a combined weight capacity of 500 pounds. You can even tow up to 500 pounds on flat ground.
This cart boasts numerous features to enhance your driving experience, including a windshield, LED headlights and tail lights, and a camouflaged body with a UV matte finish. With six Interstate lead-acid batteries that come with full warranties, you can enjoy long-lasting power. The BEAST also comes with a fold-down rear seat kit, OEM solid black top, state-of-charge meter, heavy-duty front and rear springs, fender flares, and an under-seat tray, making it the perfect choice for golfers who demand the best from their game.
The Beast LE
Experience the ultimate ride on any challenging terrain in La Marque with the Beast LE, a high-end golf cart that combines robust construction with lavish features. Boasting an 800-pound towing capacity, high clearance, twin-gun rack, and top speed of 25 mph, this model is built for those who prioritize quality above everything else. 
Whether you're on the golf course, trail, or hunting expedition, the Beast LE stands out with its durable cargo bed, front rack for carrying gear, and luxurious wood finishes. Elevating the standards of a deluxe and long-lasting golf buggy, the Beast LE is the perfect choice for anyone seeking the pinnacle of performance and luxury.
Where Can You Use a Golf Cart in La Marque?
Golf carts can be driven in a number of locations throughout the city of La Marque in Galveston County, Texas. Within the city limits, the city permits the use of golf carts on specific roadways. A golf cart can be used to get around in residential settings, including streets and private property. 
However, golf carts are not allowed to be operated on public roads with speed restrictions over 35 mph. Places like The Bayou Golf Course in La Marque also permit the exclusive use of golf carts for golfing. It's vital to remember that in order to operate within municipal limits, golf carts must register with the city and adhere to all applicable rules.
Golf Cart FAQs
Q: Is it legal to drive a golf cart on public roads in La Marque?
A: Driving a golf cart on public roads is typically prohibited in most states, including La Marque. However, certain exceptions may exist for private roads or gated communities.
Q: What kind of maintenance does a golf cart require?
A: Proper maintenance is crucial for keeping your golf cart in good condition. Regular check-ups on battery life, tire pressure, brakes, and fluid levels are necessary.
Q: Can I customize my golf cart?
A: Yes, it's possible to customize your golf cart. However, it's important to make sure that any modifications comply with La Marque's local laws and regulations.
Q: How much should I expect to spend on a golf cart?
A: The cost of a golf cart depends on several various factors, such as the brand, model, and features. Typically, electric golf carts are usually less expensive, with prices ranging from $5,000 to $10,000. 
Visit Our La Marque Location to Find the Perfect Golf Cart
La Marque boasts an array of outdoor recreational activities, from scenic parks and golf courses to upscale country clubs. With a golf cart, you can enjoy these activities in style and comfort at your own pace. 
Don't miss out on the best of La Marque; invest in a golf cart to make your excursions and leisure time more organized and enjoyable. Our team is here to help you find the perfect golf cart that meets all your needs. Visit us online or stop by our location at 13009 Delaney Road, La Marque, Texas 77568 to begin your journey towards a more convenient and luxurious lifestyle on the golf course.
About
We are a premium, all-electric golf cart dealer with prices you can afford. Our carts make it simple for you to take a quick trip through the neighborhood, a family outing to the beach, and even go off-road with a cart perfect for hunting or chores around the farm or homestead. You won't bother the neighbors with these carts! Our carts are completely quiet so you can feel comfortable that you aren't going to get a letter from your HOA, a noise complaint from your neighbors, or wake a sleeping baby when you pull away from the house. Plus, we offer carts that can fit up to six people comfortably with our stretch upgrade. Room for the family and even a few more! You can save money with our affordable but luxury all-electric carts, plus it's the perfect way for you to save some gas and still be able to take your family on all the adventures they can dream of.