STORE DETAILS
Golf Carts For Sale in Greenville
507 South Welcome Avenue
Greenville, SC 29611
1(864) 302-8300
HOURS OF OPERATION
monday
10:00 am - 6:00 pm
tuesday
10:00 am - 6:00 pm
wednesday
10:00 am - 6:00 pm
thursday
10:00 am - 6:00 pm
friday
10:00 am - 6:00 pm
saturday
10:00 am - 5:00 pm
sunday
closed - closed
Purchasing a golf cart can be the best decision if you want to improve your golfing experience in Greenville, South Carolina. You may easily tour the courses in a golf cart while taking in the picturesque views of the city's golfing landmarks. We offer the best Golf Carts For Sale in Greenville at the best prices.
At our 507 South Welcome Avenue location, we have a wide range of golf carts to choose from to suit your unique needs, preferences, and budget. Both electric and gas carts are available at our store. Our professionals will assist you in selecting the best golf cart for your needs so you can make an educated decision when purchasing your golf cart.
Golf Carts in Greenville
At Golfcarts.com, we offer a wide range of golf carts to accommodate all of our clients' different demands and preferences. We have designs for both a contemporary, sleek style and a more conventional, traditional aesthetic. We provide a variety of electric-powered Golf Carts in Greenville in different sizes and with different amenities.
Looking for something specific? We provide a variety of personalization choices to make your golf cart distinctly your own. Our knowledgeable staff will assist you in choosing the best options for your requirements and tastes, whether that means new amenities like LED lighting, sound systems, or unique colors. We are dedicated to helping you make your golf cart a representation of your individuality.
Rookie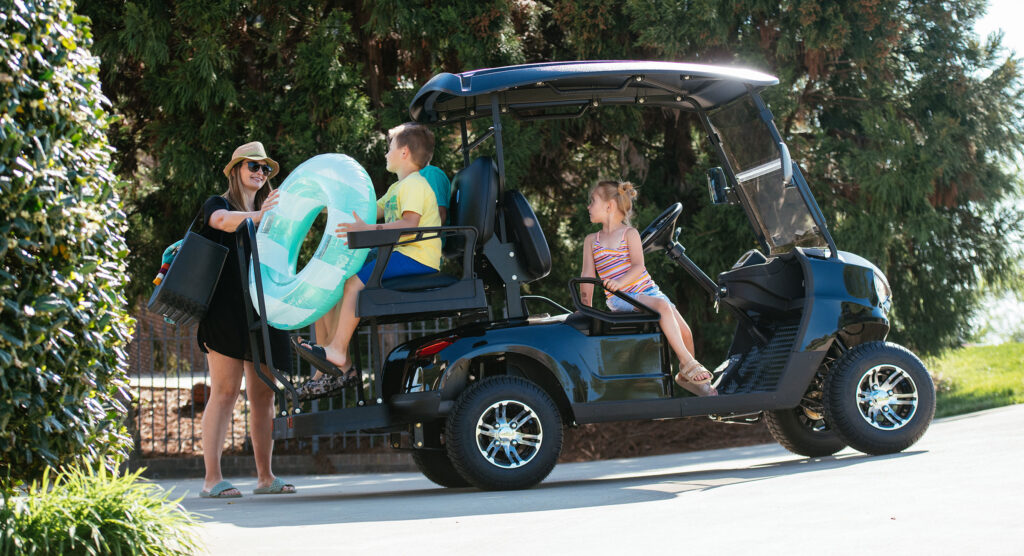 Our entry-level cart, the Rookie, is designed with beginners in mind. It comes equipped with all the essential driving features, including retractable windows, a horn, turn signals, and brake lights.
Powered by six sturdy 48-volt batteries from Interstate, this cart can reach a maximum speed of 20 mph, making it perfect for leisurely rides around town or quick trips to nearby golf courses. And with its stylish design and customizable options, you can make your Rookie golf cart truly your own.
Pro
Our Pro golf cart boasts impressive measurements, stretching to 116 inches in length, 52 inches in width, and 75 inches in height. With its ample cargo capacity of 800 pounds and a ground clearance of 16 inches, this vehicle guarantees a smooth and stylish ride. The elevated chassis, Titan body, and 12-inch aluminum wheels add to the cart's sophisticated appearance. Additionally, six top-of-the-line Interstate lead-acid batteries, complete with full warranties, provide ample power, while the LED head/tail lights with turn signals and stop lights ensure safety on the road. The custom-designed black seats comfortably accommodate passengers and cargo weighing up to 500 pounds. This golf cart is ideal for those looking for additional storage.
Legend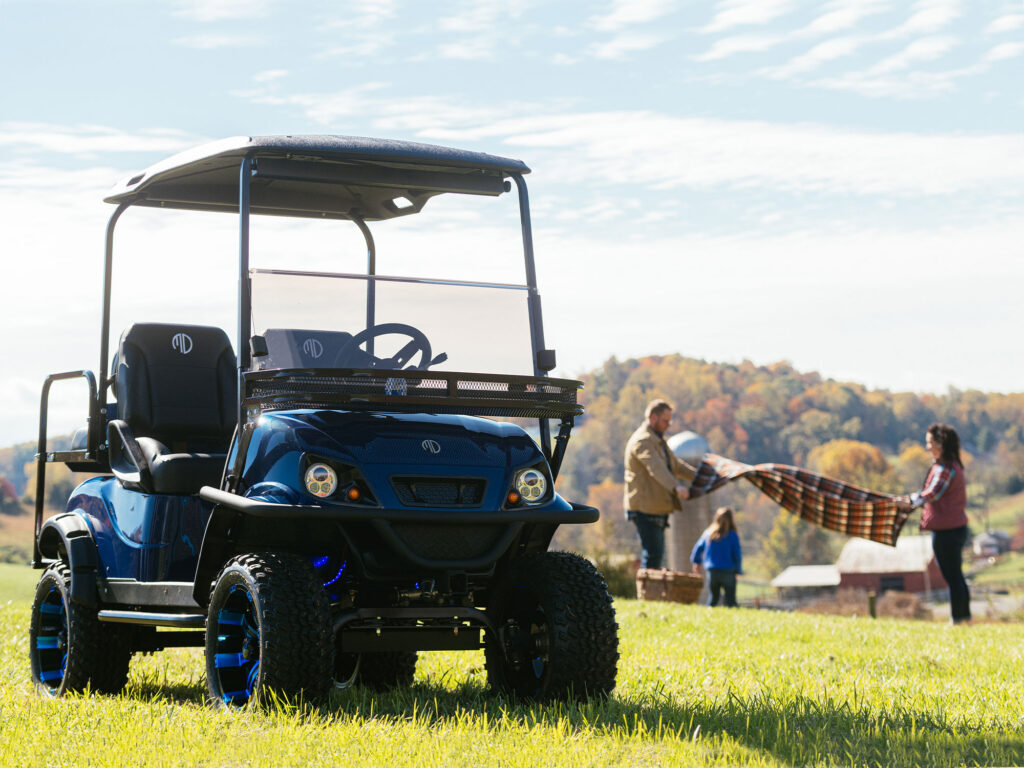 With our exceptional Legend golf cart, you can move around in peace and luxury. Not fond of silence? Use the two speaker system and integrated Bluetooth audio to indulge in your preferred music or podcasts. The vehicle is also equipped with a USB charging dock, can reach a maximum speed of 25 miles per hour, sports 14-inch wheels to increase clearance on bumpy terrain, and boasts a sturdy structure.
The Beast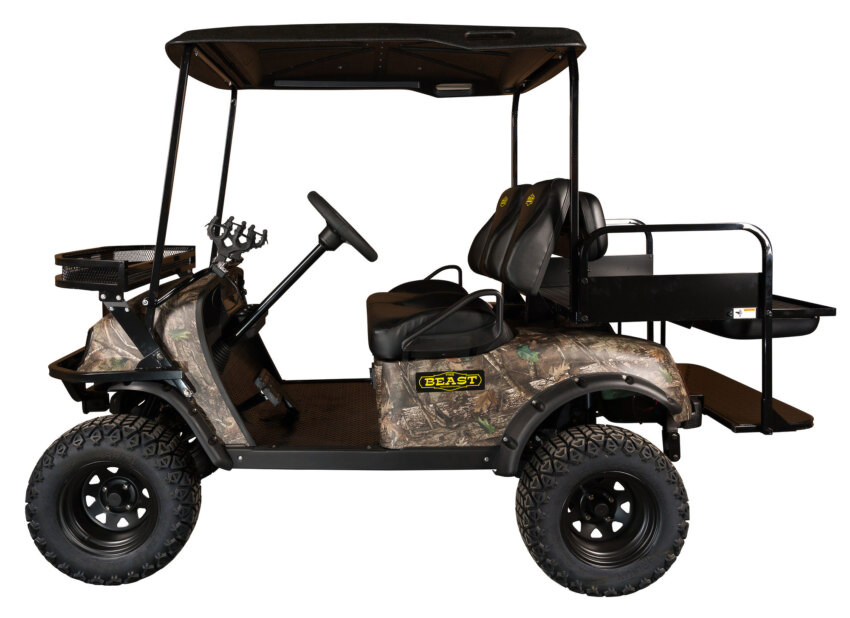 Our golf cart known as The Beast can transport a maximum of 500 pounds. The combined weight capacity of the seat package, front basket, and cargo bed is also 500 pounds. Additionally, it can tow up to 500 pounds on flat terrain. Notable features include a windshield, built-in charger, LED headlights and taillights, a camouflaged exterior with a UV-resistant matte finish, six long-lasting lead-acid batteries with complete warranties, a collapsible rear seat kit, a sturdy black roof, a battery life indicator, reinforced front and rear suspension, flared fenders, and an under-seat tray. This upgraded model is perfect for golf enthusiasts who demand top-notch performance from their equipment.
The Beast LE
Golf Carts in Greenville is proud of its upgraded Beast golf cart, The Beast LE. The suspension and tires on this model are of the highest caliber. The Beast LE will never struggle to take you where you want to go. It features a motor that can pull 800 lbs at 25 mph. The Beast LE combines heavy-duty skills with elegance for the highest level of golf cart luxury.
Where Can You Use a Golf Cart in Greenville?
In Greenville, there are several places you may take your golf cart. The Greenville Health System Swamp Rabbit Trail, a 22-mile multi-use path that runs from downtown Greenville to Travelers Rest, is a well-liked option. This lovely path gives breathtaking views of the surrounding countryside as it follows the Reedy River. The Lake Conestee Nature Preserve Trail, with its almost 13 miles of hiking and bicycling paths through forests, marshes, and meadows, is another good choice. The Greenville Downtown Airport Trail is a terrific option for a more urban experience. This 1.4-mile walk travels through a historic area and provides views of airplanes taking off and landing at the nearby airport.
Golf Cart FAQs
Q: What is the minimum age requirement for operating a golf cart in Greenville?
A: In Greenville, one must be at least 16 years old to be eligible to operate a golf cart.
Q: Can you provide a definition for a golf cart?
A: A golf cart is a small vehicle, powered by electricity, used for transporting golfers and their equipment around a golf course.
Q: Is it necessary to register a golf cart in Greenville?
A: Yes, registering a golf cart is mandatory in Greenville, along with the other states in the United States.
Q: What is the distance a golf cart can travel on a single charge?
A: The range of a golf cart on a single charge depends on its capacity and type. Electric golf carts can travel up to 30 miles on a full charge.
Visit Our Greenville Location to Find Your Golf Cart!
A golf cart can be a good option if you're looking for a convenient method to see Greenville's outdoor attractions. A golf cart is the ideal mode of transportation for exploring the city's various parks, golf courses, and country clubs because of its small size and simple agility. In addition, you may travel in luxury and comfort while enjoying the stunning surroundings at your own leisure. 
Our experienced staff is prepared to help you choose the ideal golf cart to meet your needs, whether you prefer to explore our inventory online or visit us in person at 507 South Welcome Road in Greenville, South Carolina. Take advantage of this wonderful chance to improve your outdoor experience; order your golf cart today!
About
We are a premium, all-electric golf cart dealer with prices you can afford. Our carts make it simple for you to take a quick trip through the neighborhood, a family outing to the beach, and even go off-road with a cart perfect for hunting or chores around the farm or homestead. You won't bother the neighbors with these carts! Our carts are completely quiet so you can feel comfortable that you aren't going to get a letter from your HOA, a noise complaint from your neighbors, or wake a sleeping baby when you pull away from the house. Plus, we offer carts that can fit up to six people comfortably with our stretch upgrade. Room for the family and even a few more! You can save money with our affordable but luxury all-electric carts, plus it's the perfect way for you to save some gas and still be able to take your family on all the adventures they can dream of.