STORE DETAILS
Golf Carts For Sale in Duluth
4623 Airpark Blvd.
Duluth, MN 55811
1(218) 520-0080
HOURS OF OPERATION
monday
10:00 am - 6:00 pm
tuesday
10:00 am - 6:00 pm
wednesday
10:00 am - 6:00 pm
thursday
10:00 am - 6:00 pm
friday
10:00 am - 6:00 pm
saturday
10:00 am - 5:00 pm
sunday
closed - closed
Duluth has numerous places to take advantage of owning a golf cart. Come down to our golf cart dealership located at 4623 Airpark Blvd. to view a vast selection of golf carts for sale in Duluth. Visit us today and become a golf cart owner.
Golf Carts in Duluth
At GolfCarts.com in Duluth, our staff understands that every person has individual wants and needs when it comes to choosing which golf cart to buy. Our team will assist you not only in finding the correct golf cart for your needs, but also with personalizing your golf cart so it matches your style. Come to our Duluth branch or visit our website to learn more about our models and pricing and to check out the best golf carts in Duluth.
Rookie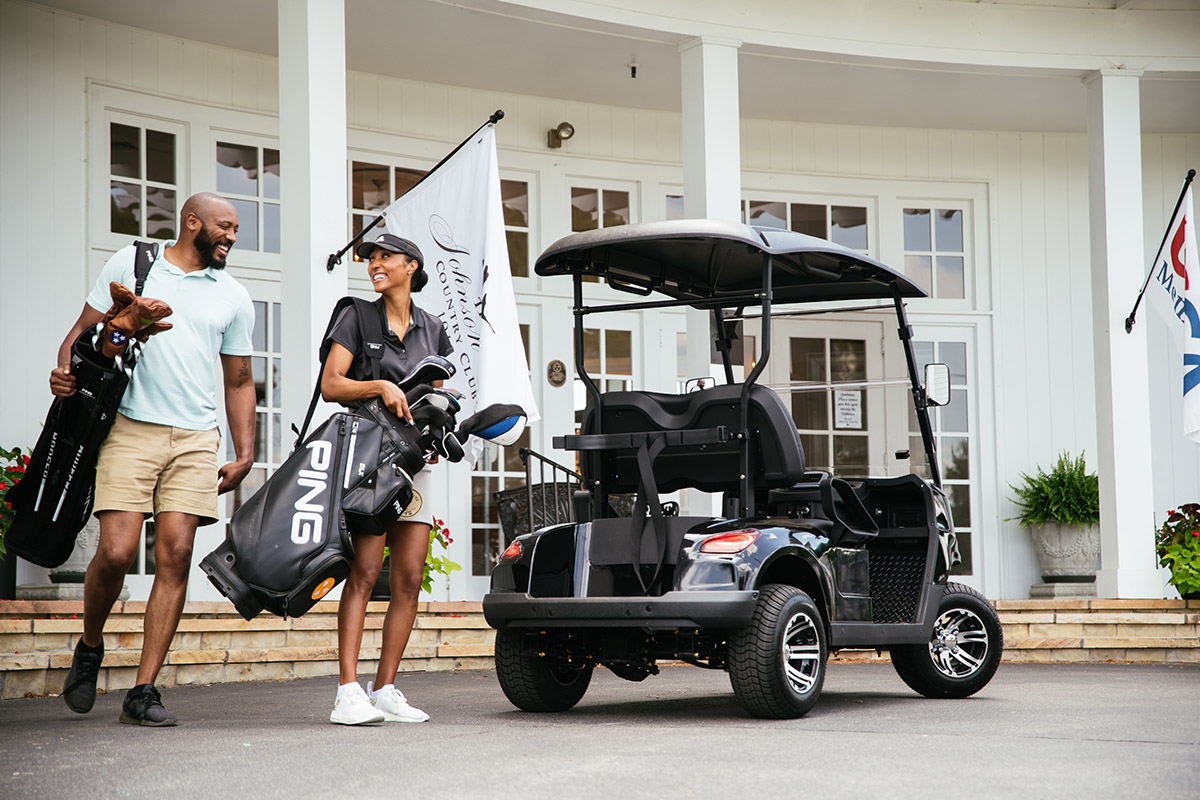 The Rookie, our entry-level model, comes equipped with all the necessary features you would expect. It boasts a towing capacity of 500 lbs, stylish LED lights, and high-quality batteries with full warranties. Safety features such as turn signals, brake lights, and a horn are included to ensure safe driving. Additionally, the fold-down windshield provides the option to enjoy the fresh air or protect your eyes from the wind. This golf cart is an excellent choice for those on a budget who still require a reliable and functional option.
Pro
The Pro model is a step up from our entry-level Rookie model. Larger tires and higher ground clearance provide a smoother driving experience. The addition of seven color undercarriage LED lights enhances its visual appeal. The Pro model is perfect for upgrading your golf cart to a more comfortable ride.
Legend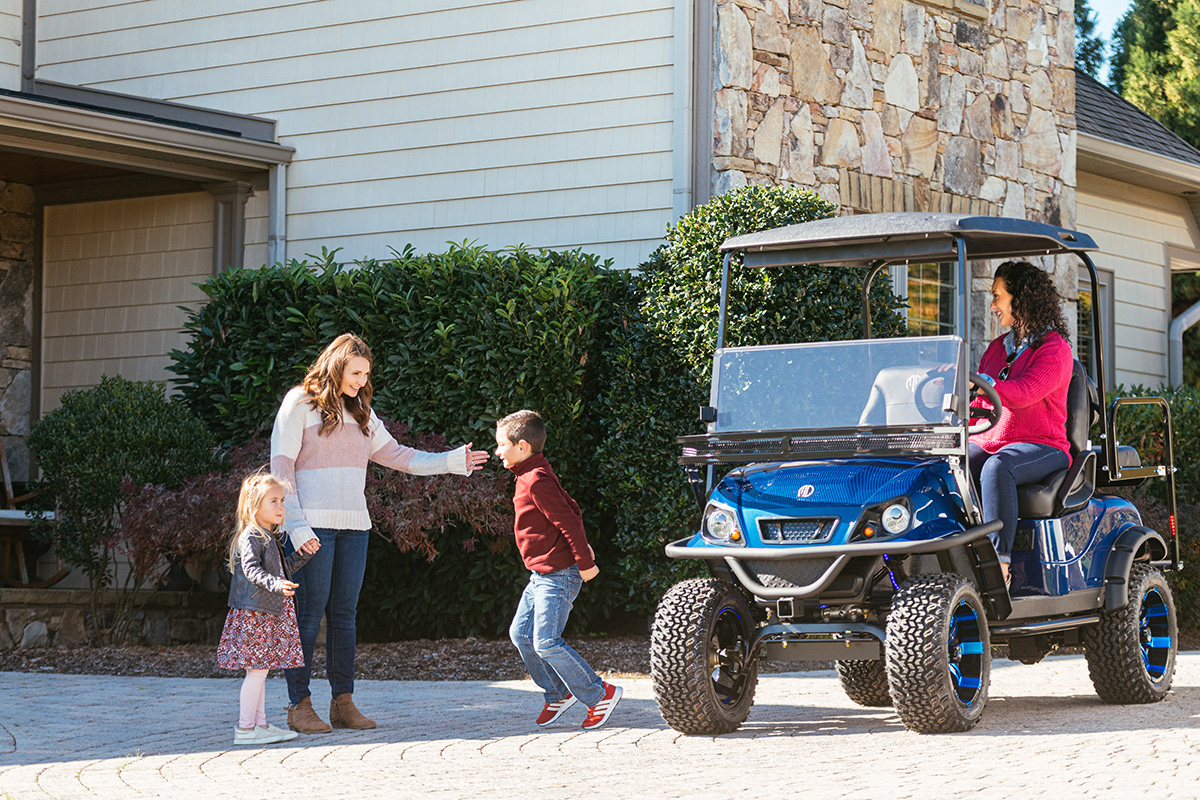 The Legend model surpasses the Pro model with its impressive 16″ ground clearance, providing an exceptionally smooth driving experience on various terrains. Its larger frame, fender flares, speedometer, and fold-down windshields offer both style and practicality. The built-in Bluetooth audio system lets you enjoy your favorite music while cruising around the golf course, while the USB port allows you to keep your devices charged up and ready to go. Whether you want to listen to your tunes or catch up on your favorite podcast, the Legend model has you covered.
The Beast
The Beast model comes with a sturdy build with exceptional suspension and brush guards, making it suitable for adventures outside the golf course. It also comes equipped with a double gun rack, making it ideal for securing your guns safely on a hunting excursion. This is the perfect golf cart for someone who needs a vehicle that can go beyond the golf course.
The Beast LE
The Beast LE model builds upon the features of the Beast and adds even more luxurious amenities. It's precisely crafted for those who demand the highest level of comfort in their experiences. While it retains all the exceptional features of the Beast, it also boasts a sleeker design that matches its smooth handling. The Beast LE is the perfect golf cart for those who love exploring the great outdoors. With a payload of 800 lbs and a top speed of 25 mph, it's a versatile vehicle suitable for a wide range of uses.
Where Can You Use a Golf Cart in Duluth?
Duluth has many outdoor attractions you can navigate with a golf cart. Enger Park Course is one of the most popular options for golf carting. This beautiful 27-hole golf course is located on top of a hill and has stunning views of the city. Another great place you can take your golf cart for a spin during the summer is Spirit Mountain, which has a golf course where you can play and enjoy the beautiful views of Lake Superior. These are only some of Duluth's golf cart trails, making it an ideal location for people who want to explore nature and enjoy golf with ease.
Golf Cart FAQs
Q: Can you drive a golf cart on public roads?
A: In Duluth, golf carts are allowed on certain roads, but they must be registered and follow specific safety guidelines provided by the authorities. They are not allowed on major roads or highways.
Q: Are golf carts street-legal in Duluth?
A: Some golf carts are street-legal, meaning you can drive them on public roads. However, they must meet specific requirements, such as having headlights, taillights, turn signals, seat belts, and a rearview mirror.
Q: How fast can golf carts go?
A: The speed of a golf cart varies depending on the make and model, but most golf carts can reach a maximum speed of around 15-25 miles per hour.
Q: How long does a golf cart battery last?
A: The lifespan of a golf cart battery depends on how frequently it is used and how well it is maintained. On average, a golf cart battery can last between 4-6 years if used correctly.
Q: How do you charge a golf cart?
A: To charge a golf cart, plug the charger into an electrical outlet and connect the charger to the battery. You should fully charge the battery before taking it for a drive to ensure it is not damaged.
Visit Our Duluth Location to Find the Perfect Golf Cart
If you are in the market in Duluth, look no further than our branch down at 4623 Airpark Blvd. Visit us today and let our knowledgeable team help you purchase a golf cart that will help you get the most out of your golfing experiences in Duluth.
About
We are a premium, all-electric golf cart dealer with prices you can afford. Our carts make it simple for you to take a quick trip through the neighborhood, a family outing to the beach, and even go off-road with a cart perfect for hunting or chores around the farm or homestead. You won't bother the neighbors with these carts! Our carts are completely quiet so you can feel comfortable that you aren't going to get a letter from your HOA, a noise complaint from your neighbors, or wake a sleeping baby when you pull away from the house. Plus, we offer carts that can fit up to six people comfortably with our stretch upgrade. Room for the family and even a few more! You can save money with our affordable but luxury all-electric carts, plus it's the perfect way for you to save some gas and still be able to take your family on all the adventures they can dream of.