STORE DETAILS
Golf Carts For Sale in Chalmette, LA
600 W Judge Perez Dr.
Chalmette, LA 70043
1(504) 459-0321
HOURS OF OPERATION
monday
10:00 am - 6:00 pm
tuesday
10:00 am - 6:00 pm
wednesday
10:00 am - 6:00 pm
thursday
10:00 am - 6:00 pm
friday
10:00 am - 6:00 pm
saturday
10:00 am - 5:00 pm
sunday
closed - closed
Experience the beauty and excitement of Chalmette, Louisiana like never before with a personal golf cart from one of our trusted dealers. If you're looking for great golf carts for sale in Chalmette, take a trip down to our dealership on 600 W Judge Perez Dr.Chalmette, LA 70043 to find the perfect golf cart for your needs and start experiencing Chalmette in a whole new way!
Golf Carts in Chalmette
You've found the proper spot if you're searching for a golf cart to explore the gorgeous golf courses near Chalmette, Louisiana. We provide a variety of golf carts in Chalmette that will undoubtedly satisfy your requirements. Our selection of carts includes vehicles that may transport you through the city, to and from the beach, through residential areas, or around the golf course.
Chalmette, Louisiana offers a wealth of opportunities to enjoy the city and its surroundings from the comfort of your personal golf cart. With its many theme parks, golf courses and country clubs, stunning views, and locations to take your golf cart for a ride, Chalmette provides a magical experience. Take in all that this city has to offer while exploring in your golf cart.
Rookie
For individuals who require a cart to transport them from one hole to another or throughout the neighborhood, our entry-level Rookie cart is ideal. This cart's six reliable 48-volt Interstate power source enables it to go at a top speed of 20 mph. In addition, it has features including a folding windscreen, a horn, turn signals, and brake lights.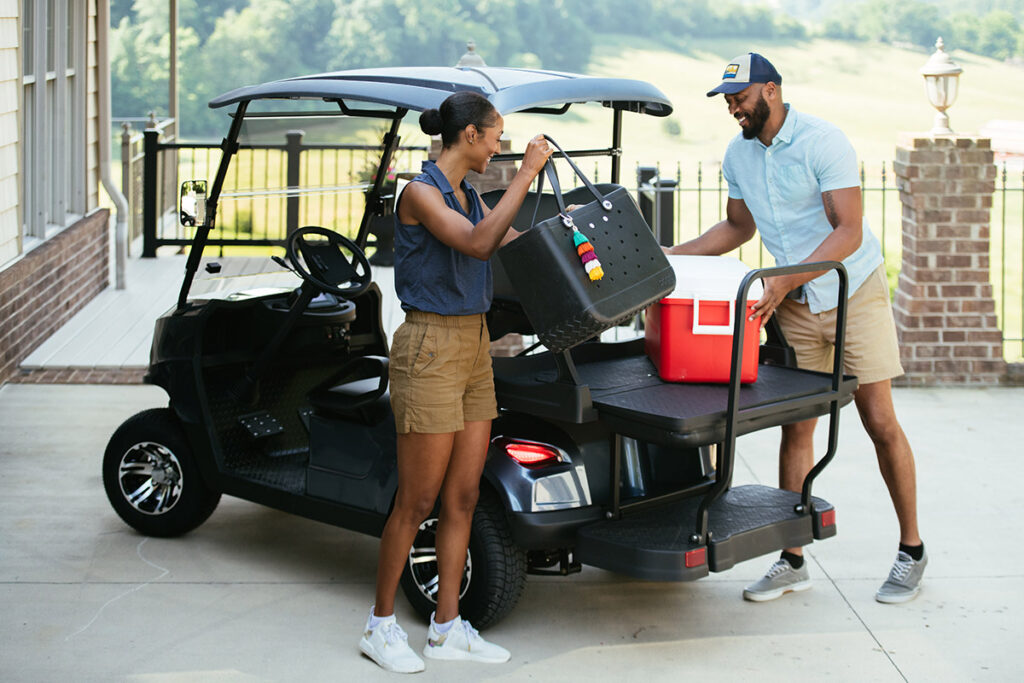 Pro
Looking to improve your performance at the golf course? Our Pro cart is the ideal addition to a great round of golf. This cart is prepared to take you around town, through the neighborhood, or to your next tee time with a top speed of 25 mph and the capacity to tow up to 800 lbs. It is ideal for people wanting to become Pros!
Legend
The Legend golf cart offers a peaceful and comfortable ride with its all-electric power source. This cart is designed for convenience with features like Bluetooth audio and a USB charging station, making it perfect for on-the-go entertainment and device charging. The raised frame and 14″ wheels provide improved performance on trails, and the top speed of 25 mph ensures a quick and efficient ride. Whether you're exploring new terrain or simply cruising  around Chalmette, the Legend golf cart is the perfect choice for a comfortable and enjoyable ride.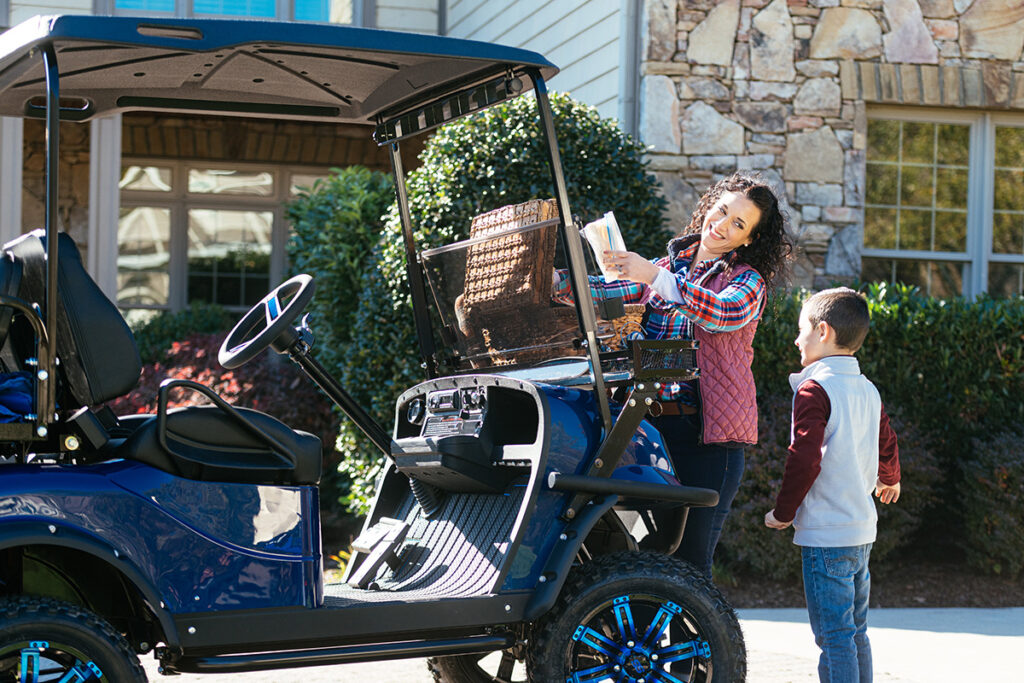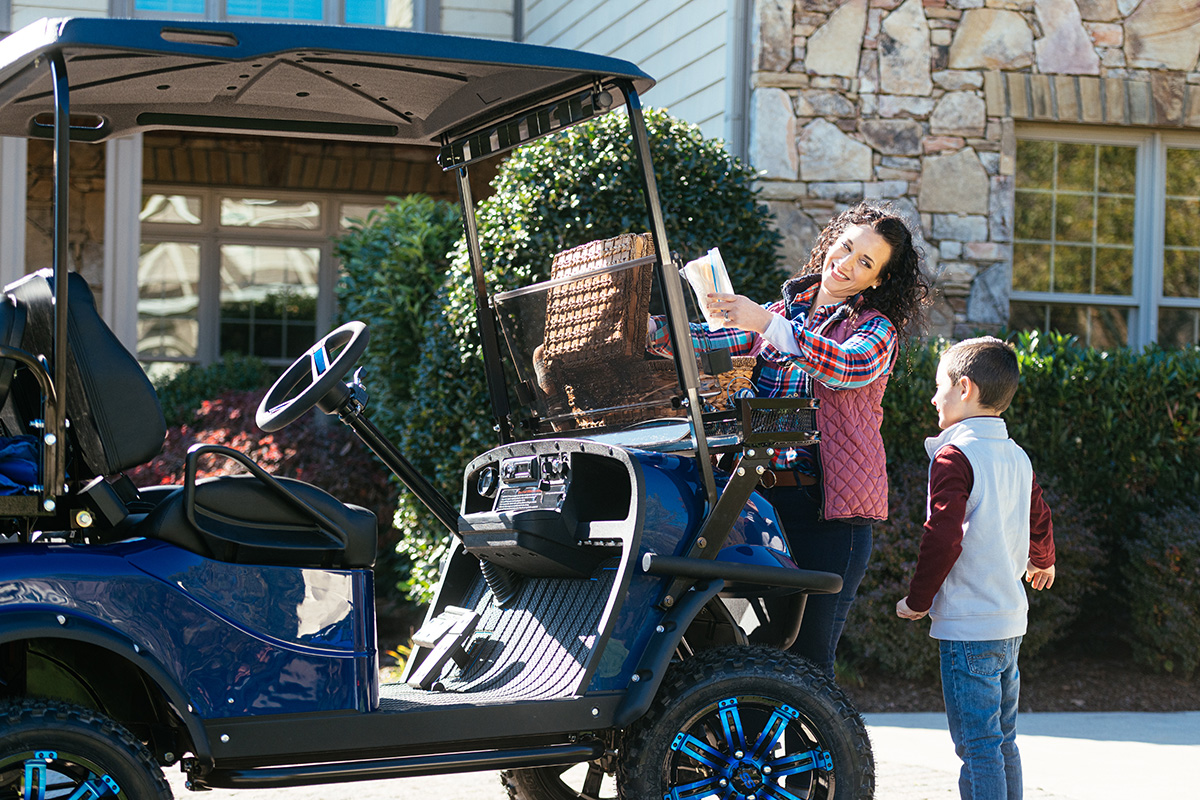 The Beast
The Beast is a tough golf cart made to endure difficult terrain, especially sand. It has a powerful 800 lb. towing capability and a top speed of 25 mph. This adaptable cart is ideal for hauling luggage, several golf bags, or touring scenic areas. The Beast can withstand any challenge you throw at it because of its durable build.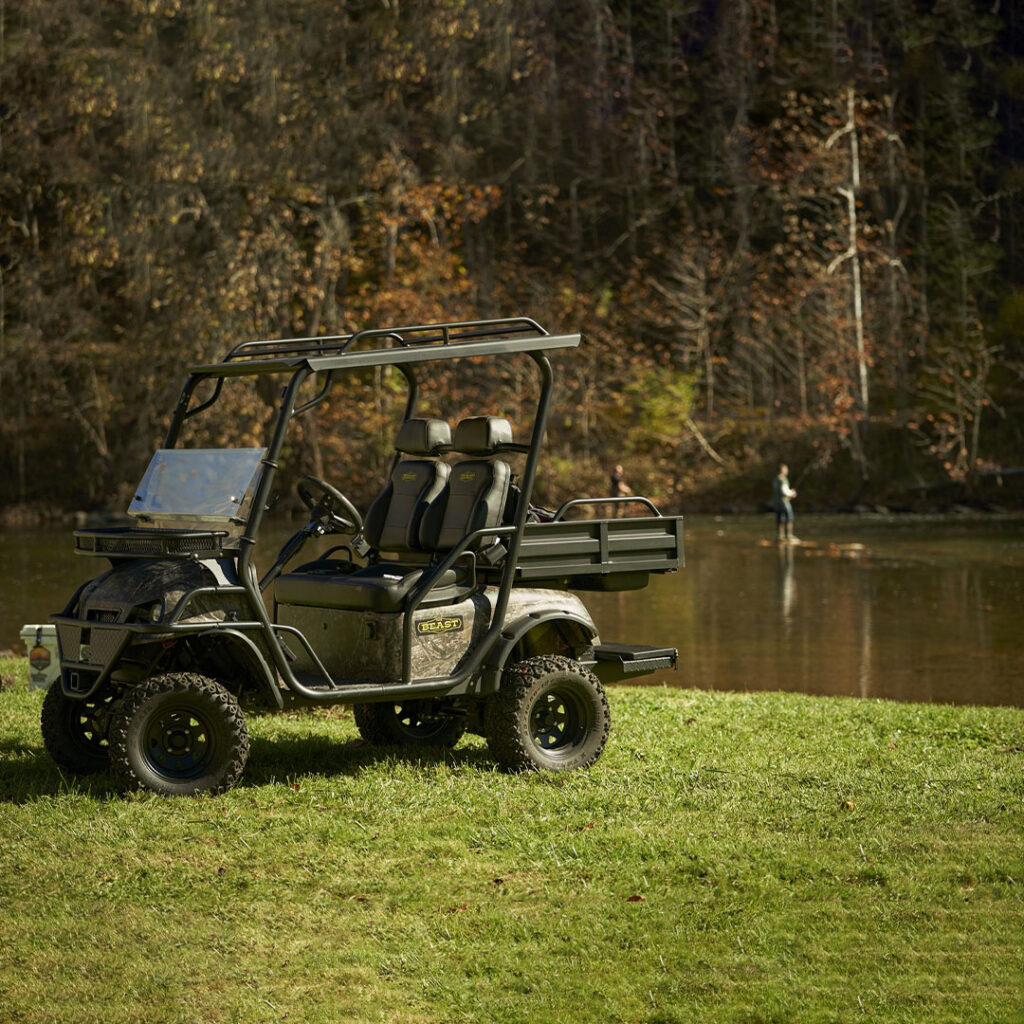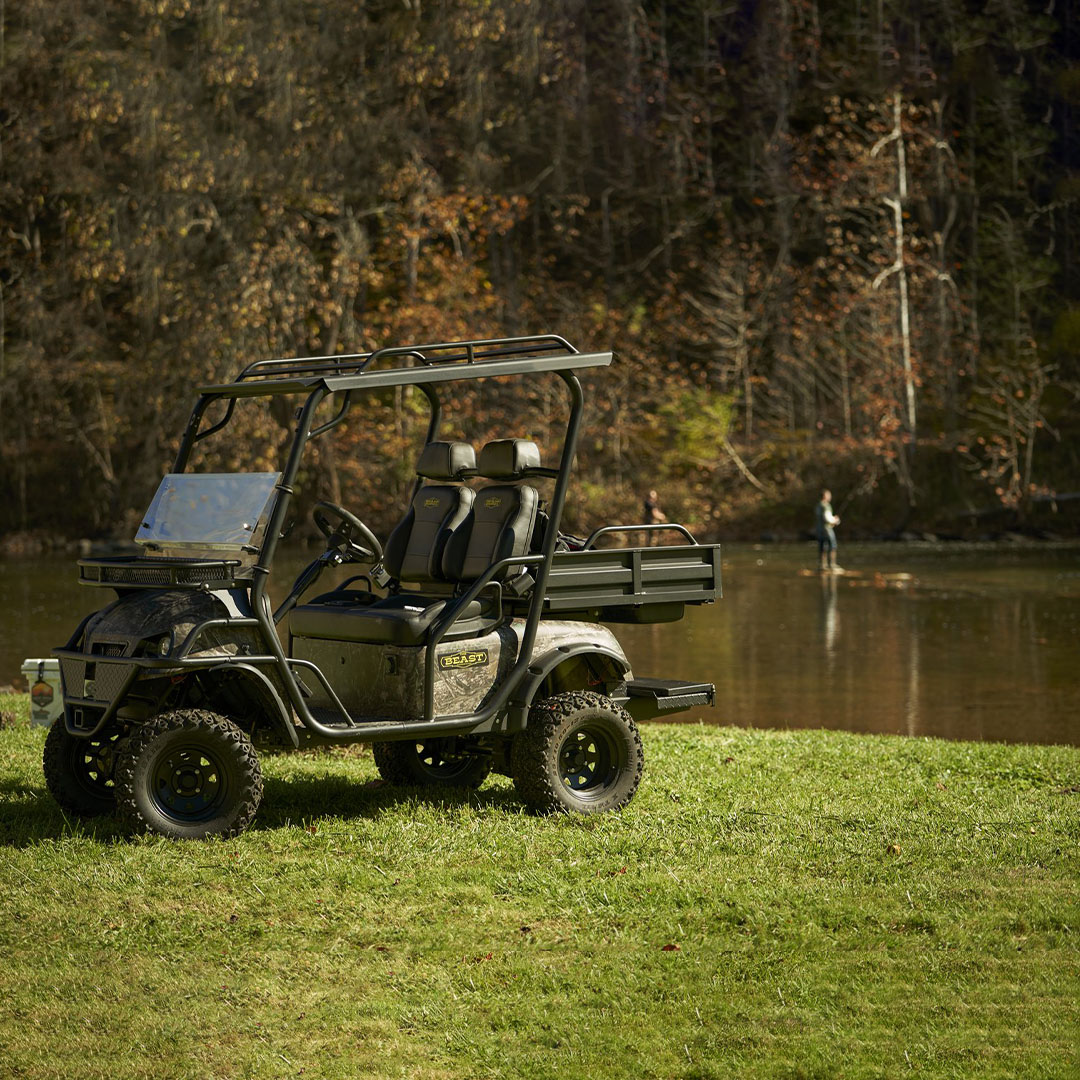 The Beast LE
The Beast LE is the epitome of luxury and toughness. With its ability to handle tough terrain, this golf cart combines luxury features with a heavy-duty design. Equipped with a double gun rack, high clearance, 800 lbs towing capacity, and a top speed of 25mph, The Beast LE is made for those who demand the best. This model also includes a heavy-duty bed, a front rack for equipment, and stunning wood finishes that set it apart from other carts on the course, trail, or hunting trip. The Beast LE elevates luxury to a new level in a heavy-duty golf cart.
Where Can You Use a Golf Cart in Chalmette?
Riding a golf cart in Chalmette, Louisiana is a unique and enjoyable way to explore the city's beaches, golf courses, country clubs, and breathtaking views. With a personal golf cart, you have the freedom and flexibility to travel at your own pace and take in all that Chalmette has to offer. Don't miss out on this one-of-a-kind opportunity to experience Chalmette in a fun, convenient, and comfortable way. Get behind the wheel of your golf cart today!
Golf Cart FAQs
Q. What kind of upkeep does a golf cart need in Chalmette?
A: Regular maintenance is crucial to ensure the longevity and efficiency of your electric golf cart. Basic maintenance tasks include checking the brakes and maintaining the charge, but it is also recommended to have your golf cart serviced every 6 months for optimal performance. This includes a thorough inspection of the vehicle, cleaning and lubrication of moving parts, and fixing any potential issues. By keeping your golf cart well-maintained, you can ensure a smooth and reliable ride for years to come.
Q. Does Golf Carts in Chalmette provide financing?
A: We understand the importance of making your golf cart dreams a reality. That's why we offer a range of financing options to fit your budget and help you get behind the wheel of your perfect golf cart.
Q. In Chalmette, do I need insurance for my golf cart?
A: Yes, whether driving a golf cart in Chalmette, Louisiana or any other city or state, all drivers must have full coverage auto insurance.
Q: How much maintenance do golf carts need?
A:  Once every 6-10 months, schedule professional maintenance for your golf carts. You will head off any problems with your golf cart that might have otherwise been overlooked if you have a professional service your golf cart.
Q: What is the load capacity of a golf cart?
A: The load capacity of a golf cart varies depending on the model, but it typically ranges from 400 to 1000 pounds for the cargo bed and passenger seating. That's plenty of capacity to carry your golf gear as you play on the golf courses of Chalmette, Louisiana.
Visit Our Chalmette Location To Find The Best Golf Cart
Visit our Chalmette dealership when you're ready to find your ideal golf cart. With a vast selection of options, our knowledgeable staff will assist you in choosing the perfect ride to fit your lifestyle. Whether you're a golf enthusiast or simply want a convenient way to get around, we've got you covered. Come see us today and let us help make your golf game more enjoyable with the perfect golf cart.
About
We are a premium, all-electric golf cart dealer with prices you can afford. Our carts make it simple for you to take a quick trip through the neighborhood, a family outing to the beach, and even go off-road with a cart perfect for hunting or chores around the farm or homestead. You won't bother the neighbors with these carts! Our carts are completely quiet so you can feel comfortable that you aren't going to get a letter from your HOA, a noise complaint from your neighbors, or wake a sleeping baby when you pull away from the house. Plus, we offer carts that can fit up to six people comfortably with our stretch upgrade. Room for the family and even a few more! You can save money with our affordable but luxury all-electric carts, plus it's the perfect way for you to save some gas and still be able to take your family on all the adventures they can dream of.