STORE DETAILS
Golf Carts For Sale in Norcross
6900 Peachtree Industrial Boulevard
Norcross, GA 30071
1(404) 382-5329
HOURS OF OPERATION
monday
10:00 am - 6:00 pm
tuesday
10:00 am - 6:00 pm
wednesday
10:00 am - 6:00 pm
thursday
10:00 am - 6:00 pm
friday
10:00 am - 6:00 pm
saturday
10:00 am - 5:00 pm
sunday
closed - closed
Finding the right golf cart to fulfill your needs can be a challenge. You need to know about the available golf cart models to purchase the right cart for yourself. At Golfcarts.com, our electric golf carts have luxury features and plenty of options for personalization. They serve many purposes other than just getting you to the next hole on the golf course. Whether you want a two-person golf cart or a four-person model, our golf carts were designed to withstand the demands of each player's lifestyle. So if you're looking for a Golf Carts For Sale in Norcross, visit our dealership at 6900 Peachtree Industrial Boulevard and get yourself a high quality golf cart today!
Top-Rated Golf Carts in Norcross
If you're looking for the best golf carts in Norcross, then Golfcarts.com is the place for you. Our golf carts have top-notch construction, making them equally suited for rough terrain or a smooth ride on roads and grass. When you purchase a golf cart from our dealership in Norcross, you can choose from a wide range of features. If you live near Norcross, visit our showroom and find the perfect golf cart for you!
We Specialize in Premium Golf Carts
Golfcarts.com offers premium golf carts with a wide range of amenities and customization options. We offer golf carts with incredible value for the price. Our carts are affordable and able to be personalized for your unique needs. Some golfers want speakers in their golf carts, while others need room for extra sets of golf clubs or coolers to take on the course. High-quality Bluetooth speakers incorporated right into our golf carts can keep you engaged while you travel around the golf course, and a GPS device can help you arrive safely when you take your cart off-roading. Wherever your next adventure takes you, Golf Carts for Sale in Norcross has what you need.
The Rookie
Our Rookie model is the entry-level golf cart you need if you want affordability without sacrificing performance.This model has a rechargeable battery that takes the cart up to 20mph with ease. If you plan to use this vehicle on cart paths or paved streets, it's the best pick for you. The Rookie has great ground clearance and offers comfortable seating so you can accommodate additional passengers.
The Pro
If you want to take your game to the next level, we suggest the Pro model. The Pro takes the features of the Rookie and elevates them. If you want a golf cart with durable wheels and a more powerful battery, then the Pro is right for you. It can go up to 25 mph and tow 800 lbs. It also includes basic safety features like brake lights, LED headlights, and great cargo storage for you to store your golf equipment. The Pro model will take you anywhere in Norcross in comfort.

The Legend
Our Legend model will turn heads on the golf course. It has a durable body and an elegant look. Thanks to its powerful battery, which can speed up to 25 mph and tow 800 lbs, you can drive the Legend on many public roads in Norcross. The fender flares give the Legend a strong and modern design, while the additional amenities will level up your enjoyment. The Legend has built-in Bluetooth speakers that can keep you entertained with your favorite music or podcasts. This model comes in a variety of finishes to help you personalize the look of your golf cart as you drive around Norcross.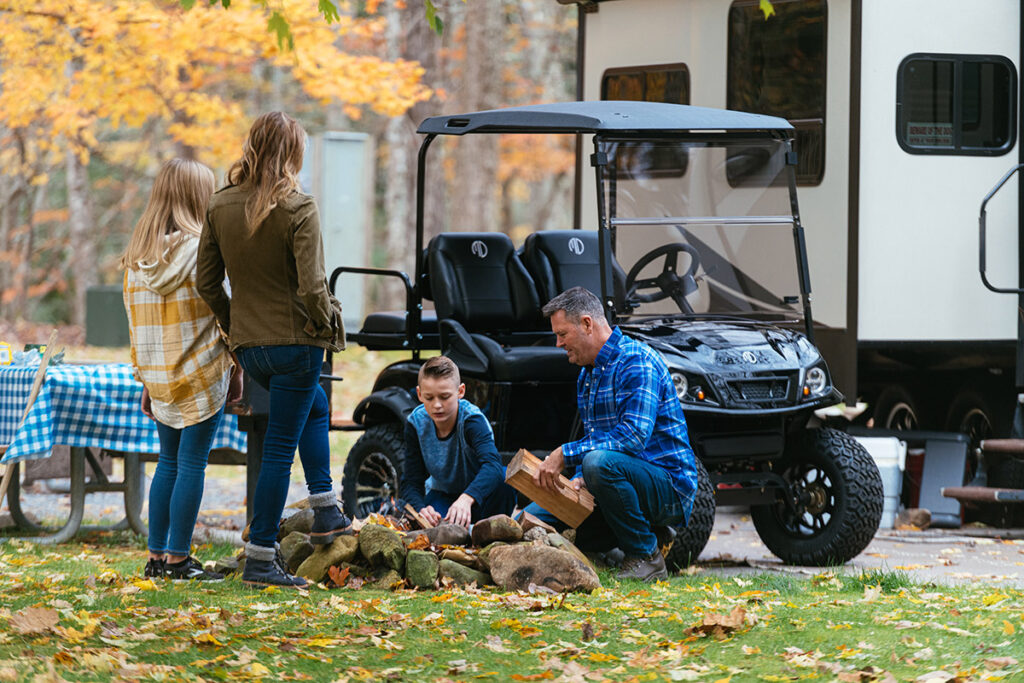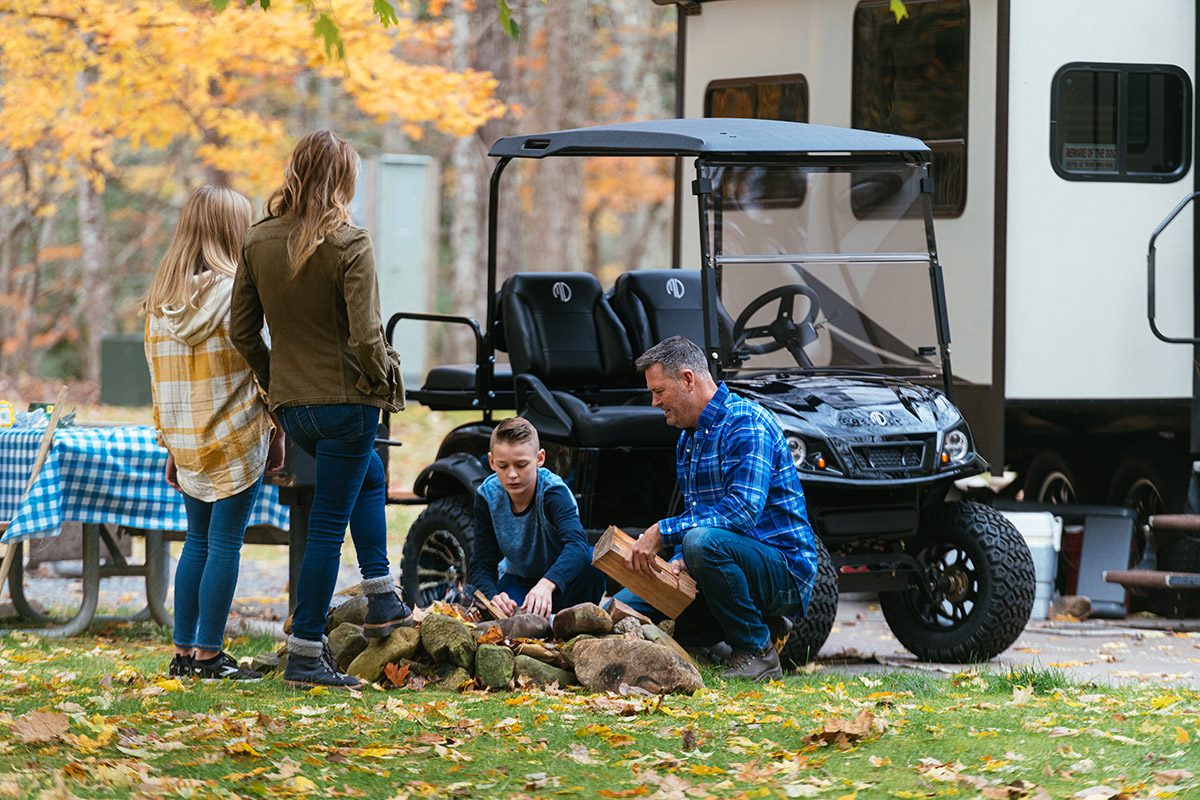 The Beast
Rough Terrain? Hilltops? The Beast can easily tackle any terrain. If you're looking for the best available golf cart, the Beast is for you. The Beast has what it takes, whether you're cruising around the golf course or going on a hunting trip with your buddies. With features like 14-inch alloy rims and added ground clearance, no trail is too tough for the Beast.
The Beast LE
Want the performance of the Beast with a luxury finish? The Beast LE is the golf cart for you. With an aluminum cage for additional storage, a sleek finish on its powerful body, and additional amenities for greater customization, you'll be ready for wherever the world takes you.
Golf Cart FAQs
Q: Can You Get a Custom Golf Cart in Norcross?
A: A custom cart is an excellent investment if you're looking for an experience tailored to your lifestyle. You can use custom golf for many purposes. Suppose you want a powerful cart to climb up a steep hill at a golf course. You can upgrade the battery in your golf cart to provide extra power. Prefer to keep things relaxed? Install Bluetooth speakers and listen to your favorite music while you cruise. At Golfcarts.com, we can customize your golf cart to suit your needs.
Q: How To Choose a Golf Cart?
A: When buying a golf cart, make a list of the must-have features and the extras that would improve your golf cart experience, even if you're just going for a quick trip around the block. Once you've found a few models that suit your needs, look at customer reviews and ask the golf cart pros to determine which golf cart is best for you.
Q: Are Golf Cart Speakers Loud?
A: If you're fond of playing tunes while driving around the neighborhood, a golf cart with Bluetooth speakers is ideal. If you do have speakers in your golf cart, they're loud enough to hear without straining, but not loud enough to disturb the people in your neighborhood.
Visit Our Norcross Dealership
Are you looking for a place to purchase a top-quality golf cart? Golfcarts.com Norcross is the right place for you. We'd be happy to show you around our dealership so you can choose the right golf cart to enhance your lifestyle. Owning a golf cart in Norcross is a great way to visit parks with your family or enjoy nature trails conveniently. If you're looking for the best golf carts in Norcross, visit us at 6900 Peachtree Industrial Boulevard. You can also visit us online to learn more about the models and prices available at our Norcross, Georgia golf cart dealership.
About
We are a premium, all-electric golf cart dealer with prices you can afford. Our carts make it simple for you to take a quick trip through the neighborhood, a family outing to the beach, and even go off-road with a cart perfect for hunting or chores around the farm or homestead. You won't bother the neighbors with these carts! Our carts are completely quiet so you can feel comfortable that you aren't going to get a letter from your HOA, a noise complaint from your neighbors, or wake a sleeping baby when you pull away from the house. Plus, we offer carts that can fit up to six people comfortably with our stretch upgrade. Room for the family and even a few more! You can save money with our affordable but luxury all-electric carts, plus it's the perfect way for you to save some gas and still be able to take your family on all the adventures they can dream of.