STORE DETAILS
Golf Carts For Sale in Punta Gorda
6025 Taylor Road
Punta Gorda, FL 33950
1(239) 310-0901
HOURS OF OPERATION
monday
10:00 am - 6:00 pm
tuesday
10:00 am - 6:00 pm
wednesday
10:00 am - 6:00 pm
thursday
10:00 am - 6:00 pm
friday
10:00 am - 6:00 pm
saturday
10:00 am - 5:00 pm
sunday
closed - closed
Residents use golf carts in Punta Gorda to take their golfing gear around the course, but that's not their only use. Many folks rely on golf carts for practical purposes and to explore the serene environment in Punta Gorda. Is a golf cart the ideal upgrade for your life? Our golf carts for sale in Punta Gorda can make all the difference. Whether you want to explore nature, get in a quick game of golf, or take a swift trip to the store, a golf cart is just what you need! Visit our dealership at 6025 Taylor Road to get your golf cart today!
Golf Carts in Punta Gorda
A golf cart is an ideal vehicle for the Punta Gorda area. With its peaceful atmosphere, you can safely drive around in the suburbs with two or more passengers. But before choosing your ideal golf cart model, there are some factors that you'll want to take into account. If you're in the Punta Gorda area, visit our dealership to learn about your options! Golfcarts.com offers a variety of golf carts for sale, so you're sure to find something that suits your needs.
You can use golf carts in Punta Gorda for more than just golfing. Golf carts are an environmentally friendly form of transportation. How can you ensure you get the most reliable golf cart? At Golfcarts.com in Punta Gorda, we guarantee reliable vehicles at an affordable price. We sell golf carts of the highest quality that deliver excellent performance. When you visit our golf cart dealership, we will recommend a brand-new golf cart to fit your needs. Whether you want a simple cart with essential functions or something flashy that will catch everyone's eyes on the road, we have the golf cart for you!
Rookie
Our Rookie model golf cart is the best for transportation inside the city because of its compact size. It's easy to travel with friends around Punta Gorda with or without cargo thanks to the 500-pound weight capability. Want to go for a night ride? The entry-level model has 48-volt lead-acid batteries that will provide enough power to keep you moving around the neighborhood and LED lights to keep the road lit so you have a clear vision.
The Pro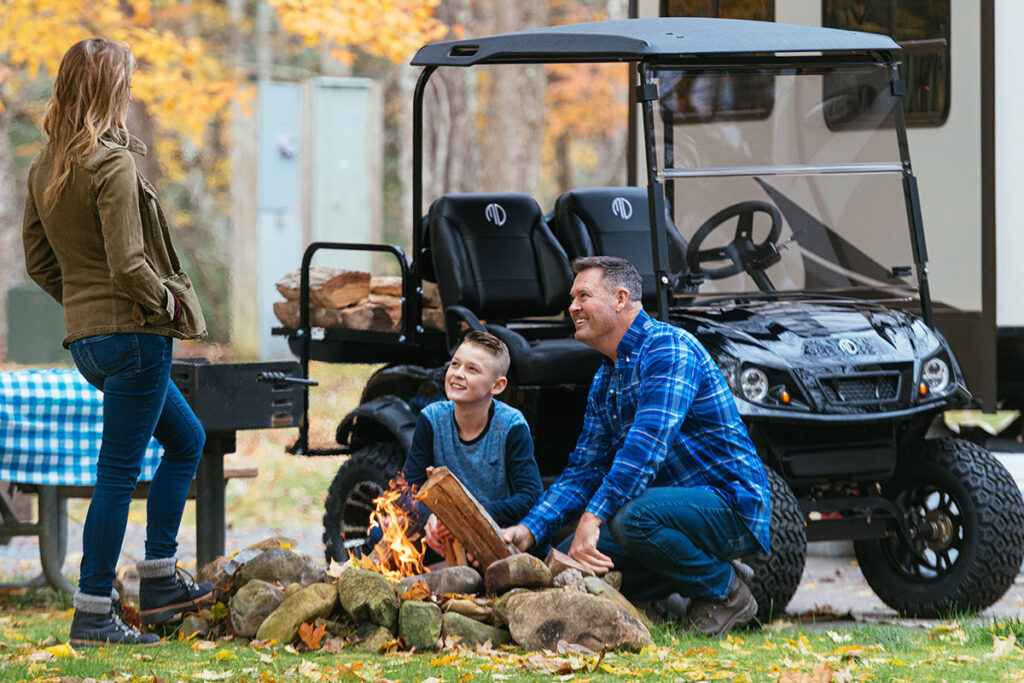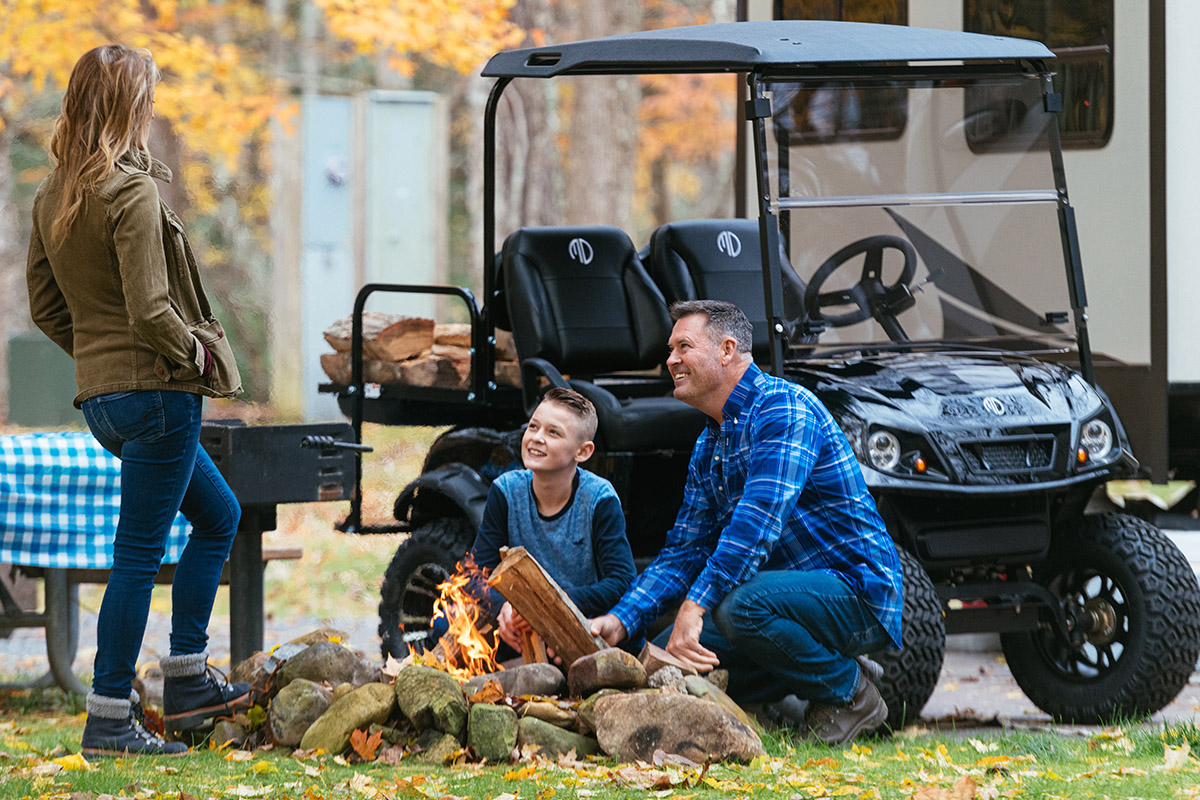 By spending a little more, you can get additional features. The Pro model is for people who want to use their golf cart on paved roads, but upgrade the form and function of their golf cart. It has sturdier wheels that offer greater ground clearance than our base-level model. The Pro is powered by a more powerful battery with higher performance capabilities, including a top speed of 25 mph and a towing capacity of 800 lbs. The Pro has all the essential safety features; you won't have to worry about taking it anywhere in Punta Gorda.
The Legend
You'll love our Legend golf cart's strong and elegant road presence. When you drive this cart around Punta Gorda, you'll catch every eye thanks to the fender flares, upgrades and amenities, and numerous paint color options. Our Legend model golf carts can be used on any unpaved surface, including in cities. Want to take your cart for a trip around the block with friends or drive along the river? The Legend has no issues! There are numerous accessories inside that will make you feel comfortable wherever you go.
The Beast
Our Beast model golf carts represent the pinnacle of perfection and power. You can use your super-powered Beast golf cart to travel to recreational parks just outside of town. You will stay energized on your commute, no matter how short or long it is, thanks to the built-in Bluetooth speakers and the comfort of this model!
The Beast LE
Our Beast LE golf cart serves as an excellent vehicle for any need. It features an aluminum cage so you have more room to store your belongings, a rugged construction that can tackle any path, and a sleek design that feels as luxurious as it looks. Hills, standing water, or muddy areas are no cause for concern when you drive this Beast!
Where Can You Use Your Golf Cart in Punta Gorda?
Punta Gorda's roadways are peaceful and safe to drive on. But if you want to appreciate nature and its beauty, you can drive our golf carts around courses and parks like Kings Gate Golf Club, Gilchrist Park, Twin Isles Country Club, Maple Leaf Golf and Country Club, and many more! You can explore the beauty of Punta Gorda on and off the beaten path. And, of course, you can travel any cart path on Punta Gorda's golf courses.
Golf Cart FAQs
Q: Are Golf Carts Better Than Other Vehicles?
A:  Golf carts are low-speed vehicles that have all the safety features of any other vehicle. You can drive golf carts on private streets and on public roads marked to allow golf carts. In terms of reliability, golf carts require less maintenance and have a longer lifespan than gas-powered vehicles.
Q: What Should I Check Before Buying a Golf Cart?
A: While shopping for a golf cart, you should first look for the basic features to see if the golf cart is equipped with all the necessary equipment. Then move on to features you specifically want in your golf cart, like a USB charger or Bluetooth speakers. Most golf carts have a strong battery, but if you plan to take your golf cart off-road, make sure the model you choose has a top-tier battery and tires with good ground clearance.
Q: Are Golf Cart Repairs Expensive?
A: Electric golf carts run on a battery. An electric vehicle, like a golf cart, requires a minimum amount of maintenance. They are highly durable and sustainable vehicles. If you have a family-owned golf course business, then you should be worrying about the maintenance of your golf cart fleet. But if you're a private owner, you only need to check the battery each month to make sure it stays in good condition.
Visit Our Dealership at Punta Gorda
If you're in Punta Gorda or somewhere nearby looking to buy a golf cart, Golfcarts.com Punta Gorda is the place to be. We have a variety of golf carts in our inventory. If you want a golf cart that offers you top performance and amazing looks, we have the right models for you! We have a reputation for producing highly reliable and sustainable golf carts. Our number one aim is customer satisfaction when buying a golf cart, and so our golf cart sales are through the roof! We will ensure you find the right golf carts to fit your lifestyle and budget. 
Check out our website or visit our dealership at 6025 Taylor Road today for golf carts for sale in Punta Gorda.
About
We are a premium, all-electric golf cart dealer with prices you can afford. Our carts make it simple for you to take a quick trip through the neighborhood, a family outing to the beach, and even go off-road with a cart perfect for hunting or chores around the farm or homestead. You won't bother the neighbors with these carts! Our carts are completely quiet so you can feel comfortable that you aren't going to get a letter from your HOA, a noise complaint from your neighbors, or wake a sleeping baby when you pull away from the house. Plus, we offer carts that can fit up to six people comfortably with our stretch upgrade. Room for the family and even a few more! You can save money with our affordable but luxury all-electric carts, plus it's the perfect way for you to save some gas and still be able to take your family on all the adventures they can dream of.