STORE DETAILS
Golf Carts For Sale in Phoenix
121 S 39th Ave
Phoenix, AZ 85009
1(480) 604-8700
HOURS OF OPERATION
monday
10:00 am - 6:00 pm
tuesday
10:00 am - 6:00 pm
wednesday
10:00 am - 6:00 pm
thursday
10:00 am - 6:00 pm
friday
10:00 am - 6:00 pm
saturday
10:00 am - 5:00 pm
sunday
closed - closed
Phoenix provides beautiful golf cart routes that make it easy for golfers to play a great game while taking in the views. Want to move beyond the golf course? Golf carts are also a great mode of transportation for suburban roads, nature trails, and other low speed highways. Golfcarts.com in Phoenix offers high quality, affordable golf carts to improve your experience, whether you're an avid golfer, a beginner, or simply someone who wants an easy way to get from Point A to Point B. We're ready to help you find the best golf carts for sale in Phoenix. Visit our golf cart dealership at 121 S. 39th Ave. to find the right model for you.
Golf Carts in Phoenix
Are you searching for a golf cart to upgrade your lifestyle? Golf carts in Phoenix has a variety of carts and upgrades to help you find a vehicle that truly represents your personality. We're aware that every person has different tastes. To help you customize your cart, we offer a variety of optional amenities, professional paint colors, and personalization options to help you make your new golf cart unique. Our skilled staff will help you choose the ideal golf cart, accessories, and personal touches. But it all starts with finding the right golf cart model for your needs.
Rookie
Are you seeking an affordable way to get around town, traverse the golf course, or explore the natural beauty of Phoenix? Go further with our Rookie golf cart, which is ideal for beginners and people looking for a simple, reliable model. Our Rookie golf cart provides a convenient and comfortable ride, whether you're exploring Phoenix golf courses or just driving to the neighborhood pool. This cart can go up to 20 mph and is powered by six dependable 48-volt Interstate powerhouses. It also has essential driving safety features like retractable glass, a horn, turn signals, and brake lights.
Pro
With all of the features you love about the Rookie, the Pro also features an 800-pound maximum load capacity and a 16-inch clearance, so it can haul your gear on and off the course. There is no better golf cart for golfing enthusiasts than The Pro. This golf cart has a robust Titan exterior, a raised chassis, and stylish 12-inch aluminum wheels. The custom-made, distinctive black chairs feature a white-stitched MD symbol and can hold up to 500 pounds in combined passenger weight. The cargo bed can also carry up to 500 pounds. Seven-color LED lighting on the underside of the body gives this golf cart a distinctive look. The cart has an onboard charging system, a folding windshield, six Interstate lead-acid batteries with full warranties, and LED headlights, taillights, and turn indicators, making it a smooth and safe ride.
Legend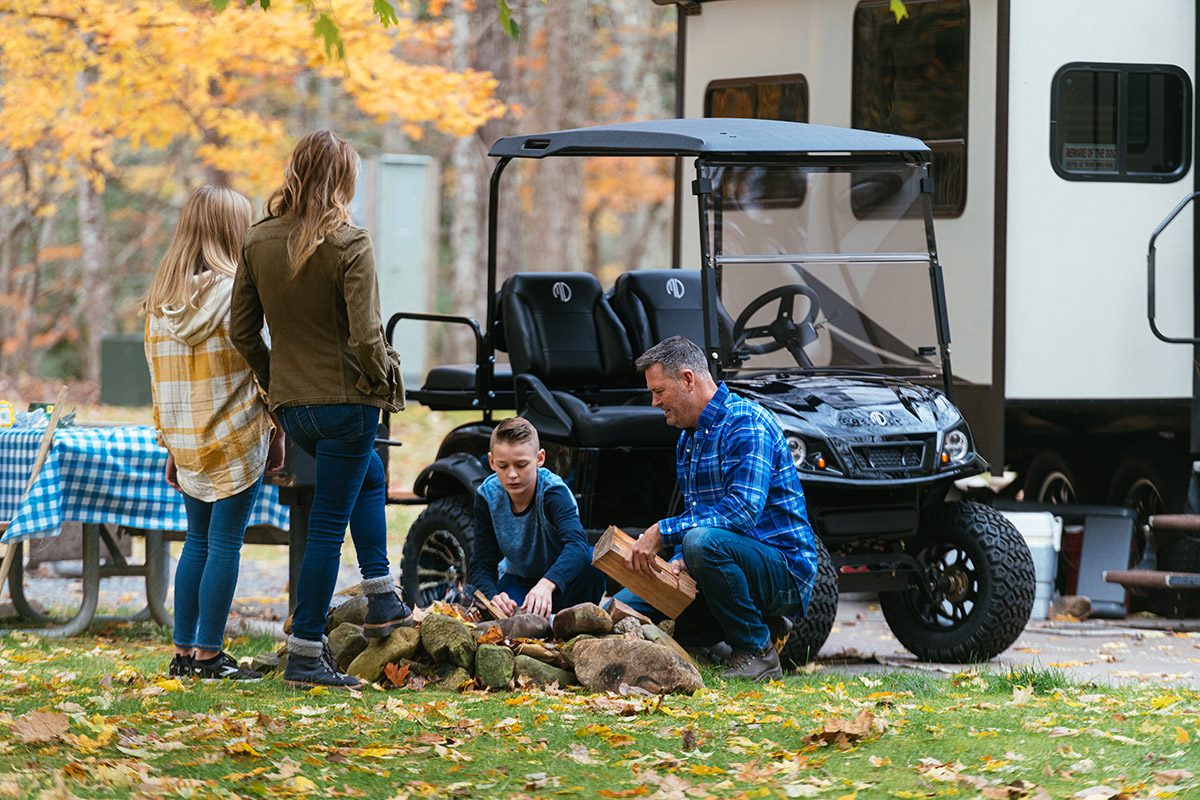 Want to take your golf cart adventure to the next level? The Legend golf cart features built-in Bluetooth audio, so you can play your favorite music or podcasts wherever you go. The cart also comes with a USB charging plug to ensure that your phone's battery never runs out while you're on the course. The electric engine is powerful and quiet, so you can experience a smooth and easy ride with the Legend golf cart. Take the golf course at your own pace or discover new trails in style with a top speed of 25 mph. Durable wheels and a lifted chassis with plenty of ground clearance make it easy to take The Legend off the beaten path.
The Beast
The Beast is a true workhorse with a flat-ground towing capacity of up to 500 pounds and a combined weight capacity of 500 pounds for the cargo bed, front basket, and seat package. It's the ideal solution for golfers who expect high performance from their equipment. The Beast is the cart you need for flexible storage options, additional seating, and a cart construction powerful enough to handle any terrain. Other noteworthy features include a retractable windshield, an onboard charger, LED headlights, taillights, a UV matte camo-dipped body, six Interstate lead-acid batteries with full warranties, a fold-down rear seat kit, an OEM solid black top, a state-of-charge meter, heavy-duty front and rear springs, fender flares, and an under-seat tray.
The Beast LE
The Beast LE comes with luxury features like a twin-gun rack, tasteful wood finishes, a sturdy cargo bed, and a front rack for accessories. The Beast LE is ideal for golfers who like to play with style! It is built to handle even the most challenging courses because of its top speed of 25 mph, 800-pound towing capacity, and high clearance. You can also take it off-road for an adventure like no other. The Beast LE distinguishes itself from other carts with its rugged construction and luxury design.
Where Can You Use a Golf Cart in Phoenix?
You can use your golf cart to get around Phoenix, whether you're exploring paved areas or going off-road. Drive along rivers with your friends and family for a pleasant recreational activity and pack a picnic lunch in your golf cart's generous cargo area. Want to hit the course? Phoenix is home to top-notch golf courses like the Arizona Biltmore Golf Course. Visit our golf cart dealership in Phoenix to browse our selection and find a golf cart that will suit your needs. Our carts are dependable and economical. We have something for everyone!
Golf Cart FAQs
Q: Are Golf Carts Safe Vehicles?
A: Golf carts are very safe when it comes to transportation from one place to another. As long as you follow local laws, you can drive your cart on low speed highways, golf courses, or out in nature. When driving your golf cart, make sure you have a valid driver's license and follow standard vehicle safety procedures.
Q: How Many Passengers Can a Golf Cart Accommodate?
A: Golf carts can carry two passengers at a minimum, and some models can support up to eight passengers. If you run a business where you must provide patient transportation around a large campus, choose a golf cart suited for a higher number of passengers.
Visit Our Phoenix Dealership
If you're near Phoenix, visit our dealership and see our golf carts for yourself. We have a large inventory of golf carts for sale. Whether you want an entry-level golf cart to improve your golf game or a rugged, multi-purpose golf cart that can handle rough terrains, we have the perfect street legal model for you. You won't find a better golf cart in Phoenix, Arizona. Visit our dealership at 121 S 39th Ave and let our team find you the perfect golf cart today.
About
We are a premium, all-electric golf cart dealer with prices you can afford. Our carts make it simple for you to take a quick trip through the neighborhood, a family outing to the beach, and even go off-road with a cart perfect for hunting or chores around the farm or homestead. You won't bother the neighbors with these carts! Our carts are completely quiet so you can feel comfortable that you aren't going to get a letter from your HOA, a noise complaint from your neighbors, or wake a sleeping baby when you pull away from the house. Plus, we offer carts that can fit up to six people comfortably with our stretch upgrade. Room for the family and even a few more! You can save money with our affordable but luxury all-electric carts, plus it's the perfect way for you to save some gas and still be able to take your family on all the adventures they can dream of.
Visit our nearby store