STORE DETAILS
Golf Carts For Sale in Mesa
1404 S Longmore
Mesa, AZ 85202
1(623) 244-9090
HOURS OF OPERATION
monday
10:00 am - 6:00 pm
tuesday
10:00 am - 6:00 pm
wednesday
10:00 am - 6:00 pm
thursday
10:00 am - 6:00 pm
friday
10:00 am - 6:00 pm
saturday
10:00 am - 5:00 pm
sunday
closed - closed
Are golf carts just for playing golf? No! Are golf carts excellent for playing golf? Absolutely! There are numerous benefits to using a golf cart in Mesa. It's a convenient form of transportation whether you're staying in the neighborhood, driving around the golf course, or taking a trip to the AZ Museum with friends and family. We offer the best Golf Carts For Sale in Mesa.
If you play golf frequently or live near a golf course, you'd prefer to swing your clubs than to tote them around the course on foot. And although many golf courses provide golf cart rentals, owning your own can be more affordable and practical. Electric golf carts are far more eco-friendly than owning a regular car. If you have a golf cart, you can avoid the hassle of owning an ordinary vehicle. If you're in Mesa or anywhere around Arizona, visit our dealership to check out some of the best golf carts for sale!
Golf Carts in Mesa
Are you looking for a wide selection of Golf Carts in Mesa that serves your looks and performance simultaneously? Well, our inventory of golf carts at golfcarts.com contains a variety of models to choose from! Each of our carts comes with plenty of features. And owning a golf cart in Mesa will allow you to breeze around the golf course, explore shops nearby, or drive to Sun Lakes and enjoy the day with your family. If you own a golf cart and want to upgrade to the next level, our dealership also has a variety of high end models for a great price!
Rookie
The Rookie model is our entry-level golf cart. These vehicles are for people who want a simple setup that provides comfortable transportation without any hassle. A golf cart will provide you with more opportunities for recreation and relaxation. The Rookie model is equipped with a battery capable of accelerating the cart up to 20 mph. It is also equipped with all the standard safety features like LED turn signals, brake lights, etc. This is an affordable golf cart that anyone can purchase and enjoy.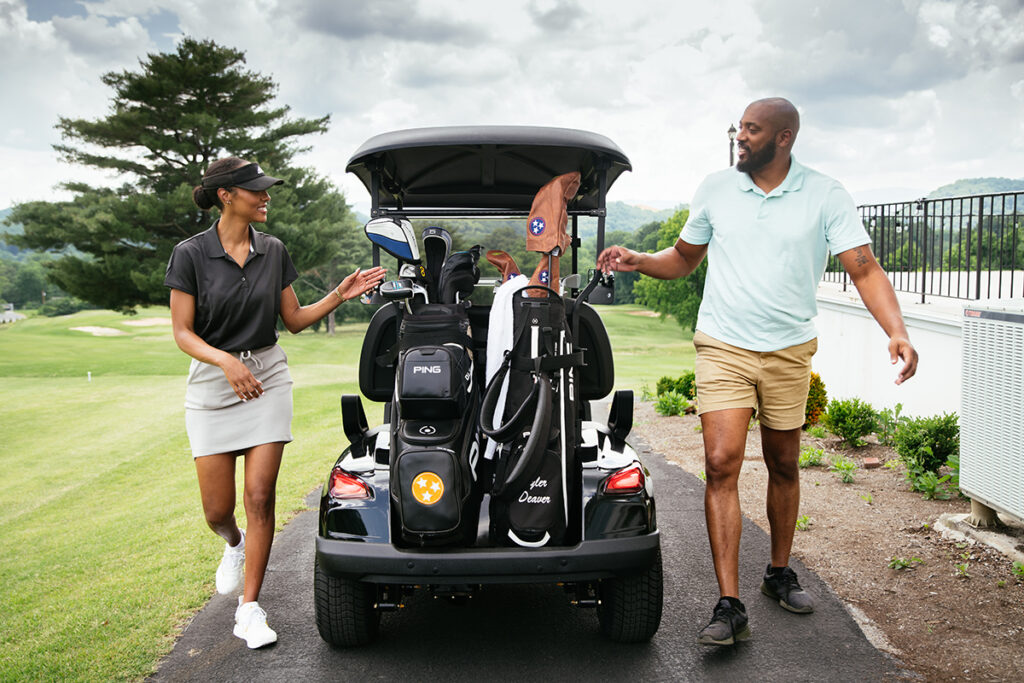 Pro
The Pro model is where you go to take your game to the next level. Golf carts aren't just about getting from point A to point B; they're also about comfort and power. The Pro model is equipped with an even more powerful battery capable of taking the cart up to 25 mph. Have heavy bags or a big load to bring on your next picnic in the park? The Pro model has plenty of storage space and it can tow up to 800 lbs effortlessly!
Legend
The Legend model is where things get fun. With 14-inch alloy rims, you get fantastic ground clearance that can take you anywhere on the trails! The Legend model is equipped with an audio entertainment system, so you can enjoy listening to songs while you're on your way to visit Mesa parks with your family and friends. The Legend may seem like a fun, relaxing vehicle, but that's not all there is to it. The Legend can execute some extreme power when put to the test. When you buy the Legend golf cart, there's not much you can miss out on.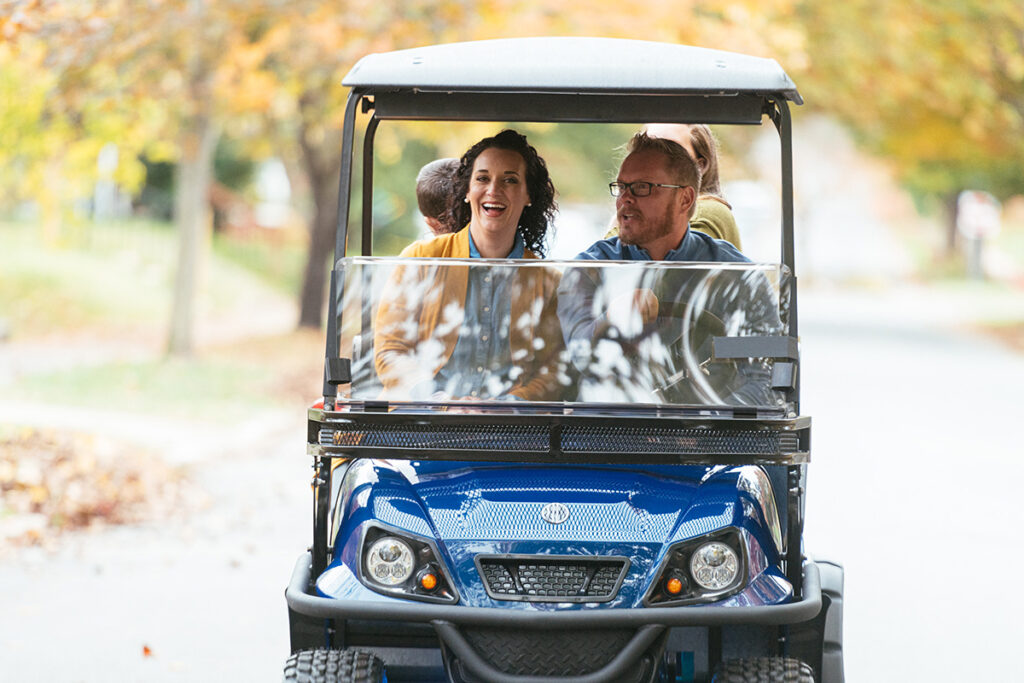 The Beast
Is there anything better than The Beast? This golf cart is ready to tackle any situation and comes equipped with many features and amenities. If you want your golf cart purchase to be worth the investment, then the Beast is your go-to cart. This cart comes with high end performance, storage, safety features, and amenities. Take your adventure to the next level with The Beast golf cart.
The Beast LE
What's better than the best? The Beast LE! This vehicle takes everything you love about The Beast and elevates it to a new level of luxury. You can get custom storage options, a safety grill to protect the matte finish paint job on the Beast LE, and a wide selection of high class amenities as addo-on features. This golf cart has a top speed of 25 mph with a towing capacity of 800 lbs.
Where Can You Use a Golf Cart in Mesa?
You can drive your golf cart to the nearest family park in town. Many roads in Mesa are safe for golf carts to drive on. Golf carts give you the freedom to take your friends and family to nature trails, recreation areas, and more. Love to golf? The Longbow golf course is just one of the excellent golf courses in Mesa. 
Golf Cart FAQs
Q: How to Get The Best Golf Cart
A: Before buying a golf cart, do your research. Not everyone wants the same things in a golf cart. Learn about the various models, read customer reviews, and talk to a golf cart pro to learn about features you may not have seen online.
Q: What is The Most Affordable Golf Cart?
A: Before determining the affordability of a golf cart, you need to choose your requirements. If you don't need any extra bells and whistles, The Rookie is the most affordable option. But if you plan to upgrade in a few years, you should consider purchasing a better model now to prevent losing money on resale.
Visit Us at Our Mesa Dealership!
If you live in or near Mesa and want to learn more about owning a golf cart, visit our showroom. We're located at 1404 S Longmore, Mesa, AZ 85202. Our golf carts have a unique design and high quality production that's focused on durability. We guarantee a great time with your golf cart if you purchase yours from our dealership! 
Get in touch with us today! We will be happy to show you our collection.
About
We are a premium, all-electric golf cart dealer with prices you can afford. Our carts make it simple for you to take a quick trip through the neighborhood, a family outing to the beach, and even go off-road with a cart perfect for hunting or chores around the farm or homestead. You won't bother the neighbors with these carts! Our carts are completely quiet so you can feel comfortable that you aren't going to get a letter from your HOA, a noise complaint from your neighbors, or wake a sleeping baby when you pull away from the house. Plus, we offer carts that can fit up to six people comfortably with our stretch upgrade. Room for the family and even a few more! You can save money with our affordable but luxury all-electric carts, plus it's the perfect way for you to save some gas and still be able to take your family on all the adventures they can dream of.
Visit our nearby store